MLB Trade Rumors: Jose Reyes, Los Angeles Dodgers and Latest Trade Buzz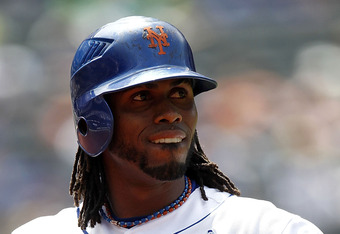 Jeff Zelevansky/Getty Images
It's hard to believe that summer is finally here, and that means all eyes are on baseball as the only remaining active sport.
There's barely a month left before teams have to make a decision on whether to buy, sell or even do a little bit of both at the upcoming MLB trade deadline.
Here's a look at all the latest rumors and headlines.
Follow me on Twitter for all your MLB updates.
G. Newman Lowrance/Getty Images
The Royals have perhaps the most promising future of any team in baseball and all those high draft picks are already paying dividends with Eric Hosmer, Mike Moustakas, and Danny Duffy all making their major league debuts as 2011.
Now, GM Dayton Moore has to figure out where to go from here.
The Royals aren't serious contenders this year, but they have several players that could be used as trade chips to retool for next year and beyond.
Among these players are infielders Mike Aviles and Wilson Betemit, outfielders Melky Cabrera and Jeff Francoeur and starters Jeff Francis, Kyle Davis and Bruce Chen. Any of these players could be had for the right price and almost all of them will be free agents after 2011 anyway.
Betemit and Francoeur are the hottest names because they're cheap and playing well, but someone like Francis might garner the best offer just because there's such a shortage of starting pitchers on the trade market.
This article is
What is the duplicate article?
Why is this article offensive?
Where is this article plagiarized from?
Why is this article poorly edited?
Joe Robbins/Getty Images
The Yankees have made it through nearly half the season with the likes of Ivan Nova, Freddy Garcia and Bartolo Colon in the rotation. But now age is catching up with Garcia and Colon, and inexperience is catching up with Nova.
That leaves the Yankees scrambling for starting pitching.
There aren't too many marquee names available, but there are three serviceable lefties out there who could slide into the rotation and match up against Boston's lefty-heavy lineup.
Wandy Rodriguez is the most attractive option because he's only 32 and is signed through 2013. He's also having a terrific season with a 2.88 ERA in 12 starts, although he's never pitched outside of the NL Central.
Erik Bedard, also 32, is an intriguing option because he's finally healthy and pitching well with a 3.16 ERA in 13 starts for the Mariners. Bedard also has experience pitching against offensive juggernaughts like the Red Sox from his time with the Orioles.
Francisco Liriano, 27, is the big wild card because he can pitch like a No. 1 but struggles with his control and consistency. The Yankees can't afford to nurse Liriano along in the heat of a pennant race, but he does have the highest upside of any of the pitchers available.
Outside of these three there are a handful of players that the Yankees could use purely as a rental. Bruce Chen, Jeff Francis, Paul Maholm and possibly even Mark Buerhle could all be had for a decent price.
This article is
What is the duplicate article?
Why is this article offensive?
Where is this article plagiarized from?
Why is this article poorly edited?
Stephen Dunn/Getty Images
The Dodgers' financial problems reached a headwind last week when commissioner Bud Selig rejected the Dodgers' 17-year television rights contract with FOX, a move that could have potentially saved the franchise.
It seems a foregone conclusion that MLB and Selig want Frank McCourt out of the owner's chair, whether or not the controversial owner can stay financially solvent. Nixing the FOX deal may be the first step towards MLB seizing control of the Dodgers.
However, McCourt won't back down lightly.
He wants to retain the Dodgers and he'll use all the resources at his disposal, or what's left of them, to battle Selig in court. Bu MLB has considerably more resources and infinitely more leverage.
As for the trade market, the Dodgers aren't planning on making moves any time soon as they try to get back in the race. If they do decide to sell, it won't be because of money issues.
Among the players most likely to be on the hot stove are infielder Jamey Carroll and reliever Jonathan Broxton. It's a long shot that either Andre Ethier or Matt Kemp would be moved unless the Dodgers are blown away with an offer.
This article is
What is the duplicate article?
Why is this article offensive?
Where is this article plagiarized from?
Why is this article poorly edited?
J. Meric/Getty Images
It seems insane that the Marlins would trade one of the best all-around players in baseball, especially when he's just 27 and only getting better.
However, there are other factors to consider.
First, Ramirez is about as immature as an MLB superstar can get. The Marlins have had trouble getting Ramirez to play up to his potential and he seems to have no interest in listening to his managers. Fredi Gonzalez quit as Florida's manager just two months into the season and new manager Jack McKeon started his second stint with the Marlins by benching Ramirez.
Motivational tactics aside, the cost-conscious Marlins have to consider Ramirez's price tag as well.
At $11 million this season Ramirez is a bargain (assuming he starts to hit again), but his salary goes up to $15 million in 2012, $15.5 million in 2013 and finally $16 million in 2014, the final year of his deal.
The Marlins are moving in to a new ballpark next year, but even the expected jump in revenue may not be enough to keep Ramirez around long-term.
That reality has led to rumors about the Marlins possibly dangling Ramirez as a trade chip. It's not often you see a five-tool shortstop in his prime available on the trade market and Ramirez would be worth as much as any player in baseball in a trade, especially with Jose Reyes expected to remain in New York.
The talks out of Florida indicate that nobody's looking to trade Ramirez, yet nobody denied the possibility of him being used a potential trade chip. If the Marlins don't turn it around soon then McKeon and the ownership group might decide the franchise needs a facelift and that starts by getting rid of the club's biggest diva.
This article is
What is the duplicate article?
Why is this article offensive?
Where is this article plagiarized from?
Why is this article poorly edited?
Jeff Zelevansky/Getty Images
The Mets aren't any closer to contending this season despite briefly showing signs of life this month, yet that doesn't mean they're any closer to trading Reyes either.
The 28-year-old shortstop is playing like a superstar with a league-leading 54 runs, 12 triples and a .336 batting average. He's also stealing bases at an incredible clip with 26 swipes already in 70 games.
The consensus in New York now seems to be that the Mets have to do everything they can to keep Reyes long-term, since no conceivable trade would allow them to replace his bat in the lineup or his glove in the field.
As for Reyes, he's indicated that he's not interested in discussing an extension during the season and will test the free agent market. What that effectively means is that the Mets have no leverage in a potential trade since any team acquiring Reyes would certainly want to keep him long-term.
The bigger question is if the Mets can even afford to keep Reyes?
We all know that owner and COO Fred Wilpon doesn't think Reyes is worth "Carl Crawford money" on the open market, but reports by rival executives say that he'll get at least that.
The price tag for Reyes could be upwards of $150 million, and the Mets can't shell out that kind of cash until they figure out what they're doing with Carlos Beltran, David Wright, Johan Santana and all their other high-priced stars.
It's a tricky situation for GM Sandy Alderson who can't just let Reyes walk away as a free agent, but can't trade him for 50 cents on the dollar either. This is becoming eerily similar to the Derek Jeter negotiations when the Yankee shortstop essentially held his team hostage until they gave him the deal he wanted.
The only difference between Reyes and Jeter is that Reyes is still actually good.
This article is
What is the duplicate article?
Why is this article offensive?
Where is this article plagiarized from?
Why is this article poorly edited?