2011 NHL Draft: 7 Teams That Could Trade Their First-Round Pick on Draft Day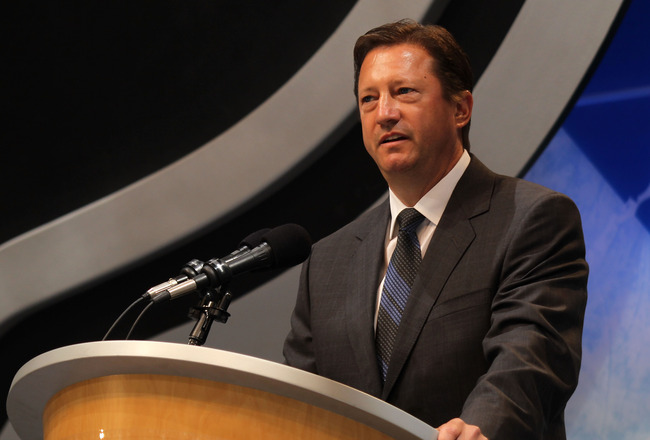 Bruce Bennett/Getty Images
The 2011 NHL draft is upon us, and most eyes will be on the young prospects and what jerseys they put on.
But another interesting side note to pay attention to is the numerous potential trades that could happen in one day.
There are a number of general managers that have been very upfront about wanting to trade their first-round picks in order to either move up in the draft or acquire a current NHL star. Banter like this is not uncommon in the days leading up to the big day, but this year's draft seems to have stirred up more discussion than in previous years.
Of course, no one really knows what will actually happen when push comes to shove. However, if there are going to be deals that take place involving first-round picks, here are a few teams that will likely be in the middle of them.
Tampa Bay Lightning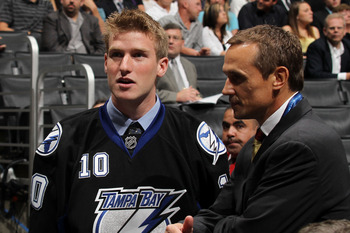 Bruce Bennett/Getty Images
For the first time since they won the Stanley Cup back in 2004, the Tampa Bay Lightning are true contenders.
The Lightning suffered through a few terrible years filled with many losses, and as a result they were able to draft players like Steven Stamkos in 2008, Victor Hedman in 2009 and Brett Connolly last year.
Now they're back to being a Cup contender while still being able to boast several young talents. The time seems perfect for second-year GM Steve Yzerman to make a move by trading the 27th overall pick in order to get a player that can help them immediately.
The Lightning could still use some depth at forward and possibly on defence as well if they aren't able to re-sign Eric Brewer. Their late first-round pick would be perfect trade bait for Yzerman to bring in a solid second-line forward or an experienced D-man.
Toronto Maple Leafs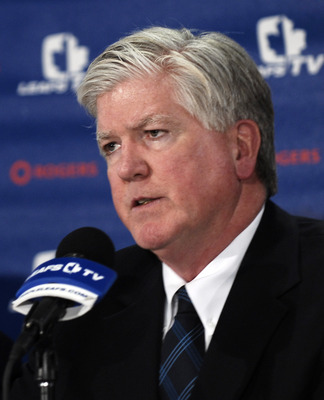 Brad White/Getty Images
Brian Burke is the most outspoken and aggressive GM in the NHL, and he is eager to shake things up on draft day.
The Leafs have two first-round picks (25th and 30th overall), and Burke has made no secrets about trying to shop those picks in order to move up and pick higher in the first round.
"We've made overtures to all the teams that have picks in the range that we'd like to get to." This is exactly what he told a group of reporters over the weekend with his typical no-nonsense attitude.
Of course, Burke has been known to talk a big game before without producing results. However, he has pulled off trades before at the draft. His most notable draft day move was his manoeuvring in 1999 that landed his former club, the Vancouver Canucks, the second and third overall picks that he used to select Daniel and Henrik Sedin.
Don't expect Burke to move up as high as that this year, but perhaps he could swing his two late first-round picks for a pick in the 10 to 15 range. Burke also mentioned that he'd be willing to trade his first-round picks for a current impact NHL player, so clearly he's open to all sort of scenarios.
One thing is for sure with Brian Burke: He wants to make the Toronto Maple Leafs better, and he'd rather do it sooner than later.
New York Rangers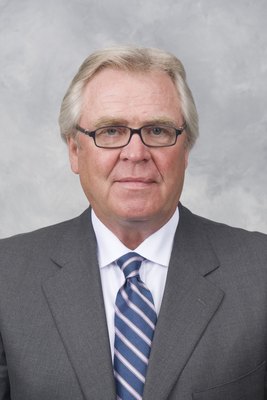 Getty Images/Getty Images
The Rangers also have a fairly freewheeling GM and as a result are always a possibility to make a move on draft day.
Glen Sather has been known to make some eye-opening moves during his time as the GM of the New York Rangers. Most of them have involved the money he throws at free agents, but he's also capable of swinging a trade or two.
This year the Rangers have the 15th pick in the first round after they barely squeaked into the playoffs. The 2011 draft class is considered fairly deep, so Sather might be willing to trade his pick to move back in the first round if the right assets came along with it.
Who knows? Maybe Sather will get together with the previously mentioned Brian Burke and trade his first- and second-round picks for the Maple Leafs' two late first-round picks.
Columbus Blue Jackets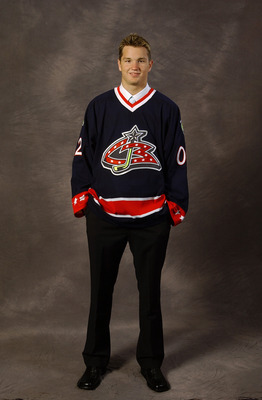 Craig Melvin/Getty Images
The Blue Jackets have been generating trade buzz with the eighth overall pick for days now. The most notable rumour surrounding them involves Jeff Carter being traded from the Philadelphia Flyers to Columbus in a deal involving the Blue Jackets' first-round pick.
Not surprisingly, Carter's agent has vehemently denied the rumour, which was initially brought to light by Aaron Portzline of The Columbus Dispatch. It's impossible to know who's telling the truth here, but the very fact that these stories are flying around the Blue Jackets organization is reason to believe that they're looking to wheel and deal in the near future.
The Dispatch has also reported that, regardless of the truth behind any rumours involving Jeff Carter, Blue Jackets GM Scott Howson is anxious to bring in immediate impact players and is willing to deal his top pick in the 2011 NHL draft to do so.
Whether or not Howson can actually complete a draft-day deal remains to be seen. However, all signs point to him doing everything he can to improve the Blue Jackets in the present, which might mean giving up on a little of their future.
Ottawa Senators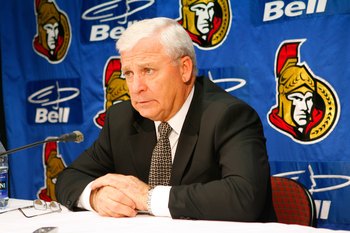 Phillip MacCallum/Getty Images
The often bewildered-looking Ottawa Senators GM, Bryan Murray, is unpredictable at the best of times. His thought process always seems to be somewhat dishevelled, and the events surrounding the 2011 NHL draft have proved to be no exception.
At the draft lottery a couple of months ago, Murray seemed to think the Senators won the lottery when it was announced that the New York Islanders would pick one spot lower than their regular season record had them slotted as. Murray's excitement turned out to be premature because the Senators are actually picking one spot below the Islanders.
Since that day, it's appeared as though Murray and his staff would just as soon trade away the sixth overall pick out of frustration that they're not picking higher. They certainly don't seem to know who's going to be available at that point in the draft.
This was evident when Tim Murray, Senators Assistant GM and nephew of Bryan, mentioned that the club would take Adam Larsson if he was available. The problem with Larsson is that just about every analyst with any sort of knowledge of the draft has him going either first or second overall, so it's bizarre that Murray would even mention his name.
Surely he was only speaking in hypothetical teams. Regardless, the fact that the Senators staff is even thinking about Larsson as an option shows they could be unprepared for this draft. It's either that or they're displeased with where they're picking and want to either trade to move up or trade their pick altogether for a player that could help them immediately.
The Senators also have the 21st overall pick in Friday's draft. This gives them a good asset to use as trade bait to go along with their apparent desire to deal the sixth overall selection on draft day.
New York Islanders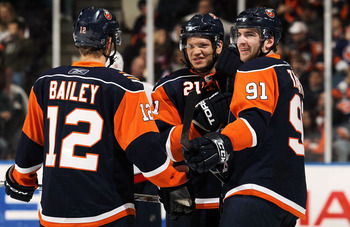 Jim McIsaac/Getty Images
The Islanders front office team appears to be thinking the same way as the Columbus Blue Jackets front office team. They are ready to get better now and are willing to spend and trade to do so.
Not only that, but Chris Botta of NYI Point Blank also seems to think the Islanders are interested in swinging a deal on draft day for Jeff Carter.
Botta has apparently been told by several sources that GM Garth Snow is dangling the Islanders' first-round pick (fifth overall) as trade bait for the first time since 2008 in order to get his team to the playoffs sooner rather than later.
The Islanders' method to improve their club quickly might need to be orchestrated via the trade as opposed to baiting free agents to play for them. After all, who wants to go to Uniondale, NY to play for one of the sorriest franchises in the last decade?
Given the fact that Snow doesn't want to trade any of his current young prospects and there isn't any great veteran talent on the Islanders, the best asset for him to deal would have to be that first-round pick.
Edmonton Oilers
Abelimages/Getty Images
Relax!
Please refrain from leaping out of your chair in excitement at the thought of the Oilers trading the first overall pick in this year's draft because it's not going to happen.
The Oilers have two first-round picks.
The second Edmonton pick falls at No. 19, and they are actively shopping it, according to Jim Matheson of the Edmonton Journal.
Matheson lays out a number of possibilities that could land the Oilers another pick in the top 10 is they give up any combination of the 19th pick, their second-round pick (31st overall) or possibly one of their roster players.
Edmonton GM Steve Tambellini admitted to reporters over the weekend that, when it comes to trade talks, "There's more discussion I think this year than last year."
He also was open about the possibility of moving up from the No. 19 pick if it's possible on draft day: "If our staff is extremely passionate about a player who is sitting there, whether it's two picks up or seven picks up, we're going to be aggressive to try and move up and get him."
It all points to Tambellini being just one of many general managers who want to make a splash this Friday at the 2011 NHL draft.
---
For more 2011 NHL draft coverage, stay tuned to Bleacher Report for updated NHL mock drafts, NHL draft rumors, NHL draft results and draft grades.
Keep Reading