Top 50 Washington Redskins of All Time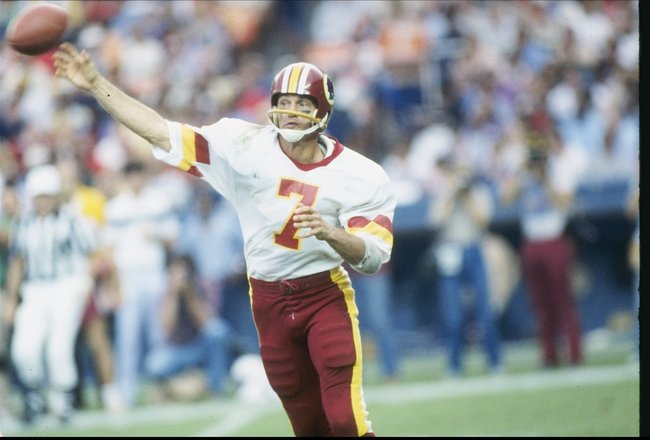 Getty Images/Getty Images
The Washington Redskins are one of the most historic and respected franchises in the game of football.
Even though it might not seem like it now, the 'Skins have had more than their fair share of great players and great teams that have gone down as legends in NFL history.
Washington has played over 1,000 games since 1932 and has won five NFL Championships and three Super Bowls since coming into existence.
Like I said, it might not seem like it now, but the Redskins sure have a lot to be proud about as a franchise.
They have boasted some of the best players of all time wearing their jerseys. Almost too many to rank but of course, we here at Bleacher Report are never scared of a good list.
Feel free to comment on the players and any memories you might have of them, and of course, if you want to re-rank my order, I urge you to take a shot!
Here is my rendition of the Top 50 Washington Redskins of All Time.
50. Dick James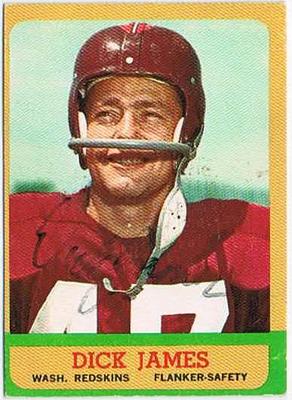 James played for the Redskins back in 1956 until 1963.
He scored four touchdowns in a win against Dallas in 1961 and was one of the smallest players in the NFL weighing in at 5'9", 175 lbs.
49. Mike Bragg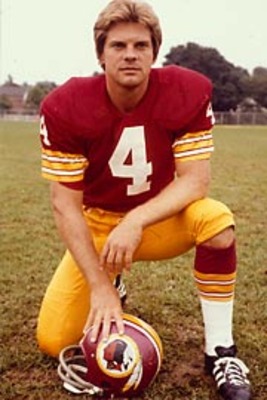 Bragg was one of the best punters in the game. He played for the Redskins from 1968-1979.
That's all I got for ya; I mean he's a punter for Pete's sake!
48. Andy Farkas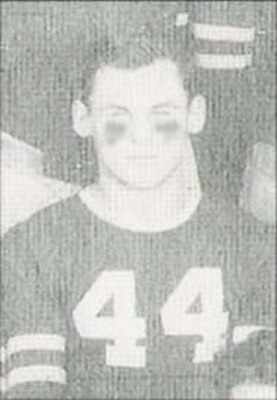 Farkas played fullback for the Redskins from 1938-1944.
He was caught in a picture wearing eye black in 1942 and is thought to be the first player in the NFL to wear the now famous game-day accessory
47. Mike Bass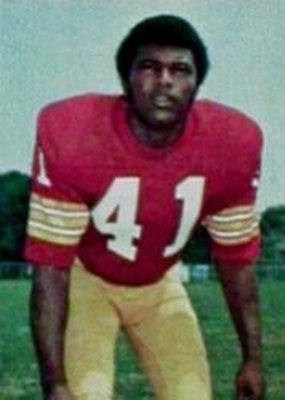 Bass is the last man drafted by Vince Lombardi to ever score in the Super Bowl.
That's good enough for this list!
46. Cliff Battles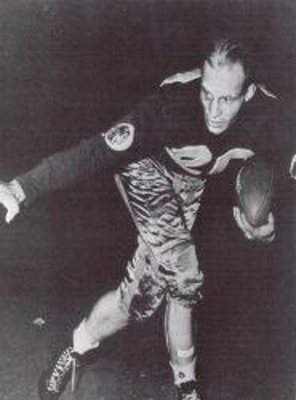 Battles played halfback/defensive back for the Redskins when they were still known as the Boston Braves.
In his five years with the team, he put up great numbers including 3,511 rushing, 546 receiving and a surprising 590 passing yards for a total of 31 touchdowns.
45. Charlie Brown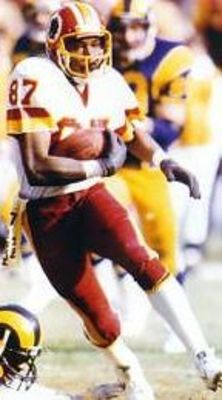 In three years with Washington Brown compiled 2,115 yards and 19 touchdowns on just 128 catches.
Pretty darn impressive numbers.
44. Jon Jansen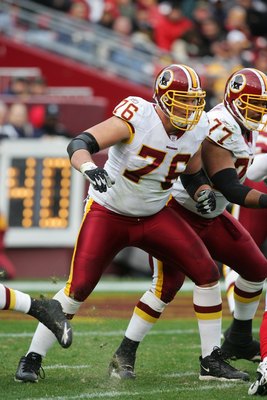 Jim McIsaac/Getty Images
Jansen was drafted in 1999 out of Michigan and was considered one of the better linemen in the league for the first part of his career.
The second half was plagued by injuries though, and he never really reached his full career potential.
43. Stephen Davis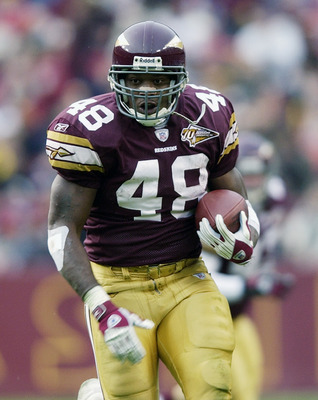 Davis started at running back for the Redskins in 1999 and ran right to the Pro Bowl with 1,405 yards and a stellar 4.8 yards per carry. He posted a league high 108 points and 17 touchdowns, including a two-point conversion.
He made the Pro Bowl again in 2000 and broke his own record in 2011 by rushing for 1,432 yards.
42. Mark May
Doug Pensinger/Getty Images
May could be more recognizable for his analysis on ESPN, but don't forget he was a member of the "Hogs" offensive line. He was part of the Super Bowl XVII and XXII teams.
41. Al DeMao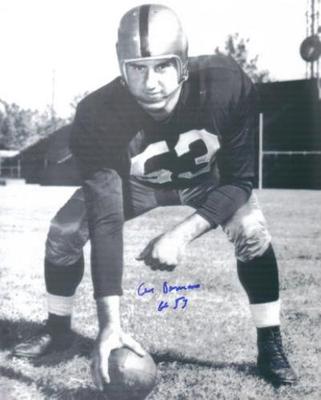 DeMao played center and linebacker for the Redskins from 1945-1953. He had eight career interceptions and five fumble recoveries.
40. London Fletcher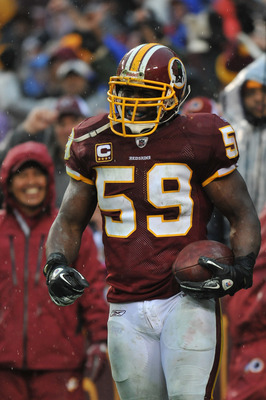 Larry French/Getty Images
Fletcher has been one of the all-time good guys in the NFL, and he has been one of the bright spots for the Redskins in the past decade.
He is the captain for the defense and is a Pro Bowl defender.
39. Earnest Byner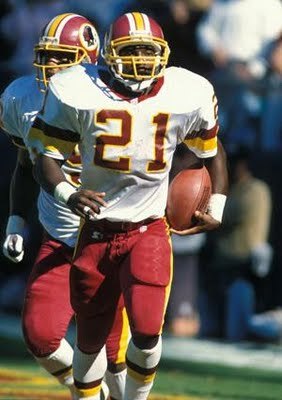 Byner became a Redskin in 1989 via trade. He made the Pro Bowl in 1990 with 1,219 yards rushing and in '91 with 1,048 yards. He was part of the Super Bowl XXVI team and caught a touchdown pass in the win.
38. Chris Samuels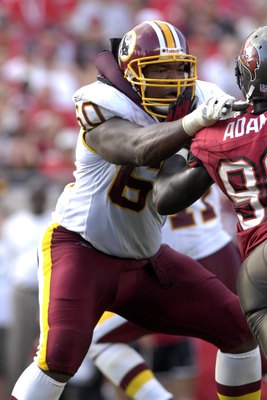 Al Messerschmidt/Getty Images
Samuels was the young leader of the 'Skins offensive line when he was drafted in 2011. He made six Pro Bowls and started all 141 games that he played at tackle.
He suffered temporary upper-body paralysis from a helmet to helmet hit against the Carolina Panthers in 2009 and was forced into an early retirement due to spinal stenosis.
37. Dave Butz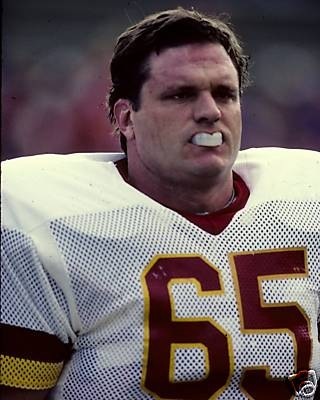 Butz played 14 years on the defensive line for the Redskins. He only missed four games from 1975 to 1988 and appeared in three Super Bowls.
36. Terry Allen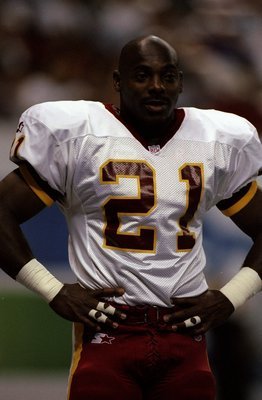 Terry Allen dominated the running game his first few years as a Redskin. He ran for over 1,000 yards and 10 TD's in 1995. In 1996 he ran for 21 touchdowns and 1,353 yards and a Pro Bowl bid.
35. Billy Kilmer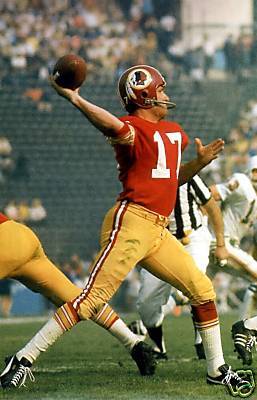 Kilmer was a two time All-Pro and went to one Pro Bowl as Redskins quarterback in 1972. He also led the NFL in passing TD's and passer rating that year.
34. Pat Fischer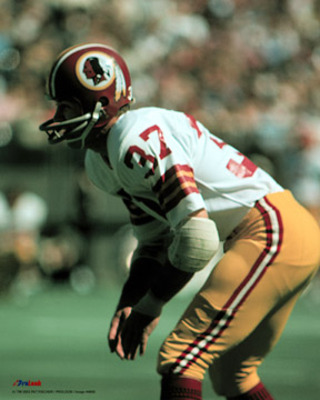 Fisher played corner for the Redskins from 1968-1977.
He ranks seventh all-time in career interceptions for the Redskins with 27.
33. Paul Krause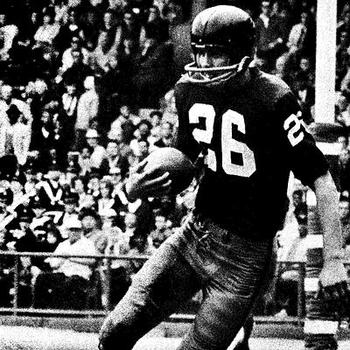 Krause was drafted in 1964 by Washington. He lead the NFL with 12 interceptions in his rookie season. He was also named to the Pro Bowl as a rookie.
Krause intercepted 28 passes with Washington but was traded to Minnesota after his fourth season.
32. Champ Bailey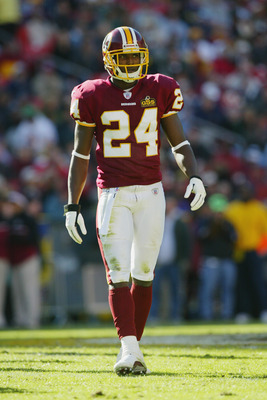 Jamie Squire/Getty Images
Bailey was drafted by the 'Skins in 1999 and played with them until 2003.
He never got to play on a truly good Redskins team, but it's hard to deny how talented he was and how much of an impact he made on Washington's defense during the time he was with the team.
31. Len Hauss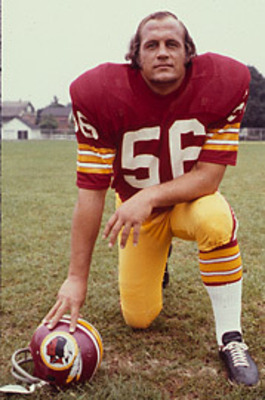 Hauss played center for Washington from 1964 to 1977.
Four games into his career, he got the starting job at center, and he started 192 consecutive games after that.
30. Vince Promuto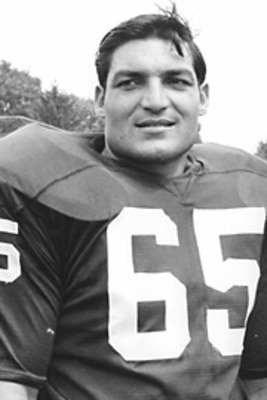 Promuto played 130 games as a Redskin from 1960 to 1970. The guard made two Pro Bowl appearances in his 10-year career.
29. Gene Brito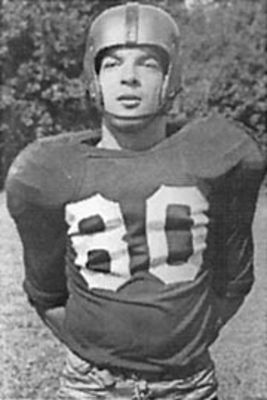 Brito played nine seasons starting on offense but was known at defensive end for the 'Skins way back in the day.
He went to five Pro Bowls and was the NFL Player of the Year in1955.
28. Mark Rypien
Rypien was the first Canadian born quarterback to start in the NFL. He went to two Pro Bowls as a Redskin and won two Super Bowls with the team. He was the MVP for Super Bowl XXVI
27. Mark Moseley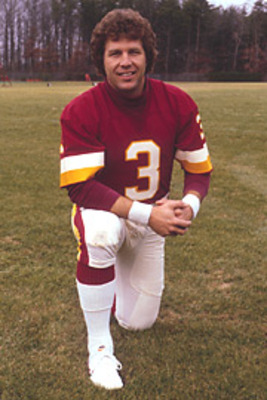 Moseley won the 1982 NFL MVP.
He was a placekicker.
Need I say more…?
26. Chris Cooley
Chris McGrath/Getty Images
Cooley was drafted by the 'Skins in the third round of the 2004 NFL draft, but he has arguably been one of the franchises best players of the decade.
He has two Pro Bowl selections under his belt and 4,638 yards and 33 touchdowns on 420 receptions in his young career.
25. Eddie LeBaron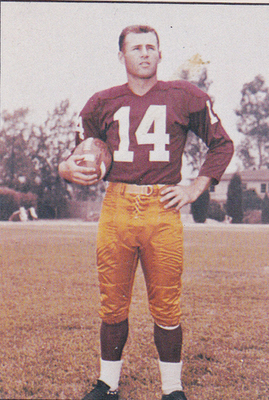 LeBaron is an old school Redskin quarterback drafted in 1950. He was the NFL's top passer in 1958 and was also the team punter.
Missed time due to the Korean War but famously took over for Sammy Baugh in '52.
24. Clinton Portis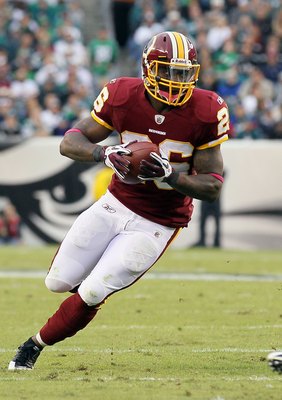 Jim McIsaac/Getty Images
In this era of Washington Redskins football, Clinton Portis has been one of the most consistent and dominant offensive contributors, which is saying a lot.
He was one of the best rushers in the NFL for a good chunk of his career with the Redskins.
23. Larry Brown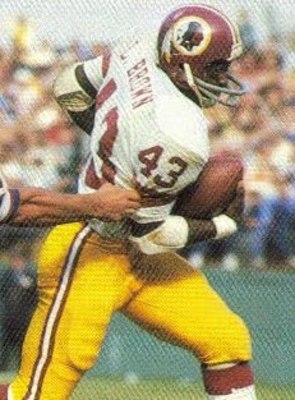 Brown was a running back for the Redskins from 1969 to 1976.
He was selected to four consecutive Pro Bowls and was the NFL MVP in 1972.
22. Sean Taylor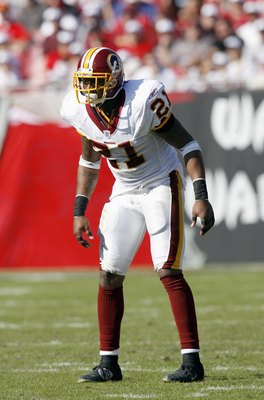 Matt Stroshane/Getty Images
Taylor was well on his way to an incredible career with the Redskins. Regrettably and tragically, he died at the all too young age of 24 due to injuries sustained from a gunshot wound when his home in Miami was broken in to.
In his three short years with the 'Skins, he recorded 299 tackles, 12 interceptions, eight forced fumbles, two sacks and one touchdown.
21. Sam Huff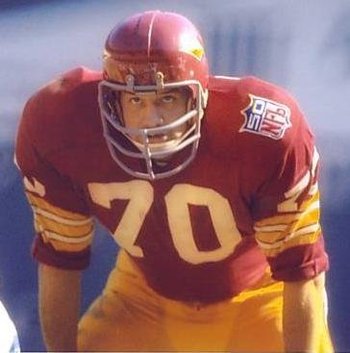 Huff's greatest accomplishments in the NFL came as a member of the New York Giants, but when he was traded to the Redskins, he made such a difference at linebacker that the defense was ranked second in 1965.
He was inducted into the Hall of Fame in 1982.
20. Santana Moss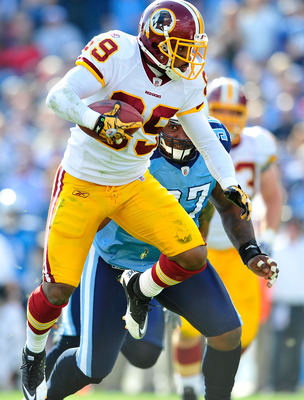 Grant Halverson/Getty Images
Some might argue that Moss is too high on this list, but I think that with the numbers that he has put up with Washington in the era he is playing in...he makes a case with his stats.
Look at his 442 receptions, 6,142 yards and 33 touchdowns since 2005.
19. Ken Houston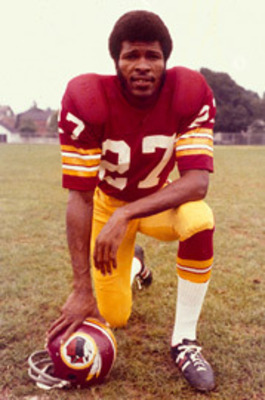 This Hall of Fame safety has seven Pro Bowl appearances as a member of the Washington Redskins and boasts career numbers of 49 interceptions, 898 interception return yards, 21 fumble recoveries and 12 touchdowns
18. Jeff Bostic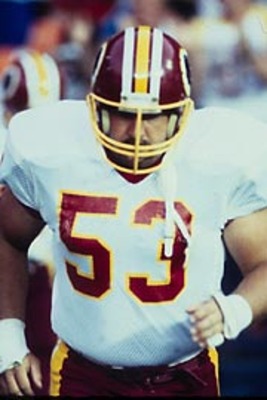 Bostic Played 13 years with the Redskins and was a part of the legendary group of lineman known as "The Hogs."
He won three Super Bowls with Washington.
17. John Riggins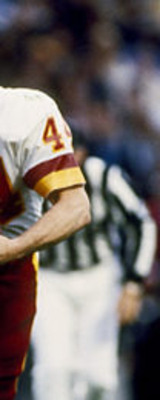 In nine years with the Redskins this short yardage specialist accumulated 2,916 carries for 11,352 yards and 104 touchdowns.
Add that to 250 catches, 2,090 receiving yards and 12 touchdowns through the air, and you have one of the best ever at a combined 13, 435 net yards and 116 total touchdowns.
16. Joe Jacoby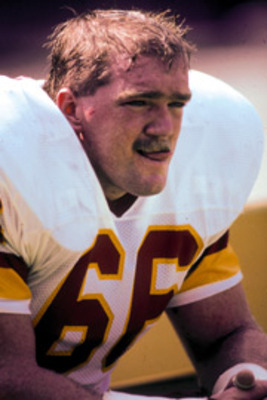 Rarely do offensive linemen get any glory, so I think it's more than appropriate for Jacoby to get a prominent spot on this list.
Jacoby was an undrafted free agent in 1981 that turned into a four-time Pro Bowler and won three Super Bowls with the Redskins
15. Jerry Smith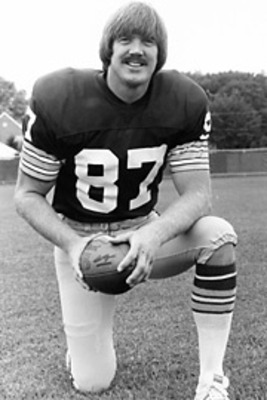 Smith is one of the best pass catching tight ends that the NFL has seen.
In 12 years, he caught 421 passes for 5,496 yards and 60 touchdowns.
Remember folks, this is a tight end we are talking about.
14. Gary Clark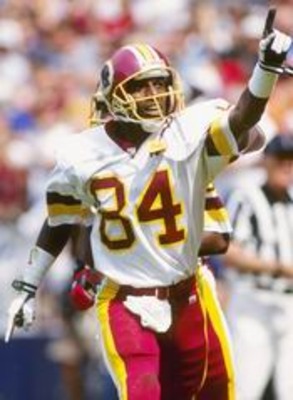 Clark was the most spirited member of the late '80s early '90s Washington receiving corp known as "the Posse." So much so in fact that he would actually run laps around RFK after touchdowns or during big moments in the game.
Most notably he recorded 27 100-yard games as a Redskin and won two Super Bowls during his career.
13. Charles Mann
Charles Mann was drafted in the 1983 NFL draft by the Redskins and recorded double-digit sack seasons four times in his 10 seasons with the team.
He finished with 82 sacks as a Redskin and two Super Bowls.
12. Doug Williams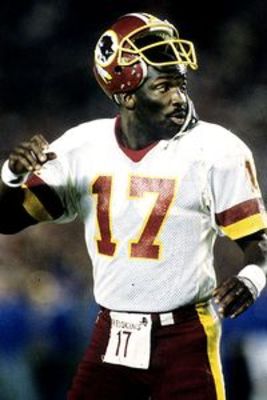 Williams is probably one of the most celebrated quarterbacks in NFL history, and he is one of the most like-able players in Redskins history.
He had a heck of an arm but is most known Super Bowl XXII MVP performance that endeared him to Redskin fans forever.
11. Russ Grimm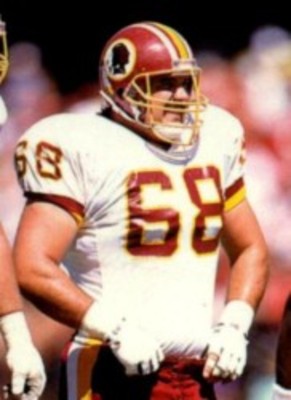 Grimm's a big guy very much deserving of this list.
He was selected to the Pro Bowl and All-Pro teams multiple times during his 11 seasons with the Redskins and is a member of the Pro Football Hall of Fame. He is also a first team member of the 1980s All-Decade Team.
10. Ricky Sanders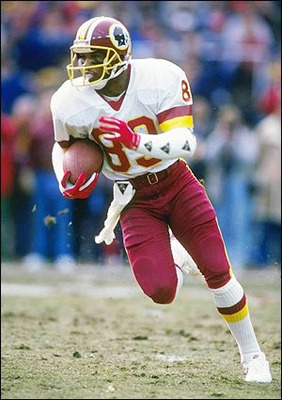 Sanders signed with the 'Skins in 1986 after a one-year stint in the USFL.
He is a two-time Super Bowl winner as a Redskin and finished with stellar career receiving numbers: 483 receptions, 6,477 yards and 37 touchdowns
9. Dexter Manley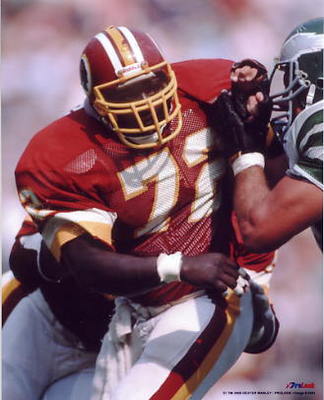 Manley was an absolute beast coming off the end. He's the 'Skins career sack leader with a grand total of 97.5 sacks and has a Super Bowl championship under his belt.
8. Monte Coleman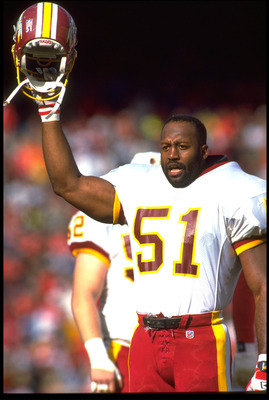 Coleman played linebacker for the Redskins from 1979 to 1994. He is second to Darrell Green for games played with the team at 217. He recorded 56.5 sacks and played in four Super Bowls, winning three.
7. Sonny Jurgenson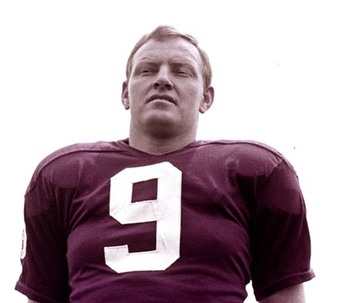 In the '60s Jurgenson was one of the best quarterbacks in the NFL, and he set many records and went to a few Pro Bowls as a member of the Redskins.
His career with the 'Skins was cut short by injury, but he still goes down as one of the best with some of his career statistics.
6. Joe Theismann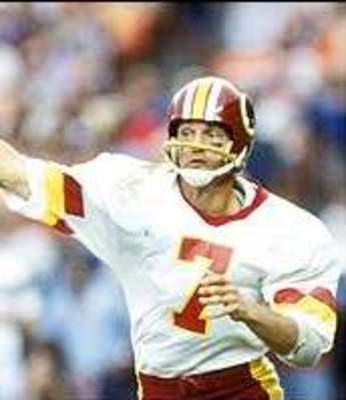 Theismann lead the Redskins to two epic Super Bowl appearances, winning the first one in Super Bowl XVII.
He put up career stats of 2,044 completions, 25,206 yards and 160 touchdowns.
He is definitely one of the all-time favorite Redskins and in my opinion is an all-time great.
5. Chris Hanburger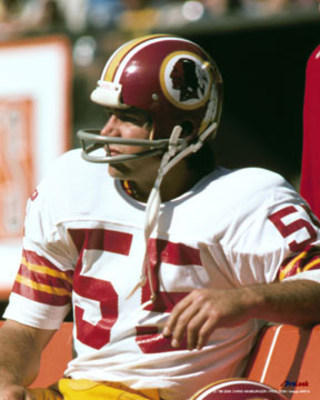 This all-time great linebacker played all 14 seasons of his Hall of Fame career with the Redskins.
He notched up nine Pro Bowls, six All-Pro selections, eight All-Conference first-team honors and was the 1972 NFL 101 NFC Defensive Player of the Year.
He also had 19 interceptions and five touchdowns in his career
4. Charley Taylor
Charley Taylor is arguably one of the best overall athletes to ever put on a Redskins uniform. He started off as a running back but eventually moved to running back and even ran back a few kicks.
In 13 seasons with the 'Skins, he had 649 receptions for 9,110 yards and 79 touchdowns. He had a combined 10,803 net yardage and 11 rushing touchdowns for a grand total of 540 career points.
3. Art Monk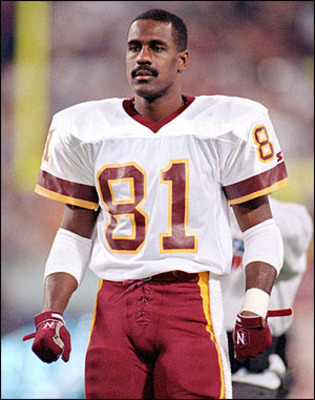 Monk is not only one of the better receivers and players in Redskin history, but he is widely thought of one of the NFL's very best.
He was drafted by the Redskins in 1980 and immediately played himself onto the NFL All-Rookie Team, just to name one of his notable accomplishments: 12,026 yards, 888 receptions and 65 touchdowns.
2. Sammy Baugh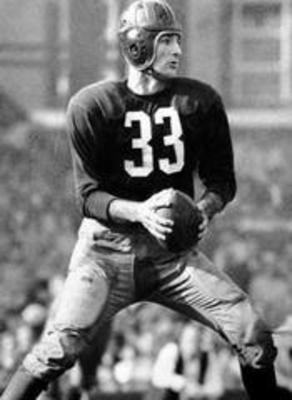 Many NFL historians would tell you that even though he is not usually mentioned amongst the likes of the best ever, Sammy Baugh was one of the best quarterbacks that the NFL has seen in its long and historic career.
Many call him a founding father to our modern day passing game, being as before he played the NFL was a very run heavy league. Unlike our modern day quarterbacks though, Baugh played all aspects of the game:
-21,886 yards, 187 passing touchdowns, 31 interceptions caught.
-Seven-time All-NFL
-1944 NFL passing, interception and punting champion
-Only player to lead the NFL in offensive, defensive and special teams statistics
-No. 33 jersey retired by the Redskins
1. Darrell Green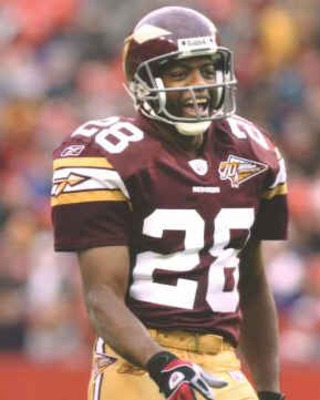 Green played with the Redskins from 1983-2002 and is easily one of the best Washington players of all time and one of the best corners ever.
Just to name a few of his accomplishments, he has seven Pro Bowl selections, four All- Pro selections, the 1996 Walter Payton Man of the Year award, 1996 Bard Star Award, 19 seasons with at least one interception.
Career 1,159 tackles and 54 interceptions.
He spent 20 seasons with the same NFL team.
The Redskins.
Darrell Green is the definition of the Redskin organization, and that's why I feel he deserves to be No. 1.
Follow Andrew on Twitter: @AKonSports
Keep Reading

Washington Redskins: Like this team?