NBA Draft 2011: Should Sacramento Kings Draft Kemba Walker If He's Available?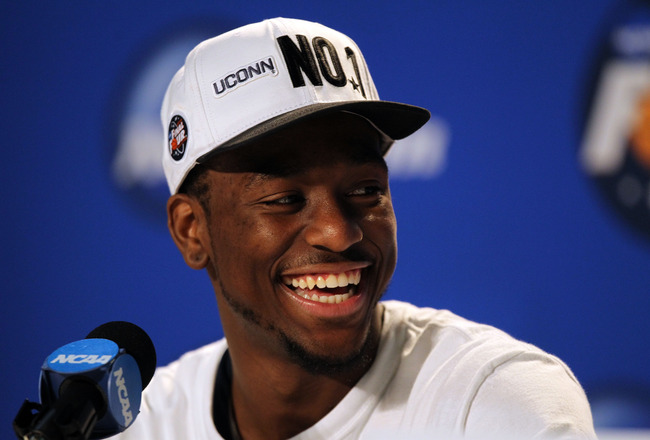 Andy Lyons/Getty Images
The 2011 NBA Draft is an important one for the Sacramento Kings. Depending on who you talk to, the team is either on the verge of breaking out, or the precipice of disaster.
While Sacramento undeniably has a talented base of Tyreke Evans and DeMarcus Cousins to build around, they have been lacking that one final piece, that player who can bring the team's individual talents together and help them play…well, like a team.
There has been speculation as to whether Kemba Walker is the kind of playmaker who could elevate the Kings to the next level.
Will Kemba Walker be the an answer to Sacramento's "watch Tyreke while remaining motionless" offense? Is he the perfect fit for Sacramento?
Should the Kings draft Walker if he's available? The answer to these questions and (probably not) others, after the jump!
Pro: Speed, Speed and More Speed. Also Speed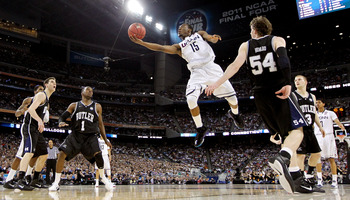 Streeter Lecka/Getty Images
If the Kings do draft Walker, they will have the makings of one of the league's deadliest fast breaks.
Tyreke Evans is capable of bulldozing his way to the hoop seemingly at will, and a pairing with Walker would give him an athletic equal to play off.
DeMarcus Cousins is more than athletic enough to take part in these "seven seconds or less" scoring opportunities, and players like Donte Greene and Jason Thompson would certainly benefit from a more fast-paced offense.
Speed is one of Walker's undeniable strengths. His quickness and first step were near-impossible to guard in college, and should translate well to the NBA.
Drafting Walker would give the Kings an immediate speed advantage in almost every game. And in Sacramento, an advantage of any kind is sorely needed.
Con: NBA Games Are Played with Only One Basketball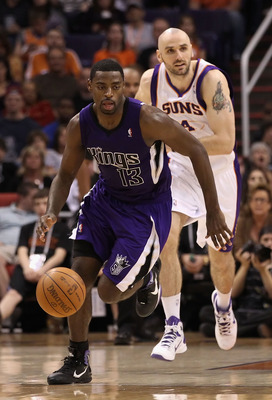 Christian Petersen/Getty Images
Kemba Walker was an extremely effective player in college. His last year at UConn was great, and at times bordered on legendary.
But he also had the ball in his hands for the majority of UConn's key possessions. He was given the keys to the team and he drove them to success. However, he likely would not be given the same type of freedom in Sacramento.
Kemba Walker and Tyreke Evans are incredibly similar in this regard: they are both dynamic scorers who prefer to play with the ball in their hands, which is fine. They can both be very good players. But I have my doubts about whether they can coexist in a team setting.
Call them the homeless man's Wade and LeBron.
It is nice to imagine a future where Walker has successfully converted himself into a true point guard, but there is absolutely no evidence that leads me to believe this will happen.
If the Kings draft Walker, and he is unable to alter his game, the team will be in trouble both on the court and in the standings.
Pro: Big Shot Making Ability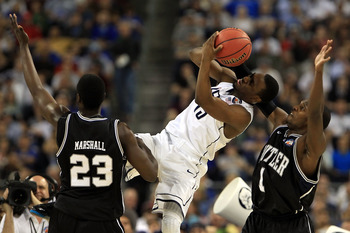 Streeter Lecka/Getty Images
The Kings lost a lot of games for a lot of reasons last year.
But one reason is that they are a very predictable team at the end of close games. It's basically Tyreke or nothing.
Evans is their best player, and if they are going to build a team with him as their centerpiece, it is only natural that he has the ball in his hands during key possessions.
But having no other legitimate options in game-winning situations makes them predictable. And in the NBA predictable = lots and lots of losses.
Kemba Walker would give Sacramento a much-needed second scoring option. His reputation as a fearless shooter was fully on display during the 2011 NCAA season, when he displayed a Robert Horry-like knack for consistently taking (and more importantly making) huge shots to lift his team to victory.
Acquiring a player who poses a legitimate threat in the last two minutes of close games would greatly increase the effectiveness of the Kings crunch-time offense. Thus far, everything we have seen from Kemba Walker indicates that he is this type of player.
Con: Drafting a Point Guard Who's Not Really a Point Guard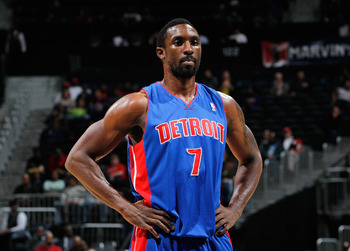 Kevin C. Cox/Getty Images
All of the experience that would lead to a high lottery selection for Walker is great. He has shown some tremendous skills and incredible testicular fortitude.
But he's not a point guard.
He's a small shooting guard. Walker has stated that he will be able to change the way he plays to fit the needs of the team that drafts him, and who am I to doubt him?
But for any player, changing their mindset on the court is easier said than done. Drafting Walker as a point guard would mean that the Kings are likely committing themselves to another two or three years of rebuilding at the very minimum. The Kings have to ask themselves if this is a step they are prepared to take.
When I watch Kemba Walker, I see Ben Gordon. Whatever, Ben Gordon's a nice player. But would you really take Ben Gordon with the seventh overall pick, or would you hope for something better?
Pro: Kemba Definitely Fits a Need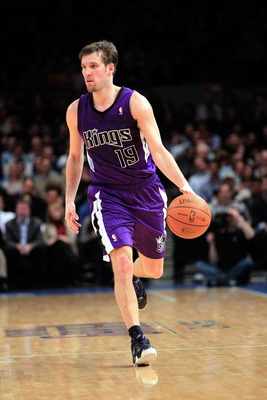 Chris Trotman/Getty Images
Currently, the Kings' roster has two gaping holes in it—at point guard and small forward.
Although he isn't a true point guard, Walker would slide into that role for better or worse in Sacramento, and would at least give the team an answer to two of it's biggest weaknesses.
Whether it works out or not, drafting Kemba Walker would allow Geoff Petrie to scratch "find a point guard who's not Beno Udrih" off his To Do List for at least a few seasons.
Con: He's Not Kawhi Leonard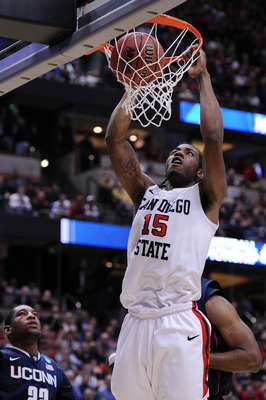 Harry How/Getty Images
Walker would give the Kings an answer at point guard, but Kawhi Leonard seems to be much closer to a perfect fit for Sacramento at a position that is equally weak for them—small forward.
Leonard is the kind of do-it-all threat that the team thought it would be getting when they gave Francisco Garcia his ill-advised contract; a tremendous athlete, a capable scorer, an efficient rebounder, a raw but incredibly projectable defender and a guy who is capable of playing multiple positions or handling the ball.
The former San Diego State star has also shown improved range on his jumper in pre-draft workouts, and has demonstrated a stoic, professional attitude that would be welcome on a Sacramento team filled with volatile, and at times unfocused young stars-in-the-making.
Leonard's versatility and ridiculous physical attributes (including a 7-3 wingspan and 227-pound frame built of lean muscle) make him a natural fit for the Kings, and he should be the team's pick at No. 7 whether Kemba is available or not.
Pro: Playing with Tyreke Could Actually Open Up Kemba's Game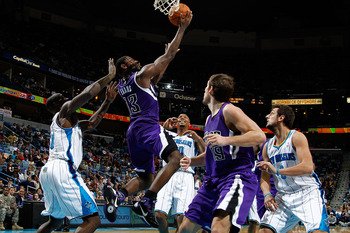 Chris Graythen/Getty Images
Although pairing Kemba and Tyreke in the Sacramento backcourt seems like an odd pairing of similarly styled players, it could actually give Walker a chance to develop into a more dynamic, well-balanced threat.
Walker didn't have to play off the ball much in college, mostly because he didn't have any teammates who were as capable as him.
Playing with Tyreke would give Walker the opportunity to play without the ball in his hands, and use his speed to confuse defenses.
Con: Three Words—Never Nervous Pervis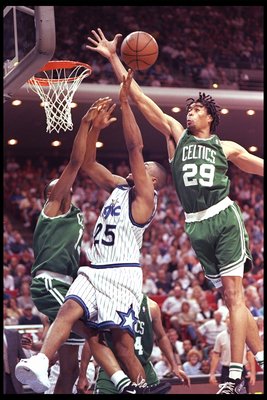 Getty Images/Getty Images
There is a long, rich history of players who saw their draft stock rise as a result of a great NCAA performances, but couldn't sustain their college success in the pro's.
Kings fans will remember that the team took "Never Nervous" Pervis Ellison first overall in 1989, and saw exactly zero productive seasons from him in a Sacramento uniform.
Although Ellison is one example of this phenomenon, there are many others (Juan Dixon, Lionel Simmons, Calbert Chaney, etc.) who should serve as a warning to the Kings—just because a player tore it up during tournament time does not mean they are bound for NBA success.
Conclusion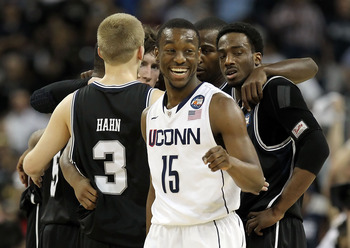 Ronald Martinez/Getty Images
So should the Kings draft Kemba Walker if he's available?
No.
But they might not have a choice.
There are clearly better fits for the team out there (for example if Brandon Knight somehow falls to No. 7 or Kawhi Leonard is still on the board), and passing on one of these options for Kemba would be a mistake.
However, this year's draft is also notoriously short on talent. It is extremely probable that both Knight and Leonard (as well as players like Enes Kanter and Derrick Williams, who would be obvious picks if they somehow fell) will be gone by the time the David Stern steps to the podium to announce the No. 7 pick.
If Knight and Leonard were gone, then Walker would be a practical selection. He would be the best of the remaining point guard prospects, and would certainly draw at least some fans to Power Balance Pavilion next season.
Obviously, I have my reservations about Kemba Walker, but in a draft class that has been called the worst in a decade, Sacramento may have few other options but to take him.
And who knows, maybe that will end up being a blessing in disguise.
For more 2011 NBA draft coverage, stay tuned to Bleacher Report for updated NBA mock drafts, B/R's Big Board of Recruits, NBA draft rumors, NBA draft results and draft grades.
Keep Reading

Sacramento Kings: Like this team?