MLB Trade Rumors: Heath Bell and Each Team's Biggest Trade Rumor Magnet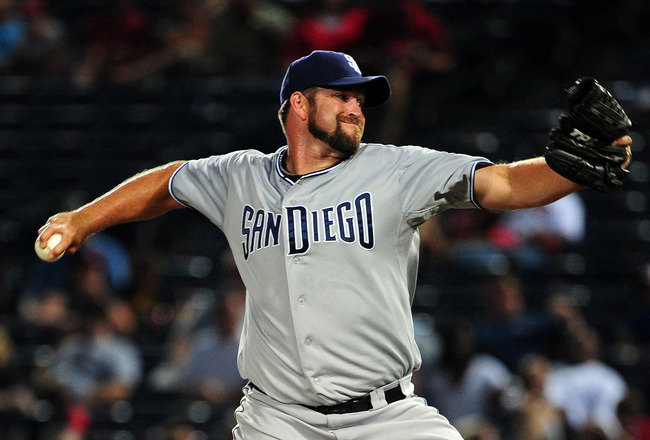 Scott Cunningham/Getty Images
Players like San Diego's Heath Bell generate tons of media attention before any actual deal is in place.
Fans and experts alike know when marquee players will soon be on the move and can't help but speculate about all the possible outcomes.
Funnily enough, once a player is the subject of a couple rumors, he becomes a sort of magnet, attracting both legitimate and apocryphal stories.
Here are the biggest trade rumor magnets from each big league team.
Los Angeles Angels: Jared Weaver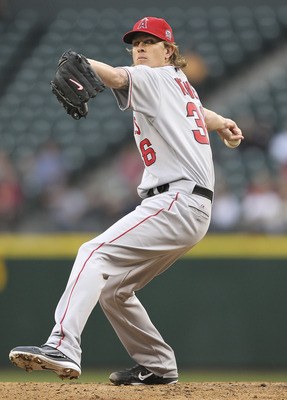 Otto Greule Jr/Getty Images
Jared Weaver has been lights out so far in 2011.
In his sixth big league year, Weaver has posted a 9-4 record to go along a 2.01 ERA and 0.92 WHIP. He has struck out 102 and walked just 27.
Los Angeles would be smart to deal their ace in the middle of his career year. Not only would the Halos receive a huge return, they would also avoid what is sure to be an extremely costly arbitration process this coming offseason.
Seattle Mariners: Erik Bedard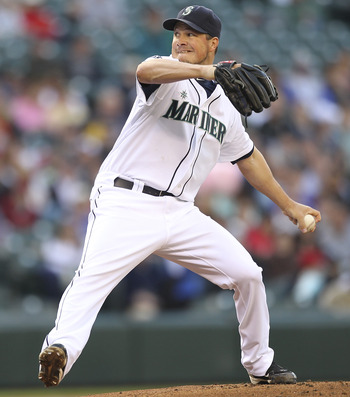 Otto Greule Jr/Getty Images
At 32 years old, Erik Bedard is the oldest member of Seattle's loaded rotation.
He is also the most likely Mariner to be traded. Seattle needs offensive help and has no shortage of quality starting pitching.
King Felix and Michael Pineda are without a doubt off limits. Seattle would also presumably prefer to keep Jason Vargas and Doug Fister, who are both younger and cheaper than Bedard.
Bedard has posted a 3.16 ERA and 1.17 WHIP in 13 starts this year. He is a solid back-of-the-rotation option for any team in need of pitching and is left-handed to boot.
Oakland A's: Josh Willingham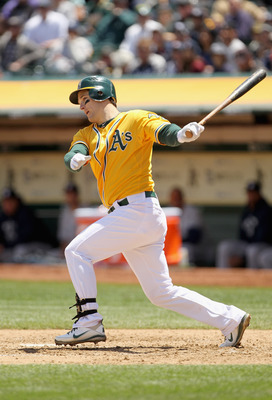 Ezra Shaw/Getty Images
Contending teams like the Atlanta Braves and Philadelphia Phillies are prowling the market for right-handed power hitters like Oakland's Josh Willingham.
Though hitting just .231, Willingham has blasted 10 homers this year and would benefit from a move out of the spacious Coliseum.
Billy Beane has never been afraid to pull the trigger on a deal if he thinks the time is right. Willingham could get dealt even if the A's are still in contention if Beane thinks the return is too much to turn down.
Texas Rangers: Chris Davis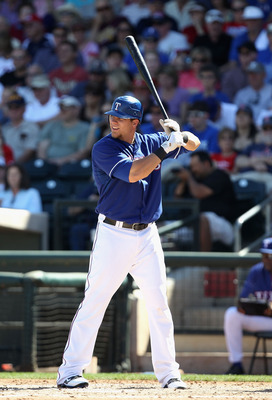 Christian Petersen/Getty Images
Texas has given Chris Davis plenty of chances to seize a starting gig, but Davis has never stepped up.
Davis can play either corner infield position but has limited playing time with Michael Young and Mike Napoli ahead of him on the depth chart.
Davis has strong power potential, having smacked 21 homers in 113 games two years ago. He will be an intriguing option for teams like the Orioles who need a first baseman for the future.
Davis is an expendable piece for the offensively loaded Rangers who will need to add bullpen depth if they want to stay relevant by September.
Cleveland Indians: Travis Hafner
David Maxwell/Getty Images
Travis Hafner was tearing up the American League for the Indians earlier this year, but an injured oblique muscle forced him out of the lineup for nearly a month.
The Indians are already showing signs of slowing down, as their rotation cannot continue to put up the numbers they did earlier in the year.
Rebuilding teams like the Indians cannot afford to keep around a good designated hitter like Travis Hafner. They need to build their team around position players and starting pitching and would be well-advised to deal Hafner for some high-level prospects.
Hafner and his .341 average could be an intriguing option for teams in need of a DH.
Detroit Tigers: Magglio Ordoñez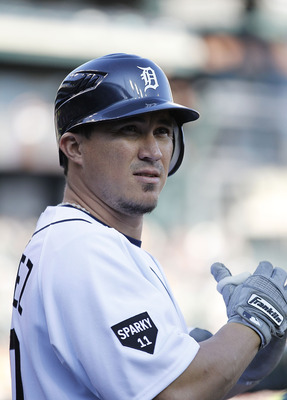 Leon Halip/Getty Images
Magglio Ordoñez has become dead weight in right field.
The 37-year-old hasn't been much of a fielder for quite some time and now is slipping at the plate, hitting a startlingly atrocious .172.
There might not be any teams interested in Ordoñez. But the vet is losing playing time to Andy Dirks and will soon be out of Detroit.
Ordoñez will be an interesting player to follow, as he has hit .298 or better every year since 1999 and will certainly be a buy-low candidate at the deadline.
Chicago Whitesox: Juan Pierre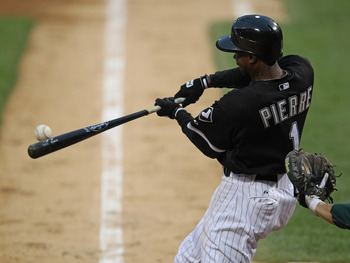 Jonathan Daniel/Getty Images
Juan Pierre is in the final year of his five-year, $44 million deal and is set to become a free agent this offseason. Chicago doesn't appear interested in inking him to an extension.
Barring a dramatic climb in the standings, Chicago could shove Pierre out the door a little early if they can garner some interest in the speedy 33-year-old.
Minnesota Twins: Michael Cuddyer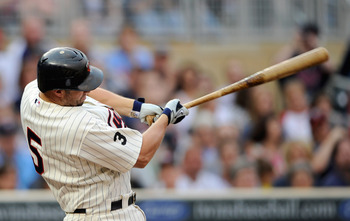 Hannah Foslien/Getty Images
Michael Cuddyer has been one of the bright spots for the Minnesota Twins this season.
The versatile Cuddyer has hit .280 with 10 homers and six stolen bases. He can play either first, second, third or a corner outfield spot.
He has tellingly waived his partial no-trade clause, which comically included only three teams that Cuddyer himself couldn't even remember.
The Twins are winners of 15 of their past 17 and are creeping up the standings in the AL Central. When their run eventually ends, they will probably become sellers.
Cuddyer is an attractive trade candidate because of his versatility, and could definitely yield a strong return if the Twins are willing to eat part of his $10.5 million salary.
Kansas City Royals: Wilson Betemit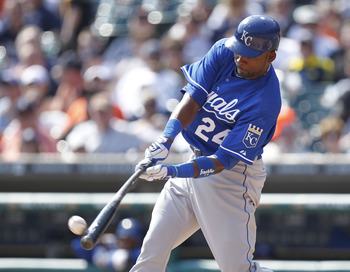 Gregory Shamus/Getty Images
Wilson Betemit has been relegated to the bench following the promotion of highly touted prospect Mike Moustakas.
Betemit has been playing well for the Royals, hitting .287 in 50 games.
With a salary of only $1 million, Betemit is a highly affordable option for any team looking to add infield depth and will hear his name bounced around in all sorts of trade talks.
Boston Red Sox: Marco Scutaro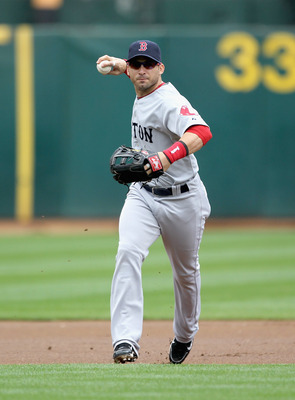 Ezra Shaw/Getty Images
Marco Scutaro has become the odd man out in Boston this year.
He is back in the starting lineup due to Jed Lowrie's injury but had been all but replaced just a month ago when Lowrie burst onto the scene.
When Lowrie returns, the Red Sox will have a 35-year-old backup shortstop on their hands.
Boston will surely attempt to use Scutaro as leverage to acquire another starting pitcher or help in the bullpen—it's safe to say the Sox have an offensive surplus and would be fine severing ties with a backup in favor of some pitching.
New York Yankees: Nick Swisher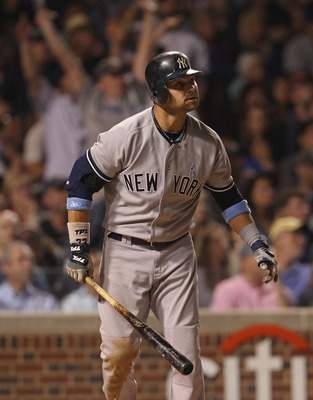 Jonathan Daniel/Getty Images
The New York Yankees have plenty of offense, and Nick Swisher doesn't provide anything special.
Swisher has been a great addition to the clubhouse, but the Steinbrenners aren't known for fostering camaraderie or leading team-building exercises.
New York needs pitching and could find a team in need of a corner outfielder that would part with a quality starter or a reliever.
Tampa Bay Rays: B.J. Upton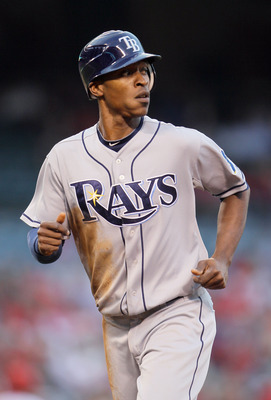 Jeff Gross/Getty Images
The Tampa Bay Rays are deciding yet again whether or not to trade outfielder B.J. Upton.
It currently appears that Upton will stay in Tampa Bay once again, but there are no guarantees with the Rays.
With five full major league years under his belt, Upton is nearing the end of his tenure in Tampa Bay. The Rays could be motivated to deal him this summer if they can find the right buyer.
Toronto Blue Jays: Corey Patterson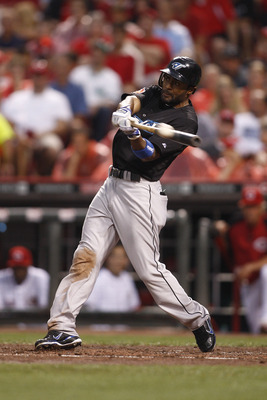 John Grieshop/Getty Images
Corey Patterson has been a solid contributor in the Blue Jays lineup, hitting .266 with five homers, 14 doubles and 11 steals.
Priced at just $900K for the year, Patterson is a highly affordable base-stealing threat for a team needing speed.
Baltimore Orioles: Vladamir Guerrero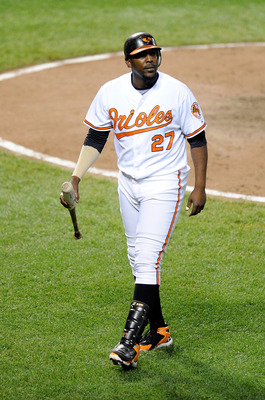 Greg Fiume/Getty Images
Vladamir Guerrero is having a solid year in Baltimore, hitting .288 with six homers and 11 doubles.
Guerrero is set to become a free agent after this season. With the Orioles pretty far out of first place, Vlad is a logical piece to deal.
While his bat continues to be productive late in his career, Guerrero's glove has not aged very gracefully. He will be most useful to teams like the Seattle Mariners who are seeking DH help.
San Francisco Giants: Barry Zito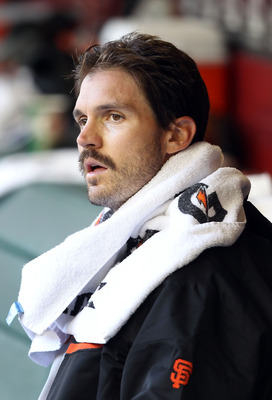 Christian Petersen/Getty Images
Barry Zito is lined up to return from the disabled list as early as next week, but will find himself without a job.
Ryan Vogelsong has pitched superbly in Zito's place. San Francisco will want to keep Vogelsong, arguably their best starter this season, firmly in the rotation.
Trade talks concerning Barry Zito will return in full force, as competitive teams are always looking for pitching depth at the deadline.
The big question is how much salary are the Giants willing to eat to move the Moustached Wonder?
Arizona Diamondbacks: Xavier Nady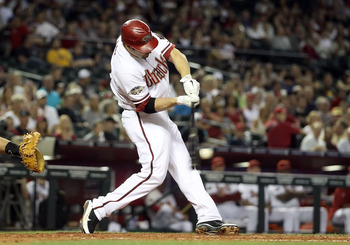 Christian Petersen/Getty Images
Xavier Nady doesn't have a regular starting gig but comes off the bench at either first base or a corner outfield spot for the Arizona Diamondbacks.
Nady is hitting only .258, but has a .303 average against righties and could be a useful fourth outfielder.
Colorado Rockies: Huston Street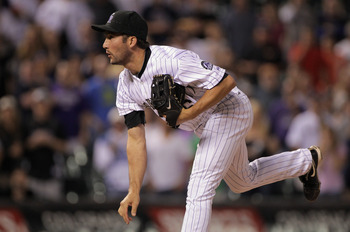 Doug Pensinger/Getty Images
The Colorado Rockies need to arouse themselves from their sleepwalk soon if they want to keep pace with the Giants and Diamondbacks in the NL West.
If the Rockies continue to hover around .500, Huston Street could become expendable.
Street has been one of the more dependable closers around the National League since his trade from Oakland preceding the 2009 season.
He will be highly sought after if the Rockies put him on the trading block.
Los Angeles Dodgers: Jamey Carroll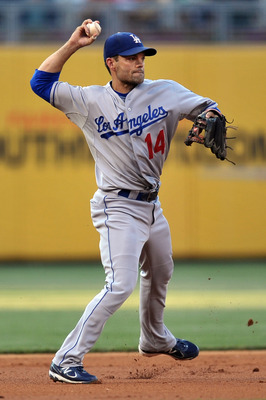 Drew Hallowell/Getty Images
Jamey Carroll took over the starting shortstop position in April when Rafael Furcal broke his thumb.
He has been one of the Dodgers' most consistent offensive contributors, hitting .305/.374/.370 in 70 games.
He is now playing mostly second base with Dee Gordon getting starts at short. Carroll can also play third or a corner outfield position.
Carroll, 37, can be useful to any team in contention as an infielder off the bench. His high on-base percentage makes him an ideal leadoff or No. 2 hitter.
San Diego Padres: Heath Bell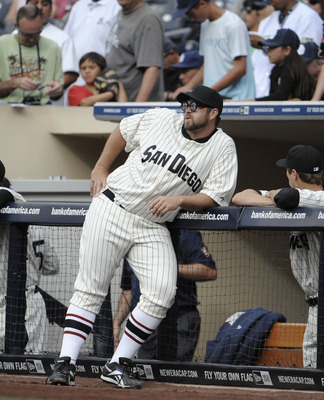 Denis Poroy/Getty Images
Having a great closer like Heath Bell is a huge asset for any team.
Except teams like the last-place Padres can't afford the luxury of an All-Star closer when they can't put enough runs on the board to stay competitive.
Bell has been one of the NL's top closers once again in 2011, blowing just one save in 19 chances. He will draw a lot of attention as the Padres remain firmly entrenched in the cellar of the NL West.
St. Louis Cardinals: Lance Berkman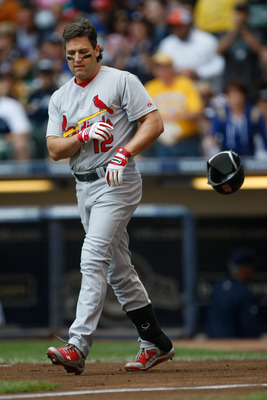 Scott Boehm/Getty Images
Lance Berkman burst out of the gate in 2011 but has since tapered off.
After hitting .388 in April, Berkman has hit .262 in May and .222 so far in June. His average has dropped to .308 and will continue to slip unless he can right the ship.
Berkman currently is holding down the starting job at first base because of Albert Pujols' fractured forearm, which also gives Jon Jay a regular job in right field.
If Jay takes hold of the starting job, then Berkman will be without a role on the Cardinals. But with a .323 average vs. right-handed pitching, Berkman can provide value to a team looking for a fourth outfielder.
St. Louis hasn't shown interest in selling anyone at the deadline and will most likely hold on to Berkman and use him as their fourth outfielder and backup first baseman.
Milwaukee Brewers: Prince Fielder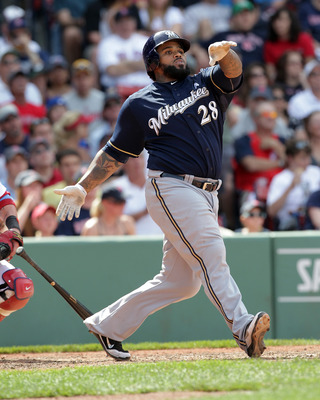 Jim Rogash/Getty Images
The Milwaukee Brewers aren't going to trade anybody away at the deadline this year, but Prince Fielder talks will continue until he is signed next offseason.
Milwaukee invested heavily in their 2011 team, acquiring Zack Greinke and Shaun Marcum via trades, thoroughly depleting their farm system in the process.
If the Brew Crew suddenly fall completely out of contention, Prince Fielder will very likely be dealt. Milwaukee will in all likelihood lose Fielder this offseason, and stands zero chance of competing for a World Series without top level minor league talent waiting in the wings.
Because of the urgency in Milwaukee this year, the baseball world will be closely monitoring the Brewers and the Prince Fielder situation right through the deadline.
Cincinnati Reds: Ramon Hernandez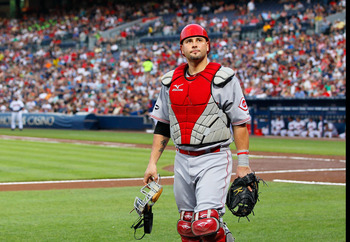 Kevin C. Cox/Getty Images
Normally backup catchers don't draw a lot of attention at the trade deadline, but Cincinnati's Ramon Hernandez will be an exception.
Hernandez is hitting .302/.368/.504 in 155 plate appearances, much better than the league-wide catcher average of .241/.314/.378 (which includes starters).
Cincinnati has plenty of depth behind the dish. Ryan Hanigan is their established starter, and Devin Mesoraco, rated Baseball America's 64th best prospect before the season, is lighting up Triple-A pitching.
The Reds could get a great deal for Hernandez, who might be the most desired 35-year-old backup catcher of all time.
Pittsburgh Pirates: Charlie Morton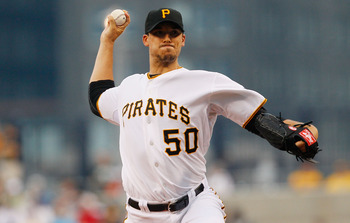 Jared Wickerham/Getty Images
Charlie Morton has enjoyed a quiet resurgence in Pittsburgh, posting a 2.52 ERA through his first 11 starts.
Three consecutive poor outings have raised his ERA to 3.77, diminishing his trade value.
But the word is out that Charlie Morton is a legitimate sinker-baller. He will attract suitors looking for starting pitching depth down the road.
Chicago Cubs: Carlos Peña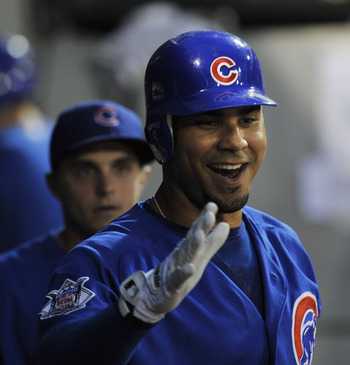 David Banks/Getty Images
The Chicago Cubs have a variety of players that will be heavily involved in trade rumors, including Carlos Zambrano, Ryan Dempster and Alfonso Soriano.
But those three players are all incredibly costly and unlikely to be moved.
Carlos Peña is more affordable (though still vastly overpaid) at $10 million for just this year.
After an atrocious April, Peña has raised his batting average to a stomach-able .220. He has also hit 12 homers, showing signs of the power that earned him his paycheck.
Houston Astros: Hunter Pence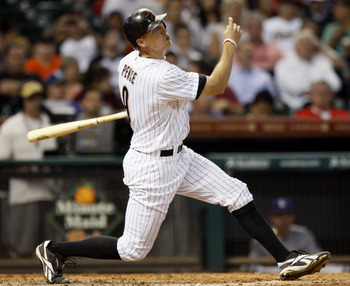 Bob Levey/Getty Images
The Houston Astros have adamantly stated that they see Hunter Pence on their next winning team, indicating the right fielder will be tough to acquire.
The Atlanta Braves are aggressively looking for a corner outfielder and presumably have Pence toward the top of their wish list.
Houston's reluctance to deal their best player will only add fuel to the fire. They are are solidly in last place and don't appear poised to improve by next year or even the year after.
Pressure will build for the Astros to sell Pence and gather as many prospects as possible for the future, since there aren't currently any winning seasons on the horizon.
Philadelphia Phillies: Kyle Kendrick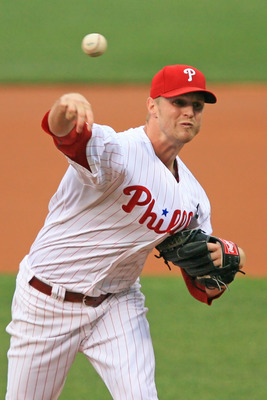 Hunter Martin/Getty Images
Normally contending teams don't look to trade starting pitching in the middle of the season, but the Philadelphia Phillies will be an exception.
With a 3.12 ERA, Kendrick is proving to be a reliable starter. In mid-to-late-July, when Joe Blanton returns from his elbow injury, Philadelphia will have the option to trade on of its two No. 5 starters.
Kyle Kendrick's name will appear a lot in discussions surrounding teams looking for starting pitching like the Cincinnati Reds or Colorado Rockies.
Atlanta Braves: Eric Hinske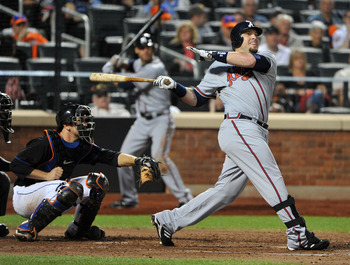 Christopher Pasatieri/Getty Images
The emergence of Jordan Schafer as a legitimate center fielder has made Eric Hinske little more than an afterthought in the crowded Atlanta Braves outfield.
Atlanta doesn't appear interested in selling anybody at the deadline, but Hinske is a player to watch. With a .273 average and seven homers vs. righties, Hinske can be a viable pinch hitter or situational starter.
Chances are the Braves decide Hinske is a pretty valuable asset and keep him around for themselves.
New York Mets: Jose Reyes
Jeff Zelevansky/Getty Images
Not a lot of people expected Jose Reyes to be leading in National League in hitting on June 22nd.
The Mets' shortstop has enjoyed a resurgence in 2011, hitting .341 with 26 stolen bases and a league-high 12 triples.
New York has publicly stated that they want to keep Reyes and attempt to re-sign him this offseason.
But that won't stop rumors flying about one of the more dynamic players in the game today, who will undoubtably draw several high-profile suitors at the deadline.
Washington Nationals: Rick Ankiel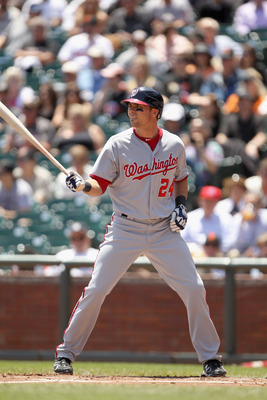 Ezra Shaw/Getty Images
After winning the starting center field job out of spring training, Rick Ankiel is likely to lose it because of ineffectiveness and injury.
Roger Bernadina is four years younger, is hitting nearly 80 points higher and has considerably more speed than Ankiel.
Teams looking for veteran outfielders should keep Rick Ankiel on their watch-list, as he will surely become available later this summer.
Florida Marlins: Greg Dobbs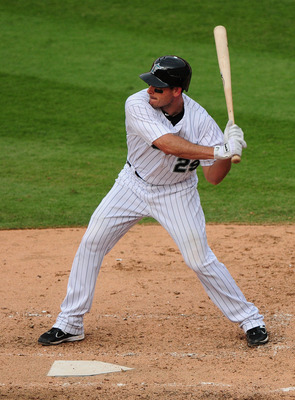 Jason Arnold/Getty Images
With their win against the Angles on Tuesday, Florida snapped their 11-game losing streak, winning for just the second time in three weeks.
Possible playoffs contenders just a month ago, the Fish are now behind even the Nationals, looking at a 13-game deficit in the NL East.
Greg Dobbs has done an admirable job filling in at third base, posting a .306 average in 186 at-bats.
But Matt Dominguez is the future at the hot corner in Florida. The Marlins have definitely become sellers, and Dobbs is a logical piece to deal.
Keep Reading