Women's World Cup 2011: Japan Party Scandal Involves Nude Photos, Coach Bashing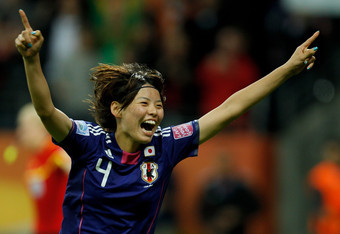 Saki Kumagai's Wild Night of Partying Involved Nude Photos of Karina Marayama

Saki Kumagai had a long night of partying that has landed her in some very hot water. Following Japan's Women's World Cup final victory over the US, one in which Kumagai scored the winning penalty kick, Kumagai had a scandal-filled night that has earned her a stern warning from the Japan Football Association.
Kumagai is said to have bashed Japan coach Norio Sasaki. Her comments made their way onto the Twitter page of one of the college students she was partying with.
It's not just her comments about her coach and the hierarchical structure of the Japanese clubhouse that have raised a red flag. She is also said to have nude photos of teammate Karina Maruyama that were taking on her mobile phone.
A nude photo scandal and coach bashing session is the last thing the Japanese needed. After a horrific year in Japan, the country was uplifted by a Women's World Cup victory. It's hard to imagine a team more deserving of bringing a Women's World Cup win back to their home country, but the feel good story is being somewhat overshadowed by reports of scandal.
Showing off pictures of forward Maruyama and going on a tirade about her coach prompted a warning from the JFA, telling the team not to get carried away with their celebration.
It certainly could have been worse, but this sort of thing isn't being taken lightly. Japan is a very proud country and any scandal surfacing involving nude photos and wild nights of parting aren't going to be readily accepted by Japan's supporters.
These photos didn't break onto the internet, but they are causing quite the buzz. The world may never known of the ongoings of Kumagai's wild night if not for the lovely bridge Twitter has created between the lives of athletes and the general public, but the public nature of her night is a prime example of why athletes have to be overly cautious with their behavior.
Japan's Women's World Cup won't be remembered for this scandal, but it's a step in the wrong direction for the team.
Check back for more on Soccer as it comes, and check out Bleacher Report's World Football/ Soccer Page to get your fill of World Football.
Most recent updates:
This article is
What is the duplicate article?
Why is this article offensive?
Where is this article plagiarized from?
Why is this article poorly edited?