Sweden vs. France 2011: Nude Photos and a 3rd Place Will Help French Soccer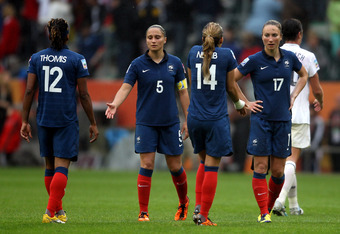 Sweden vs. France 2011 Will Determine Third Place at the Women's World Cup
Prior to the 2011 Women's World Cup, Team France went to work brainstorming on ways to raise interest in women's soccer throughout their country.
I could say that they rolled up their sleeves and went to work on thing issue, but their solution meant they no longer had sleeves to roll, or any other piece of clothing. At least for three of their players.
Gaetane Thiney, Elodie Thomis and Corine Franco are getting naked for soccer. This attractive trio posed nude for German newspaper Bild. The motto under the picture: "Is this how we should show up before you come to our games?"
I am assuming this is a rhetorical question because even though I meticulously scanned this photo, I didn't see a check box on the picture.
This was not an original idea, and they admit as much. They told the press that they got the idea after German players appeared in Playboy last month. It is all in an effort to raise awareness about the women's game.
"The pictures have come out really nice and I really like them," Thiney told Bild. "We wanted to provoke and to generate some discussion."
"We will try to get more attention through our success," she added. And therein lies the secret to building any long term interest in the game. Put an exciting product on the field. Sure it helps if the players smoking hot, but it means little if they aren't compelling on the field.
Their efforts would have done little except creating more buzz for nude photos than soccer had they not combined this with a strong run in the Women's World Cup, but that is exactly what they have had. While their tournament is going to fall just short of their ultimate goal of a championship, they have played fantastic. And they have done so by playing a style of soccer that fans will likely find more aesthetically pleasing than their pictures.
While nude pictures will help increase their spotlight for this tournament, it is the product on the field that will keep it there, and they have supplied a terrific product.
Check back for more on Soccer as it comes, and check out Bleacher Report's World Football/ Soccer Page to get your fill of World Football.
Most recent updates:
This article is
What is the duplicate article?
Why is this article offensive?
Where is this article plagiarized from?
Why is this article poorly edited?