Hope Solo: America's Favorite Keeper Looks Sexy Without Even Trying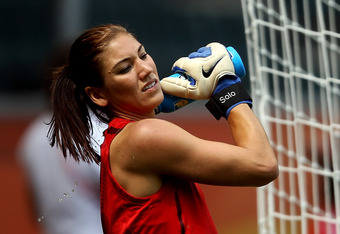 Hope Solo's Water Bottle Picture Was Hot Without Intending to be
Everything Hope Solo does looks good. It's not easy, given that we usually see her completely covered with her hair tightly pulled back with enormous gloves on.
Even so, she pulls it off ever-so capably. Solo is quickly becoming one of the biggest sex symbols in sports. Her confidence and swagger combined with her incredible looks are allowing Solo to enthrall the male fans.
It was almost as though she planned to squirt herself down with a water bottle prior to her semifinals match with France. It's something we see constantly in just about every sport, but when Solo does it, it takes on a different feel.
The snapshot could be blown up and put on a poster and Solo wasn't even trying to look hot.
Solo could make a calendar doing seemingly average things. January: Hope Solo rides a bike, February: Hope Solo gets the mail, March: Hope Solo plays in the sprinklers, you get the picture.
Brandy Chastain took her shirt off in the 1999 World Cup Final. Solo doesn't have to be so outlandish to draw attention.
It's going to be fun to see what pictures come out of this Women's World Cup from the photogenic Solo. Earlier today, her trainer had to rub down the back of her upper thighs. That photo is almost sure to emerge and go viral.
Solo is one of the very few female athletes who back up her looks with an even better game. She's an incredible athlete and commands such a strong presence on the pitch, even die hard fans admire her.
It's great, because it provides for even more camera time. Solo is the face of US soccer. When she hangs up her cleats, it will likely be Alex Morgan's time to take over. How lucky are we?
Check back for more on Soccer as it comes, and check out Bleacher Report's World Football/ Soccer Page to get your fill of World Football.
Most recent updates:
This article is
What is the duplicate article?
Why is this article offensive?
Where is this article plagiarized from?
Why is this article poorly edited?