2011 NHL Mock Draft: Projecting All the First-Round Picks
It's that time of year again! The Boston Bruins have been crowned this year's Stanley Cup Champions, and now, for many hockey fans around the league, the next most exciting thing to seeing their teams play again next season, is the possibility of drafting the next superstar in the league through the first round of the 2011 NHL entry draft.
This year's draft may not have the Sidney Crosby or Alex Ovechkin-type star power available, but many teams' general managers feel there are quite a few solid future NHL'ers to be seen throughout the first round.
As fans, we all want our teams to make the best decisions and to give us all a chance at someday putting one of these players' names on the back of our jerseys and into our hearts, as the athletes we dream may be a large part of our run at the coveted Stanley Cup.
Here are my predictions for the first round of the 2011 NHL entry draft! Enjoy!
Begin Slideshow

»
Ryan Nugent Hopkins
This 17-year-old centerman, playing for the Red Deer Rebels this past season, has impressed every scout who's had the privilege of seeing him play. He's got it all. With good speed, vision, hands and hockey smarts, Ryan has been compared to NHL Legend Joe Sakic, and will very likely be a name we hear a lot more from in the not too distant future.
Gabriel Landeskog
This native of Sweden is the current captain of the Kitchener Rangers, and perhaps the most NHL-ready player in the draft. He is listed at 6'1 and 207 lbs, and is a man amongst the boys. I expect Gabriel to make an immediate jump into the NHL, with some playing time this upcoming season. Truly one of the best power forwards in this draft, with strong drives to the net and an ability to both pass and shoot the puck very well.
Adam Larsson

Another product of Sweden, this defenseman coming from a strong season with Skelleftea, of the Swedish Elite League has exceptional skating and a great point shot to his credit. He is a stay at home kind of defenseman and will likely need to improve on his offensive side of his game once on North American soil. This is something he can easily achieve with his skill set.
Dougie Hamilton

This Toronto born defenseman coming from the Niagara Ice Dogs will add some strength and physicality to the Devils back end. This extremely fit and hard working individual is a great passer and can also rush the puck himself to gain entry into the offensive zone. He can work on his acceleration, but checks well and is an intelligent player on the ice, often making very mature decisions with the puck at his age.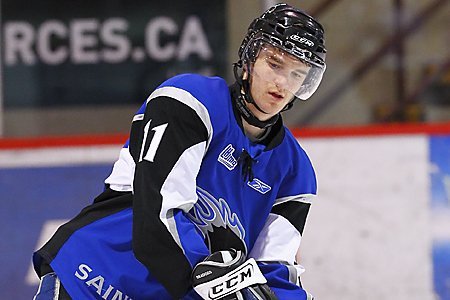 Jonathan Huberdeau

This Ontario native and centerman coming from the Saint John Sea Dogs of the Quebec Major Junior Hockey League, may very well be a steal at 5th spot in the draft. Jonathan is the type of player who can blossom into one of the best two-way centerman in the league someday with the right coaching. A very creative player with the puck, who portrays the image of a leader and very well could be a future captain in the league.
Sean Couturier

This Arizona native coming from the Drummondville Voltigeurs, is a center with great size, vision and a high hockey intelligence. At 6'4" and 191 lbs Sean has all the tools to make him a great two-way player in the league. Sean has a great shot and the hands to make him a strong passer as well. I expect Sean to play in all situations on the ice, someday in the NHL.
Duncan Siemens

This shutdown defenseman coming from the Saskatoon Blades of the Western Hockey League, boasts impressive size and bone crushing hits. Duncan is an intelligent defender who plays very well in his own end and does not have much of an offensive upside. He is very steady with the puck and appears calm at all times. Standing at 6'3" and 192 lbs, Seimens is a tough customer.
Ryan Strome

This offensively gifted forward coming from the Niagara Ice Dogs of the Ontario Hockey League has gained most of his acknowledgement from scouts within the last year. Ryan has incredible hands and passing ability, and is a great puck handler at all speeds, showing great poise with the puck at full acceleration. Ryan is not afraid to get rough and is still growing into his 6'2" frame.
Ryan Murphy

This offensive defenseman coming from the Kitchener Rangers is an exceptional skater and can rush the puck with great control and enough speed to cover his tracks in the event of a turnover. At 18 years old, Ryan may see some time in the NHL, depending on how the Bruins feel about his defensive progress, weight and strength, which need some development.
Mika Zibanejad

This Swedish born power forward coming from Djurgarden, enjoys throwing his weight around. He is very strong on the puck and drives the net well while protecting the puck with his size and stick handling ability. Mika has a heavy shot and sees the ice very well. His style of play will make his transition to North America fairly painless.
Mark McNeill

This big two-way center coming from the Prince Albert Raiders of the Western Hockey League boasts impressive size and power. At 6'2" and 210 lbs, Mark is already built for play in the NHL. He is natural playmaker with great versatility and can likely fit into any role a team may ask him to play while keeping his game simple and avoiding taking risks on something spectacular looking.
Nathan Beaulieu

This puck moving defenseman from the Saint John Sea Dogs of the Quebec Major Junior Hockey League has good size and strength and a will to drop the gloves and fight for his teammates. This offensive defenseman stands at 6'3" and 191 lbs. Nathan is a strong skater with the potential to be a top 4 player in the NHL at his position.
Jamie Oleksiak

This 6'7", 240 lb defenseman coming from Northeastern University is hard to miss on the ice. The native of Toronto is a defenseman who has both the size and skating ability to make him a standout from most men his size. Agility and an active stick make Jamie worth noticing and with any luck, the Flames may find the next Chara or Pronger with proper development.
Brandon Saad

This power forward coming from Pennsylvania is willing to get dirty in the corners and fights well for possession. Brandon uses his 6'2", 210 lb frame to protect the puck very well. With a powerful shot and an inability to slow this player down, due to his strength and skating, Brandon finds himself in the scoring areas of the ice often.
Joel Armia

Coming From Assat of the Finnish League, this forward has great hands and explosive acceleration. Joel, standing at 6'3" and 191 lbs has all the size he will ever need to handle the NHL game. His defensive game may need some polishing but that can develop in time with the right determination and coaching.
Matt Peumpel

This forward coming from the Peterborough Petes, has impressive speed which can separate him from defenders. Matt is a great passer, with a heavy and accurate shot which could turn him into a real offensive threat someday soon in the NHL. I expect to hear more from this player, who may be a gem at 16th overall.
Mark Scheifele

Playing for the Barrie Colts, Mark gained a lot of attention this year by developing his game at the right time. Mark is another great skating forward in this draft with soft hands and good hockey sense, knowing where to be on the ice at all times. His work ethic may allow him to become a household name in the league someday.
Sven Bartschi

Coming from the Portland Winterhawks, this Swiss forward may be on the smaller side of players, but can make up for it with his acceleration and great offensive skill set. Sven has a very good and accurate shot, often placing the puck exactly where he intends it to go. A creative passer with some grit to his game, Sven could develop nicely in the NHL.
Joe Morrow

The Oilers choose to add a defenseman to their impressive list of first round forwards in recent years. This offensive defenseman coming from the Portland Winterhawks, has a good overall skill set. Joe is not a big risk taker, and will often make the right pass. This defenseman is not shy to shoot the puck and has a real cannon of a shot.
Tyler Biggs

This aggressive winger from Miami University certainly likes to throw his weight around. Standing at 6'2" and 210 lbs, Tyler is a strong player who may get even larger in the next couple of seasons. Tyler is not necessarily a dangler, but more of a crash the net kind of guy who can wreak havoc on goalies with little fear of standing in front of them.
Zack Phillips

This versatile forward from the Saint John Sea Dogs can play both center and on the wing. He may not be the strongest skater in the draft, although a keen sense of where to be on the ice often allows him to score important goals. Zack is a pure goal scorer and with some good work ethic and determination he may very well develop into a good NHL winger someday.
Ty Rattie

This elusive forward from the Portland Winterhawks of the Western Hockey League, is a playmaker with a good offensive upside to his game. Ty is a very creative player who may rack up the assists someday in the league with the right shooter beside him. He is a little small right now but could add some weight to his 6' frame in the next few years and be a solid winger in the NHL.
Niklas Jensen

This tall forward from the Oshawa Generals of the Ontario Hockey League, stand at 6'3" and 187 lbs making him a very tall and somewhat thin player who will need to fill out in order to play in the NHL. His long legs have a powerful stride that makes his skating something to admire. Niklas projects to be a power forward in the league someday with his size and strength on the puck.
Jonas Brodin

This two-way defenseman from Farjestad of the Swedish Elite League, was made to play in Detroit. His great passing and quick footwork make him one of very few skilled defenseman in this years first round. Jonas will need to fill out his 6'1" frame in time. Jonas is very responsible in his own end and a strong enough skater to join the rush as well.
J.T. Miller

This product of the U.S. National Development Program, is a centerman with great hands, excellent passing and the instinct to score when the chance is there. J.T. has a great shot and very good mobility on the ice along with a strong physical presence. J.T. will drive the net hard and could develop into a top 6 forward in the league.
Oscar Klefbom

This large defenseman from Farjestad of the Swedish Elite League, uses his 6'4" 200 lb frame well against his opposition. Oscar has explosive speed and is a good passer. He possesses some good two-way ability and has risen in the ranks of hockey scouts considerably in the last year showing some good improvement in his overall game.
Boone Jenner

This strong forward coming from the Oshawa Generals has quick hands and an ability to finish his plays around the net. He will have to work on his skating but his character show the willingness to do so. Good work ethic and a positive attitude will take Boone a long way in the NHL. He has no fear of going to the net and with his 6'2" 196 lb frame, once there, he can be hard to move.
Tomas Jurco

Yet another forward coming from the Saint John Sea Dogs! Tomas has some great talent with the puck and some good agility on his skates. This player may be somewhat of a risk defensively but could also blossom into a decent scorer with some discipline and coaching. His good speed allows him to find open ice and play well with or without the puck.
Scott Mayfield

This very tall defenseman from the Youngstown Phantoms of the USHL stands at 6'4" and has some filling out to do. He is a good skater and passer and very strong defensively. With his long reach he maintains an active stick and closes gaps well. Scott is strong along the boards and projects a top 4 defensive role in the league someday.
Ryan Sproul

The defenseman coming from the Sault Ste. Marie Greyhounds has good size and skating ability. Ryan has a great shot from the point and an eagerness to join the rush on occasion, with success. Ryan has risen in the rankings of scouts consistently over the last year or more and I will not be surprised to see him in the first round selections.
I'd love to hear your thoughts on my predictions or any players you feel should be included in the first round!
Good luck to your team on Friday!