Kyrie Irving, Jimmer Fredette and the Top NBA Draft Prospects: News and Analysis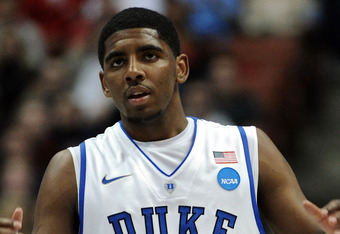 Harry How/Getty Images
With the NBA Draft just three days away, news and rumors pertaining to the draft are swirling faster than ever.
To see just what I'm talking about, look no further than the first overall pick, held by the Cleveland Cavaliers. The thought is that they will use the pick on Kyrie Irving, but there is late speculation that they will go another direction.
Andy Katz of ESPN reported that Derrick Williams is a serious contender for the slot, but that they were still leaning toward taking Irving.
Read into that what you will, but to me, that simply seems like posturing to get someone who might want to take Williams to try to trade up to the first overall pick.
ESPN's Chris Broussard has also reported that the Cavaliers are actively trying to work a deal to get the second pick as well.
The proposed deal would be a three-way trade between the Cavaliers, Detroit Pistons and Minnesota Timberwolves.
The deal would begin with the Cavs taking on Richard Hamilton and his pricey contract and the 8th overall selection. Then, Cleveland would send the eighth pick and the fourth pick (which they already own) to the Timberwolves for the second overall pick.
If the Cavaliers are truly struggling with which of the two players to draft first overall, trading for the second pick will make it easy on them. They could then just take both players.
In a draft that is considered so shallow, there will certainly be some movement as teams try to acquire draft picks for future (and hopefully, better) drafts and others try to stockpile picks in this draft with the hope that this draft will produce stars like any other.
---
For more 2011 NBA draft coverage, stay tuned to Bleacher Report for updated NBA mock drafts, B/R's Big Board of Recruits, NBA draft rumors, NBA draft results and draft grades.
Enes Kanter is projected to go in to the top five, but little is known about him
Enes Kanter, a Turkish-born post player, has been highly thought of as an NBA draft prospect since he announced plans to attend the University of Kentucky.
Kanter played a little high school ball in the United States, but he was mostly inconsistent during that time.
Now, he has been out of organized basketball for over a year since he was ruled ineligible for the entire 2010 season. Kanter was forced to sit out because it was found that he was paid by a Turkish professional team while he was still in his teens.
What we do know is that Kanter is an NBA-ready player physically. He stands 6'11" and weighs 259 pounds. In that sense, he is not your typical European-bred big man.
Kanter has an incredible amount of polish, particularly when you take into account the fact that he is still only 18 years old.
His face-up offensive game is his biggest weapon. He has a variety of moves to get him to the basket and when he gets there, he has the strength to finish with authority. He has great touch on his jump shot and his range extends out to the free throw line and beyond.
Best of all, all signs point to the fact that Kanter is an extremely mature young man who wants to improve and be part of a winning team. For instance, it would have been easy for Kanter to pop off to the media about his suspension, but he refrained and simply spent his time and energy getting ready for the draft.
Jerry Zgoda of the Minneapolis Star-Tribune went a little further about Kanter's level of maturity and drive in one of his recent columns
He spent all year in Lexington attending classes and working as a student assistant coach and working out first with the team and then with coach John Calipari and others to prepare for the draft after he permanently was ruled a professional in January.
Kanter does come with downsides, though.
Most notably, Kanter has some injury issues. He already has a history of troubles with his knee, which is never a good thing with someone so young.
Kanter is a promising player, but I'm not sure that his promise is worth the risk given the red flags around him. A team will be making a huge commitment to a relatively unproven player with some injury issues.
This article is
What is the duplicate article?
Why is this article offensive?
Where is this article plagiarized from?
Why is this article poorly edited?
The 2011 draft class is weak overall, but Irving, Walker, Brandon Knight and others make up a strong point guard class
The 2011 draft is among the weakest in recent memory. There are only a few players that seem to have superstar talent.
Many of the players with the highest ceilings are at the point guard position. We've all spent so much time tearing down this draft as weak when there is a actually a solid group of point guards to be had.
It starts at the top with Kyrie Irving. Irving has a great basketball IQ, is a clean passer and has shooting range all they way out to the three point line.
Brandon Knight is raw in a lot of ways, but he is a tremendous athlete and could end up being the real star in this draft.
Kemba Walker is a proven winner who was a prolific scorer. He also profiles as a great defensive player.
Jimmer Fredette is a player that needs no introduction. While he might fit better as a shooting guard in the NBA, there is some thought that he has what it takes to play point guard.
Then there are players like Iman Shumpert, Norris Cole and Nolan Smith that are all late first/early second round prospects with potential to be solid starters.
Mary Schmitt Boyer of the Cleveland Plain-Dealer wrote about the point guards in this draft. She addressed the questions that teams have, but also how they are looking at these players:
There are questions about all of the top guards in this draft. Brandon Knight isn't physical enough. Kemba Walker isn't big enough. Jimmer Fredette doesn't play any defense. But all could be gone in the top dozen or so picks, starting with Irving.
Point guard is probably the deepest position in this draft. There could be as many as a half dozen solid NBA starters in this draft.
Irving, Knight, Fredette and Walker, the most likely stars at point guard, could all be off the board before the lottery picks are done.
This article is
What is the duplicate article?
Why is this article offensive?
Where is this article plagiarized from?
Why is this article poorly edited?
Late workouts by Klay Thompson and Alec Burks lead to speculation about Utah Jazz's pick

As soon as Jimmer Fredette's magical season at BYU ended, speculation began that the Utah Jazz were going to do everything in their power to get him in their uniform come next season.
It worked out rather well that they ended up with the pick they did. At No. 12, they found themselves right in the range that Jimmer was expected to be picked and one spot ahead of the Phoenix Suns, another team that is said to covet Fredette.
On top of his overwhelming popularity in Utah and the financial windfall that will come with him, he is simply a good fit for their team. The Jazz are a team searching for scoring punch after losing Carlos Boozer and Deron Williams within the span of a single calendar year.
If his numbers over his BYU career are any indication, Jimmer will bring plenty of scoring to the table.
Now, there is some indication that maybe the Jazz are exploring other options with that No. 12 pick. They recently held a workout with Washington State's Klay Thompson and Colorado's Alec Burks, two players very similar to Jimmer Fredette in terms of skill set.
In an article by Steve Luhm of the Salt Lake Tribune, Jazz head coach Tyrone Corbin talked about what they see in those two players:
"They are very talented kids that can handle the ball for their position, make plays for other people or can create shots for themselves," Corbin said. " … They can get the ball in a tight space and make something happen."


In the end, I think the Jazz are still going to pull the trigger on Jimmer if he is there. He gives them what they need offensively and there is too much to gain from a monetary and fan relations standpoint to pass on him.
As I mentioned, Burks and Thompson are players pretty similar to Jimmer. I think they are simply working them out to give the team a good idea of some other options should the Suns (or some other team) jump the Jazz to take Jimmer.
This article is
What is the duplicate article?
Why is this article offensive?
Where is this article plagiarized from?
Why is this article poorly edited?
The Minnesota Timberwolves appear to be using the second overall pick (and the ability to take Derrick Williams) as bait for acquiring a young center
The Timberwolves are in a great place in this draft. By holding the second overall pick, they are guaranteed to have the chance to select either Kyrie Irving or Derrick Williams.
Those two are the consensus best players in the draft and I'm sure general manager David Kahn and the rest of the T-Wolves staff would be pleased with either.
If recent reports are to be believed, though, Minnesota may not be content to sit at No. 2 and take a player for themselves.
There is talk that they are openly shopping that second pick to teams that may want to take Derrick Williams.
Jerry Zgoda of the Minneapolis Star-Tribune talked about the possibility that the Timberwolves will move the pick:
They appear to be trying to leverage that No. 2 pick and the right to take Arizona's Derrick Williams into a young starting center who has some NBA experience and a pick later in the draft, which they'd presumably use to draft a shooting guard, their other position of need.
The move seems to make a lot of sense for Minnesota. Williams profiles as an athletic post scorer in the mold of David West, but the Timberwolves have bigger needs.
They would like to get their hands on a perimeter scorer, as the article alluded to. They also hold a second first round pick (No. 20) and they have been linked to prolific scorers like Marshon Brooks, Jordan Hamilton and Reggie Jackson.
A young center would be a nice addition to try to lessen the workload for Kevin Love. Love is an elite rebounder and good post scorer, but ultimately, Minnesota would like to be able to ask him to do less.
This article is
What is the duplicate article?
Why is this article offensive?
Where is this article plagiarized from?
Why is this article poorly edited?
The Detroit Pistons have been reluctant to trade their first round pick, but on a team that is still quite a way from competing, should they try to acquire more picks?
Early reports have been that the Pistons aren't looking to trade their first round pick (No. 8) to add more picks later in the round.
They seem to be perfectly content taking a player they really like at No. 8 and calling it a day.
They have been linked to players like Bismack Biyombo, Tristan Thompson, Markieff Morris and even Jonas Valanciunas.
As the draft draws nearer, it is becoming more and more apparent that the Pistons may be able to get one of those guys they really like much further down in the draft.
As such, their stance appears to be softening a little.
Justin Rogers of MLive.com passed along a report by Yahoo's Adrian Wojnarowski that laid out the most-discussed deal at this point:
Houston continues to offer the 14th and 23rd picks in the draft to move into the top 10, and could have a willing partner with the Detroit Pistons at No. 8. The Pistons have told teams they won't trade down until they see who drops to them on draft night, sources said.
Rogers goes on to speculate about what the Pistons might do if the trigger is pulled on that deal.
At No. 14, the Pistons could still have the option of players they like at a position of need including Bismack Biyombo, Tristan Thompson or Markieff Morris.

The Pistons are also likely to find a contributor at No. 23 who hasn't been in the discussion. Players like Tobias Harris, Jordan Hamilton, Nikola Vucevic and Iman Shumpert could come in to play at the range.
Given all the needs the Pistons have, they might be better served doing this deal and stock-piling talent. Biyombo and Morris are almost guaranteed to be on the board at No. 14.
Then, with the No. 23 pick, they could add a player that could contribute immediately or a high-ceiling prospect.
This article is
What is the duplicate article?
Why is this article offensive?
Where is this article plagiarized from?
Why is this article poorly edited?
The Knicks may target former USC Trojan Nikola Vucevic to remedy their woes defensively
The Knicks badly need a post defender to team with offense-oriented forwards Carmelo Anthony and Amar'e Stoudemire.
In an earlier post to this blog, I speculated that the Knicks may want to try to move up to ensure they can get their hands on Bismack Biyombo from Congo as they fear he won't be available when they draft at No. 17.
Now, they may be targeting USC center Nikola Vucevic to fill that role.
The Montenegro-born Vucevic managed to fly way under the radar this past season as he was stuck on a sub-par USC team.
Vucevic has an NBA-ready body. He stands 6'11" and weighs a stout 260 pounds.
He averaged a double double last season and at just 20 years of age, there is still a lot of room for him to grow as a basketball player.
Vucevic doesn't show a huge knack for blocking shots, but he has a 7'4" wingspan, so it's not unreasonable to expect his block numbers to increase as he gains experience.
Marc Berman of the New York Post spent some time profiling Vucevic and discussing what makes him such an intriguing prospect for the Knicks:
Vucevic, a junior who was born in Montenegro, is not a shot-blocker, but he is a good rebounder, solid positional defender and a capable scorer from the post and mid-range. He averaged 17.1 points and 10.3 rebounds this past season, is only 20 years old and may still be growing. Amar'e Stoudemire said the Knicks must improve defensively, and Vucevic would help in that area.

Vucevic may not have the mean streak or physical nature of Bismack Biyombo, but he looks like someone who could give you a reasonable facsimile of what Biyombo would give you.
As icing on the cake, Vucevic profiles as a much better offensive player than Biyombo. He has a polished post game and a reliable jumper out to mid-range.
This article is
What is the duplicate article?
Why is this article offensive?
Where is this article plagiarized from?
Why is this article poorly edited?
Former Kentucky Wildcat Brandon Knight provides a team a high-risk/high-reward prospect at point guard
Brandon Knight is as raw a point guard prospect as there is in this draft. He is an incredible athlete who loves to get to the basket and take his man off the dribble.
It's his "true point guard" skills that are lacking. Knight isn't a polished passer and his basketball IQ as a floor general has been questioned.
Most alarming might be Knight's ability to fit in with an offense. At Kentucky, he did a lot of freelancing. He scored over 17 points per game in his one season at UK, but most of those points came on broken plays or individual moves to the basket. He will eventually have to learn how to better find his shots within the offense.
That's not to say that there isn't a ton of promise here. Knight was a blue-chip prospect coming out of high school for a reason. He can make the flashy pass and when he is hot offensively, he can carry a team.
Some might even see it as a positive that he scored all those points at Kentucky without really fitting in. If he can score in those conditions, what could he do within the confines of a well-run offensive set?
It's those attributes that interest teams like the Jazz (picking third) and the Raptors (picking fifth).
NBA Director of Scouting Ryan Blake spoke with Steve Gorten of the Vancouver Sun about what makes Knight a special prospect:
"I like what he did as a young leader at Kentucky," Blake said, adding that Knight plays hard at both ends of the court. "I like when he made crucial mistakes, the way he bounced back. I like the way he made clutch shots and opportunities for others. You want that in a point guard."

Given how highly Blake spoke of Knight, I can't see him falling out of the top five.
The Jazz are looking for a possible replacement for Deron Williams at the point. Incumbent point guard Devon Harris is a solid player and he and Knight would give the Jazz a good platoon at the position until Knight is ready to take over full time.
The Raptors are just looking for some consistency. When Chris Bosh left for Miami, so did any hopes of them being a playoff team. They need to rebuild and drafting a point guard prospect like Knight is a good start.
This article is
What is the duplicate article?
Why is this article offensive?
Where is this article plagiarized from?
Why is this article poorly edited?
The Houston Rockets are known as a team that doesn't draft based on need, but on a team that is close to playoff contention, should they alter their strategy?
Rockets general manager Daryl Morey is a proponent of always taking the best player available regardless of what position the draftee plays or what the Rockets need.
Last season, they took Patrick Patterson because they felt that he was the most NBA-ready post player on their board.
A similar strategy led the Rockets to the selection of solid players like Aaron Brooks. It has also brought them guys like Brad Newley and Maarty Leunen, who have never set foot on an NBA court.
From where they are drafting (No. 14), the pickings will likely be slim for the Rockets. That might lead them to take another high-ceiling player that might not fit what they need for next season once again.
There is a lot of talk that the player they are targeting is European big man Donatas Motiejunas. Motiejunas is a typical Euro center in a lot of ways. He is tall and thin and has an offensive game not generally found in people seven feet tall.
Motiejunas would likely stay over in Europe for a few years for more seasoning. After that point, the Rockets would be hoping that he will be able to replicate the offensive production they were getting out of Yao Ming during his prime.
Jonathan Feigen, the Rockets beat writer for the Houston Chronicle, describes how tough it is to predict what the Rockets will do with their pick:
When it comes to the Rockets, predictions are particularly dicey because they absolutely refuse to consider need. That is central to their draft philosophy.
The Rockets say that throughout the process, long before they make their picks, reminding each other and anyone else that they refuse to consider the current roster when drafting players to add to it.
Selecting Motiejunas would fit right in with that philosophy. The biggest need for the Rockets is someone that can contribute immediately and help the Rockets get back into the playoffs.
Motiejunas won't do that and won't factor into any plans the team has for its current roster for at least another three or four seasons.
This article is
What is the duplicate article?
Why is this article offensive?
Where is this article plagiarized from?
Why is this article poorly edited?
Klay Thompson is a lottery pick to some, but a past arrest and a perceived one-sided offensive game may haunt him
Klay Thompson is one of the premier shooters in the entire draft class. He scored points in bunches in college and some say he might actually be better as a scorer than even Jimmer Fredette.
The same stigmas that chase Jimmer Fredette chase Klay Thompson. He is viewed as a spot-up shooter and little else. He has worked to improve his offensive repertoire, but there are still concerns.
Then, of course, there is the elephant in the room with Thompson. On March 3, police officers pulled Thompson over and found 1.95 grams of marijuana in his car.
Thompson was arrested and charged with a misdemeanor. He was suspended for one game, but after that point, the story began to disappear as Thompson continued to play well and buzz around Thompson increased as it pertained to his NBA Draft stock.
Leave it to the NBA Draft process to bring back past demons. To his credit, Thompson has not hidden from his past mistakes. Thompson admits that he made a mistake and that he wishes that he could go back and do it all again to keep it from happening.
Sean Deveney of the Sporting News even reported about how Thompson is using his arrest as a positive talking point in his interviews with NBA teams:
Thompson may actually be using the arrest to his advantage—he has been very up front about it, and teams generally seem to be shrugging it off. "I tell them all the time, I am 21 and I made a mistake," Thompson said. "I learned from it. It was very humbling, it was something that matured me. I am not happy it happened, but I think once it does, once you have that feeling, you don't ever want to have it again. I was happy to get it off my chest and I think most teams have been receptive."
Thompson has shown an impressive amount of maturity in the face of adversity. It would be easy for him to be defiant or angry about it all, but he realizes that it would do him no good to respond in that way.
Thompson has worked out for several teams, most notably the Bucks (picking tenth) and the Warriors (picking 11th). Sacramento, who is picking seventh, has also recently thrown their hat in the ring for Thompson's services.
Judging by his response to character questions and the teams that have gone out of their way to work him out, I say it's doubtful that Thompson slips beyond the lottery picks.
This article is
What is the duplicate article?
Why is this article offensive?
Where is this article plagiarized from?
Why is this article poorly edited?
New York Knicks need a post defender, but without a trade, Biyombo may be out of reach
The Knicks are rumored to have a ton of interest in Bismack Biyombo, a menacing post player from Congo. They need a defensive presence inside to go with scorers Carmelo Anthony and Amar'e Stoudemire.
The problem for the Knicks is that by sitting at No. 17 in the draft, they may not have the chance to take him.
Some mock drafts still have Biyombo dropping to the Knicks, but if New York is sold on him, that's probably not a risk they are willing to take.
Biyombo's performance at the Nike Hoops Summit introduced him to NBA scouts and executives and it's those same workouts that have many believing that he won't be around at 17.
Adrien Fogelquist of International Business Times discussed the Knicks interest in Biyombo and the roadblocks they deal with in their quest to draft him:
His performance at the Nike Summit means that he probably won't slip to the middle of the first round but there are rumors that the Knicks are looking to trade up in the draft in order to snatch the promising young big man.

He would have to step in and play starter's minutes at the center spot right away and his athleticism and defensive tenacity could allow him to be the shot in the arm the Knicks need to reinvigorate their ailing defense.
As I have already mentioned, I expect there will be a lot of movement in the first round. It's really not outside the realm of possibility that the Knicks will find a trade partner to allow them to get Bismack Biyombo.
This article is
What is the duplicate article?
Why is this article offensive?
Where is this article plagiarized from?
Why is this article poorly edited?
Williams being seen as cocky could make teams at top of draft wary
During pre-draft interviews conducted at the NBA Combine in Chicago, Derrick Williams turned representatives from several NBA teams off with an attitude that seemed to be bordering on cocky.
Williams told the team reps that he felt that he was the best player in the entire draft. That comment might seem innocuous on paper, but in today's world where every quote is analyzed, over-analyzed and analyzed again, it can become a big deal quickly.
There are certainly some teams that would like and embrace that attitude. You want your players to have the requisite confidence needed to succeed in a tough league.
The fear is that it can be taken too far, though. Regardless of which team drafts him, he likely won't be the best player on that team immediately. If he thinks he is, he will play like it and that can wreck team morale.
As the draft approaches, those fears are being assuaged. Bob Finnan of the Northern Ohio News-Herald reported Williams' exact quote from his discussion with an NBA team"
"You want me to say I'm not the best player?" Williams said. "I'm not being cocky."

He was then asked if he was the best player in draft.

"Yes, sir," he said. "I definitely am."
In the correct context, his quote doesn't sound bad at all. He doesn't seem combative and he even bothered to use "sir."
Above all, he brings up a good point. Do teams want him to say that there are players better than him in the draft? What, then, would be the reason for that team to pick him?
Williams will not last long on the draft board. The Cavaliers are said to still be debating between Kyrie Irving and Williams. If they choose Irving, Williams is all but a lock to go second overall to the Timberwolves.
If nothing else, teams know they will be getting a supremely confident player if they draft Williams.
This article is
What is the duplicate article?
Why is this article offensive?
Where is this article plagiarized from?
Why is this article poorly edited?
Suns know they may have to move ahead of Jazz
No player has been the subject of more debate than Jimmer Fredette.
Some feel he is a can't-miss prospect thanks to his scoring acumen, seemingly limitless range from long distance and his deceptive athleticism.
Still others feel that he is no more than a glorified role player because NBA defenses will shut him down and he himself couldn't defend a scarecrow.
When it comes to his draft position, though, there seems to be little debate.
The Jazz, drafting at No. 12, would love to bring in the hometown boy. Jimmer would be a marketing dream for a team that lacks any real star power after point guard Deron Williams was shipped off to New Jersey.
The Phoenix Suns are interested as well. A shooter with no conscience like Jimmer could thrive in the Suns "Seven Seconds or Less" offense.
The issue for the Suns is that they draft at No. 13, one spot behind the Jazz. If they are going to get their hands on Jimmer, they will probably have to find a trading partner drafting in the top 11.
Neil Leitereg of NBA Draft Examiner laid out the rumor that was originally tweeted by John Gabamdoro of 620AM KTAR:
The discussed deal, tweeted by Sports Radio 620 KTAR host John Gabamdoro, would have the Suns trading center Robin Lopez to the Warriors in exchange for Ekpe Udoh and the 11th overall selection in the 2011 NBA Draft.

This deal really outlines how badly the Suns want Jimmer. Robin Lopez is a polished big man who fits their offense well. Ekpe Udoh is a defensive-minded post player that gives you nothing on the offensive end.
I'm sure that Suns head coach Alvin Gentry would like his team to play better defensively, but they have never been known to make offense-for-defense trades.
Either the Suns have designs on adding post offense elsewhere or they are comfortable with the offense they will get from guys like Marcin Gortat and Channing Frye.
This article is
What is the duplicate article?
Why is this article offensive?
Where is this article plagiarized from?
Why is this article poorly edited?