NFL Free Agency: If Oakland Raiders Sign a Vet WR, It'll Be T.J. Houshmandzadeh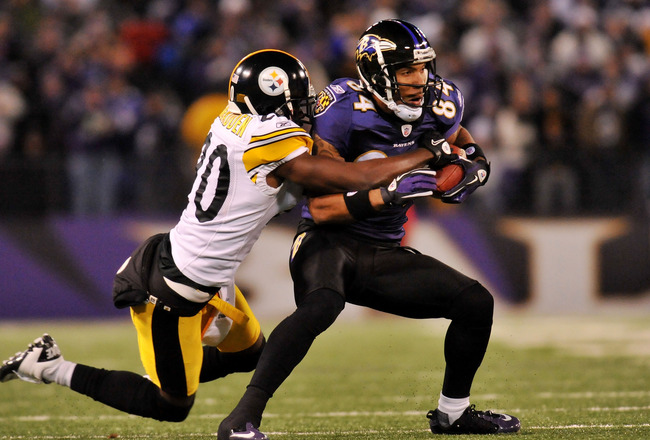 Larry French/Getty Images
With the NFL lockout now reaching 100 days, the Raider Nation has had much more time than usual to ponder free agency and what ramifications it will have on the Oakland Raiders.
We've explored things ranging from Nnamdi Asomugha to the offensive line, and another hot topic that has risen in conversation is whether or not Oakland should sign a veteran wide receiver.
The Raiders have an extremely young receiving corps, with the 27-year-old Johnnie Lee Higgins being the oldest body.
Names that have floated around for possible signees include players like Plaxico Burress and Chad Johnson.
However, the most likely receiver for Oakland to sign hasn't gotten as much publicity from Raider Nation.
That man is receiver T.J. Houshmandzadeh, currently of the Baltimore Ravens.
Let me be honest here: The Raiders do not have a good wide-receivers coach. Sanjay Lal has developed squat in his time with Oakland.
The Raiders need a veteran to come in here and teach the younger guys how to play some ball—simple things like paying attention to detail on your routes or catching with your hands instead of your body.
Which veteran receiver should the Raiders sign?
Housh can be that guy. At 33 years old with 10 seasons of experience, he surely knows things that other guys, like Darrius Heyward-Bey and Jacoby Ford, don't.
Also, Houshmandzadeh is an extremely hard worker, which is made clear by his rags to riches story. Housh was drafted in the seventh round by Cincinatti, and nobody was expecting for him to make a positive contribution, not only in his rookie year, but ever.
Housh raked in only 21 receptions as a rookie; pretty solid considering his draft position.
Houshmandzadeh really turned it on in 2004, when Hue Jackson arrived to coach the wide receivers. He put up numbers that rivaled that of superstar teammate Chad Johnson.
In 2007, a year after Jackson left, Housh had a career year. He credits much of his success to the current Raiders head coach.
Here are the numbers for when Hue Jackson was coaching Housh:
2004: 73 receptions, 978 yards with four touchdowns
2005: 78 receptions, 956 yards with seven touchdowns
2006: 90 receptions, 1,081 yards with nine touchdowns
Hue Jackson will surely persuade Houshmandzadeh to sign with Oakland.
Justin Sullivan/Getty Images
2007 (after Jackson left): 112 receptions, 1,143 yards with 12 touchdowns
That's pretty impressive, considering he was a No. 2 receiver.
The Ravens are expected to let Houshmandzadeh walk this offseason. Last year as a free agent, Housh had two choices: sign with the Ravens or the Raiders.
He picked the Ravens, mainly because they were the surer bet to win in 2010 and had a more stable quarterback position.
Now Oakland is a proven football team with a young receiving corps. I think Hue Jackson and the Raiders will reel in Housh to be a positive contributor for the Raiders in 2011.
He's much less of a risk than guys like Burress and Johnson—plus, he'll come cheaper.
What do you think Nation?
Go to Raiders Post for great Raider content.
This article is
What is the duplicate article?
Why is this article offensive?
Where is this article plagiarized from?
Why is this article poorly edited?

Oakland Raiders: Like this team?