McCourt Divorce: MLB Rejects McCourt's Latest Attempt to Keep the Dodgers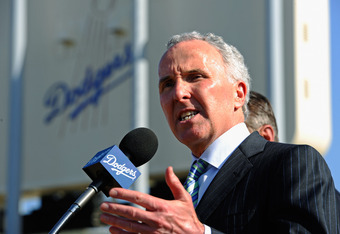 McCourt Divorce Has Helped Cripple the Dodgers, But When Will This Circus End?
At some point, Frank McCourt has to be ripped away from the Los Angeles Dodgers.
The embattled owner has fallen flat on his face once again, as his hackneyed deal to keep the team in his grasp has been rejected by the league, according to Tim Brown of Yahoo! Sports. None of it comes as a shock to most people, seeing as no one would approve a 17-year contract with Fox.
McCourt has tried everything, and at every pass, baseball has shot him down. Now, it's time to take the team from him to ensure that he can't do further damage to a proud franchise. This is a man who never had any business in baseball.
He failed to buy the Boston Red Sox, and he somehow got his hands on the Dodgers, only to eventually run them into the ground with poor management and a divorce that is still going on to this day.
This saga has shown him to be nothing more than the rodeo clown of baseball, a fool who was clearly in over his head on how to run and operate a baseball team. McCourt can barely make payroll, yet he's trying to keep the team.
MUST READ: Moneyball and the 25 Best Baseball Movies of All Time
It reeks of stupidity and arrogance, and now it's time for Bud Selig to step in, seize the team and sell it to someone who can actually restore the Dodgers to prominence.
What McCourt has done is an embarrassment to baseball and the fans of the Dodgers, who have had to suffer through his mismanagement and his pathetic fall from grace.
It is a shame that talented players like Andre Ethier and Matt Kemp have been overshadowed by McCourt's desperate attempt to cling to the team.
Keep your heads up Dodger fans, help is on the way.
Most recent updates:
This article is
What is the duplicate article?
Why is this article offensive?
Where is this article plagiarized from?
Why is this article poorly edited?