LA Dodgers: Why Historic Franchise Failure Falls at Bud Selig's Feet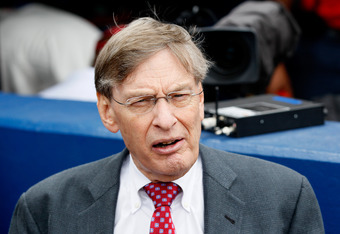 LA Dodgers Are Falling Apart At The Seams, But This All Comes Back to Bud Selig
Bud Selig could have stopped this.
The Commissioner of Baseball had the chance to keep Frank McCourt of of the game and away from one of the league's most historic franchises, but he chose to let him get control of the Los Angeles Dodgers and run this team into the ground.
There is a reason that McCourt failed to get a hold of the Boston Red Sox when he pushed to buy the team and it's the same one that should have prevented him from getting control of the Dodgers.
Simply put, he didn't have enough solid financial dealings to afford to stabilize the team during times of crisis. You know, like when you're going through a messy divorce and may want to have some cash around to make payroll, something McCourt has struggled to do.
MUST READ: MLB: Joe DiMaggio's 56-Game Hitting Streak and MLB's 25 Most Unbreakable Records
The embattled owner is fighting for his life in a pathetic, futile attempt to keep the team, and Selig is doing everything in his power to ensure that McCourt loses the team, fixing the mistake he made years ago.
But now, it's too late, and the franchise is falling apart in front of the baseball world, and Selig is to blame for allowing McCourt to ever touch the Dodgers in the first place.
If Selig had a brain in the first place, he would have kept McCourt on the sidelines, where he belonged.
Selig has done it to Mark Cuban, successfully keeping him out of baseball, but yet McCourt, a bumbling moron of an owner, gets a team.
Only under this lackluster regime would something like this happen.
Most recent updates:
This article is
What is the duplicate article?
Why is this article offensive?
Where is this article plagiarized from?
Why is this article poorly edited?