Cricket Is a Funny Game Indeed: Sample Some Quotes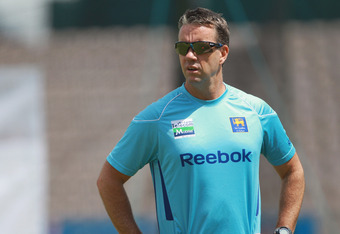 Stuart Law
Tom Shaw/Getty Images
What he said:
"It was another great innings today. He's a pain in the backside, to be honest."
Sri Lankan coach, Stuart Law, minces no words in his assessment of Ian Bell's contribution to his side's travails in the Test series against England.
What he really meant:
"Bell has been the backbone of this English side—to our detriment."
What he definitely didn't:
"I've ordered extra padding in our players' trouser seats. And loads of Zandu balm."
---
What he said:
"When in school I found that scoring runs was easier for me than scoring marks."
Sachin Tendulkar was not a good student but his dedication to cricket met the approval of his parents who told him to focus solely on the game.
What he really meant:
Bryn Lennon/Getty Images
"Cricket was my first love—before academics."
What he definitely didn't:
"I didn't have to work hard at the game."
---
What he said:
"We realise you guys have got a job to do, and if I give you ammunition you're going to fire the gun."
Kevin Pietersen concedes it is the press' prerogative to criticise if he does not perform as expected. He, however, challenges the perception that he is vulnerable to left-arm spin.
What he really meant:
"The sporting press feeds off the players. If the players achieve, they're demi-gods, virtually untouchable. If they do not, they're worse than pariahs, to be torn down."
What he definitely didn't:
"You—the press—were firing blanks at me. It didn't hurt...at all."
---
What he said:
Mark Nolan/Getty Images
"If I do, maybe the aura will grow again."
Ricky Ponting believes that without the additional burden of the Australian captaincy, he could put his indifferent form in the past two years behind him and enjoy a batting renaissance.
What he really meant:
"If I score enough runs and the team wins, I'll be in everyone's good books once more."
What he definitely didn't:
"Did you know that the word 'aura' is contained in 'Australia'?"
---
What he said:
"I want to go to war with this guy."
Gary Kirsten is so impressed with Mahendra Singh Dhoni that he would not mind charging off to war, as long as he has the Indian skipper by his side. Kirsten feels that he was the "inspiration" to the Indian squad because of his work ethic whereas Dhoni's "presence" was the calming influence.
What he really meant:
Gallo Images/Getty Images
"Mahendra Singh Dhoni is the best person to have beside you, watching your back in battle."
What he definitely didn't:
"We've read 'The Art Of War' like a zillion times."
---
What he said:
"I would have liked to have another old bloke around the group with me, yeah."
Ricky Ponting "pines" for Simon Katich's company in the Australian side. The former Australian captain and Michael Hussey are the only senior cricketers in the current Test squad. Ponting believes that Katich's dropping is a warning shot across their bows by Cricket Australia selectors.
What he really meant:
"Hussey and I could do with some company—our age."
What he definitely didn't:
"We're geriatric."
---
Quote of the day:
Hope is tomorrow's veneer over today's disappointment. - Evan Esar.
This article is
What is the duplicate article?
Why is this article offensive?
Where is this article plagiarized from?
Why is this article poorly edited?