2011 NHL Draft: 10 Bold Predictions for the Draft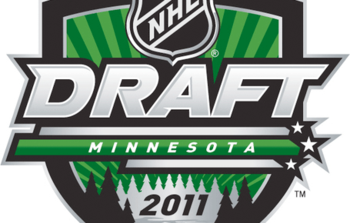 Analysts have for months been breaking down the ins and outs of every team and every prospects and have projected where each player will go and to what team. Nevertheless, every year there are a number of surprises on draft day, and these are almost always impossible to predict (hence the surprise...). Cue my attempt at it. Here are my bold predictions for unexpected things that may or may not happen on Friday, June 25.
1. Top Three Shuffle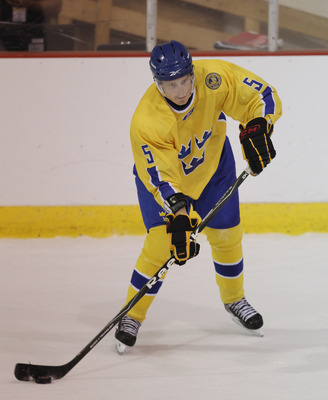 Bruce Bennett/Getty Images
Top three picks:
1 - Edmonton Oilers - ADAM LARSSON
2 - Colorado Avalanche - GABRIEL LANDESKOG
3 - Florida Panthers - RYAN NUGENT - HOPKINS
I only say this is a surprise because everyone seems to already have Ryan Nugent-Hopkins penciled in as the first overall pick. Instead, they will go with Swedish defenseman Adam Larsson. It has been said that the only reason the Oilers would pass on a guy like RNH is that they already have top offensive prospects in their system and that is true. The team's five best youngsters are Sam Gagner, Taylor Hall, Magnus Paajarvi-Svensson, Jordan Eberle, and Linus Omark. All forwards. The team needs a defenseman badly and Larsson is NHL ready and arguably the player with the highest ceiling of all draft eligible players.
Gabriel Landeskog, another Swede, will go to Colorado at second overall and the Florida Panthers will pick up Nugent-Hopkins with a steal. The Avs have expressed interest in Landeskog as they search for a capable winger for Matt Duchene, and the Kitchener Rangers forward will complement him perfectly. The most skilled player in the draft drops to number three, and Florida, though not in a desperate need for a forward, simply cannot pass him up.
2. NJD select Mika Zibanejad
Following a disappointing season, the New Jersey Devils won the draft lottery and will pick at fourth overall. There has been talk of them trading the pick away, but they will ultimately hold on to it and pick center Mika Zibanejad, the third Swede to go in the first four picks. Zibanejad has seen his stock rise more than anyone's this year, and a player that was originally predicted in the second or third round is now expected to be drafted between 10th and 20th overall. The Devils will take the somewhat late-bloomer at fourth overall and let him return to Sweden to continue his development because he is a Devils kind of player. He is quick on his feet, defensively solid, and extremely hard-working. These are all qualities that people often associate with the Devils, and he fits the bill of a stereotypical New Jersey Devils player. In addition, the Devils need organizational depth at the forward position. They have a lot of great defensive prospects, like Jon Merrill, and need forwards. Any forwards. Zibanejad is very versatile and can pretty much play anywhere up front. Zibanejad becomes Zach Parise's future center, assuming he re-signs. If not, Zibanejad replaces him and joins Ilya Kovalchuk and Martin Brodeur in the franchise player category.
3. Thrashers draft 2nd Bogosian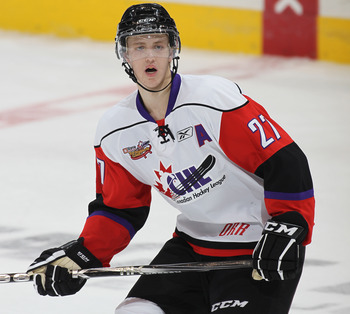 Claus Andersen/Getty Images
When the Atlanta Thrashers selected Zach Bogosian with the third overall pick in the 2008 Draft, they expected to find a defenseman that would lead the team's blueline corps for many years to come. Now, with the Thrashers moving to Winnipeg, Bogosian may be left behind. The team has long been rumored to be looking to trade Bogosian, and that would leave a major gap in the team's defenses. The team badly needs a natural goal scorer to play with Aleksandr Burmistrov as they never filled the gaps left by Marian Hossa and Ilya Kovalchuk, but instead they go with a big, strong, intelligent defenseman in Dougie Hamilton. He will lead the team into Winnipeg, taking Bogosian's spot as the team's defenseman. Though Bogosian didn't develop as expected, his stock is still high and he may be a valuable asset for the Thrashers. The Capitals may be interested, and hold the 26th overall pick.
4. Couturier drops to CBJ, who have traded the pick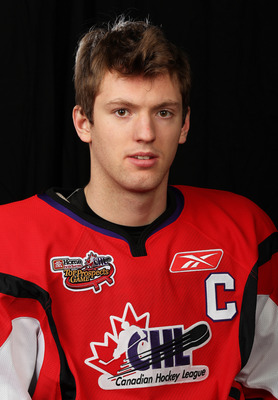 Claus Andersen/Getty Images
The Columbus Blue Jackets have reportedly been trying to trade away their first round pick for immediate help all year, and one suitor that keeps coming up in trade rumors are the Philadelphia Flyers. Rumors have been swirling about a Jeff Carter for 1st rounder + Jake Voracek, but it has recently been announced that the trade negotiations between the two teams were regarding goalie Steve Mason, not the first rounder. Nevertheless, Columbus will be devastated when they see that Drummondville (QMJHL) center Sean Couturier drops to 8th overall. The Blue Jackets have long been searching for a number one center, and last year they picked up Ryan Johansen at fourth overall. Couturier, however, is much more of a natural scorer and would undoubtedly have been the number one overall pick had it not been for injuries. Jeff Carter solves the problem, but CBJ would now have to live with the fact that Philadelphia may have pulled off a huge steal. They would be very happy sitting with a player like Jakub Voracek and a youngster like Sean Couturier.
5. Wild draft d-man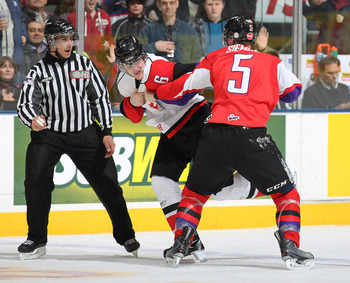 Claus Andersen/Getty Images
The Minnesota Wild need a forward. Badly. Unfortunately, if everything goes to plan, the Wild's pick will fall right into a gap among forward prospects. The best eligible prospects around the 9 to 13th range seem to be mostly defensemen, and the Wild will use the opportunity to further their defensive pipeline. They have seemed to make a point of improving the blueline in recent years, and help is on the way at center with Mikael Granlund. Brent Burns is rumored to maybe be on the way out, and they will pick a new big, physical defenseman in Duncan Siemens. He can also chip in offensively and definitely doesn't mind mixing it up. He skates well and is a solid all-round defenseman. He joins what is certainly becoming a haven for defensemen in Minnesota.
6. Phoenix pass on goalie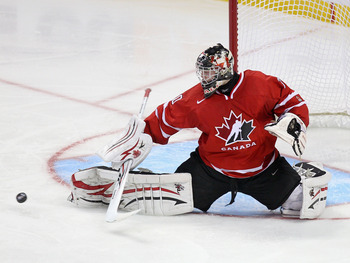 Rick Stewart/Getty Images
Following the Ilya Bryzgalov trade, fans are crying out for the Coyotes to draft a goalie. There will almost certainly be a very good goalie available then, whether it be John Gibson or Christopher Gibson (no relation). The truth is, they do need a goalie, but the right way to go is through the free agency, not through the draft. The Coyotes needed a goalie last year as well, anticipating that Bryzgalov may not be back, and they picked up Mark Visentin in the first round at 27th overall. He developed well and was one of the key players for the Canadian world juniors team that won a silver. He is the future for the Coyotes as the goalie position, and for now they should settle with picking up a goalie in free agency. A two-year contract would be perfect, as that should be the amount of time before Visentin is ready for full-time NHL duty.
7. A Caps trade
Bruce Bennett/Getty Images
The Washington Capitals will pick more than once on the opening day of the draft. As it stands right now, earlier trades have resulted in the Capitals having no second or third round picks. They do, however, have players who are seemingly available for trade. Mike Green is an important asset for the Caps, but he may be expendable. Fans are crying out for Alex Semin to be traded, and he traded for a couple of high picks. One of the Caps young troica of goalies probably won't be back next year, so expect a trade there. And finally, if the team is unable to re-sign Brooks Laich, they will want an asset for him. Whatever the trade, one thing that is sure is that the Caps will want an asset back, and that will complicate things. Nevertheless, look for the Caps to make a blockbuster move on draft day.
8. Sharks go for Russian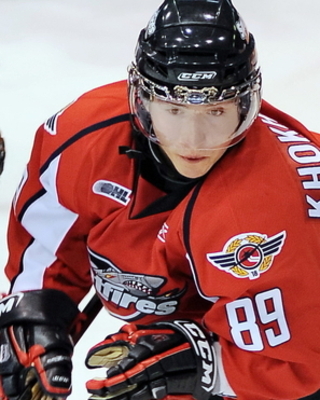 This is only bold because the Sharks are so well known for preferring to go with North American players in the draft. With eight picks last year, they selected one European. The reality here is that the best player available when they pick at 28th overall may well be Russian Alexander Khokhlachev. With stars Patrick Marleau and Joe Thornton aging somewhat, the Sharks could do with replenishing their group of high-end prospects, a group that is fairly slim right now. 'KoKo' would compete with Logan Couture for ice time and could potentially create a frightening one-two punch at the center. The Russian is, however, very versatile, and can play many positions. The peskiness, energy, and work-rate that Khokhlachev brings could be the key to the Sharks bringing the cup to San Jose.
9. Maple Leafs reach for Percy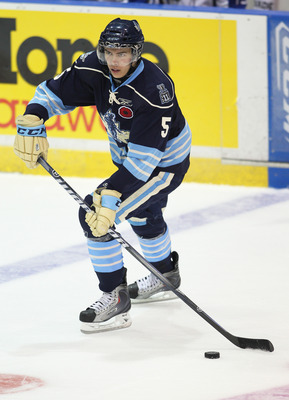 Claus Andersen/Getty Images
There has been a lot of talk surrounding the Maple Leafs and their desire to trade for higher picks on draft day, but it's becoming increasingly likely that they will hold on to the 25th and 30th overall picks. With one of those picks, it is likely they will draft Missassauga defenseman Stuart Percy. He has only really come onto the radar in these past couple of months, and a successful playoff run has seen his stock rise to the to the early second round. Burke definitely wants him, and he may not want to take the risk of having lost him by the next time the Leafs pick at 39. Make no mistake, Percy is a very solid player, and would be a great pick up for the Leafs. He would join a great young defensive corps that includes players like Luke Schenn, Keith Aulie, and Jake Gardiner. Would be a great pick-up at 30th overall.
10. Mark Scheifele drops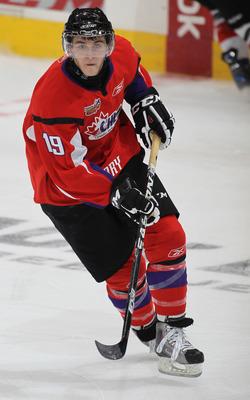 Claus Andersen/Getty Images
The Barrie colts player is a very good prospects who put up great numbers this season constantly playing against other team's best checking forwards. He is projected by many to be off the board by the middle of the first round, but the reason he drops is that most teams who would take a look at him end up picking someone more suited to their system. The knock on Scheifele is that despite his work-horse mentality he doesn't really fit an NHL system very well. Teams that may look for a player like him are the Buffalo Sabres (16), Phoenix Coyotes (20), and Edmonton Oilers (19), but those teams end up finding better prospects (in my B/R mock draft) in Brandon Saad, Mark McNeill, and Zack Phillips. Nevertheless, he has the potential to be an absolute steal in the second round, and the Edmonton Oilers sit pretty with the first pick.
Keep Reading