WWE Capitol Punishment: Randy Orton Defeats Christian, Rematch Likely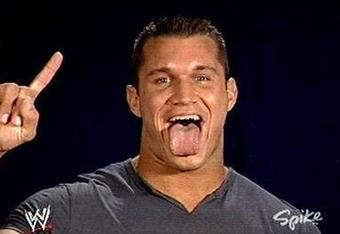 World Heavyweight Title
Randy Orton vs. Christian
If Christian loses again here, I'd say he better get real comfortable in the midcard until he decides to hang it up. Randy hammers away immediately because he's ANGRY and hits a Thesz Press early. They work a headlock sequence for a bit and Christian takes but misses a dropkick from the second rope. He still manages to dump Orton to the floor and follows with a dropkick through the ropes but goes splat on a plancha attempt. The crowd is TOTALLY dead tonight.
Back in, Orton gets a ten-punch in the corner and clotheslines Christian to the floor as Booker T plays doctor again, this time dealing with Orton's concussion. Orton tries the hangman's DDT on the ring steps but Christian sends him face-first into the steps...cruel irony. Back inside, Christian gets a reverse neckbreaker for two but he misses a blind charge and Orton rolls him up for two. Christian recovers and plants him with a spinebuster for a near fall and the announcers are selling this concussion angle hard.
Orton starts selling the concussion hard and gets a high BAAAAAAAAAAAACK body drop (thanks Vince) before hammering away. A series of clotheslines leads to a powerslam (IT'S NOT AN F'N SCOOP SLAM, COLE!) and a belly to belly for two. Hangman's DDT is countered by a punch to the face and Christian tries to suplex Orton to the floor but Randy stalls and drags Christian to the top for a superplex and a two count.
They have a slugfest and exchange finisher attempts until Orton hits a high-angle neckbreaker for two. Christian bails to avoid the RKO but gets caught with the Hangman's DDT. Orton looks to finish with the RKO but Christian turns it into a reverse DDT for two. Christian preps the spear and dodges an RKO to hit it but only gets two.
Christian heads to the top but has to abandon the move and drop down, so Orton catches him with RKO and gets the pin for the win even though Christian's foot was under the bottom rope.
Winner and STILL Champion: Randy Orton
-Of course, Christian is 100% right (probably earning himself a rematch on Smackdown) so Stone Cold Randy Orton knocks him out with the title belt. I think they should have given heel Christian a run but God knows that Orton is drawing 60,000 buys on PPV so we HAVE to keep one of the titles on him. Not as good as their Over the Limit match but still really good ***1/2.
Most recent updates:
This article is
What is the duplicate article?
Why is this article offensive?
Where is this article plagiarized from?
Why is this article poorly edited?