WWE Capitol Punishment: Jackson Beats Wade Barrett, Wins Intercontinental Title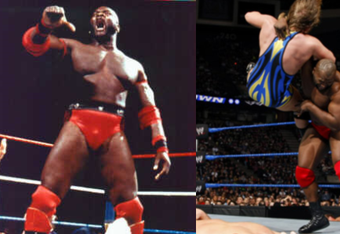 -Meanwhile, R-Truth roughs up a photographer who sasses him.
-Before the next match, Wade Barrett goes Generic Heel #2 and declares that the United States needs a king or queen. I'm surprised he didn't point to the front row and yell "shut up, fatboy!" to really complete the transformation. Isn't Ezekiel Jackson from Guyana anyway? Why play the USA card?
Intercontinental Title
Wade Barrett vs. Ezekiel Jackson
The crowd goes absolutely apathetic for Jackson upon his entrance but hey, he's got really big shoulders so let's push him to the moon. Does anyone else look at Jackson and immediately think of Ahmed Johnson or am I the only old guy in the room? Nevermind.
Jackson takes down Barrett while Booker T justifies the USA chants by saying Jackson "looks American". What the hell is he smoking? I'm getting worried. Jackson hammers away in the corner and gets a clothesline for two. Barrett turns the ride and gets a big boot before hitting a side slam for two.
After a chinlock, Barrett gets a rollup for two and Wade gets a pumphandle slam for another near fall. The crowd chants "we want fire" but that seems like wishful thinking to me. Stomp, stomp, stomp in the corner but Barrett misses a charge and Jackson makes the comeback.
Zeke looks for the repeated slams but Barrett counters to Wasteland for two. Jackson recovers and hits his dreaded, deadly, unstoppable REPEATED BODY SLAMS OF CERTAIN DEATH to set up the Torture Rack for the win and the title.
Winner and NEW Champion: Ezekiel Jackson
-This would be a fairly big win if anyone gave a flying rat's ass about the IC title anymore. Match was kick-kick-punch-punch-big boot-kick-body slams-finish. Not exactly my cup of tea *.
-Jackson cuts a pro-USA promo...must be because he looks American. You're goin' down!
Most recent updates:
This article is
What is the duplicate article?
Why is this article offensive?
Where is this article plagiarized from?
Why is this article poorly edited?