WWE Capitol Punishment: Mark Henry Attacks, Alberto Del Rio Defeats the Big Show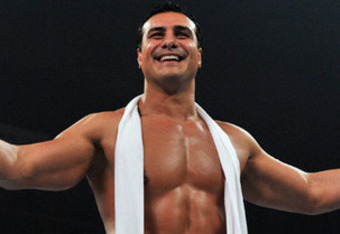 Alberto Del Rio vs. The Big Show
Show jumps Del Rio during his entrance and kicks his ass around ringside. However, Mark Henry runs in from the crowd and uses the World's Fattest Slam to drive Big Show through the Spanish announce table (told ya). Henry goes after Show's injured knee like a good heel and finally leaves. Hell, it's a shame Henry absolutely sucks in the ring because this was a damn effective heel attack.
Big Show fights his way back into the ring to beat the referee's count while Cole screams something stupid about Del Rio winning by forfeit if Show can't do it...what? So Show beats the count and dominates Del Rio until he tries a slam and the knee buckles, giving Del Rio the opening to stomp away for two.
Show stops the Del Rio assault and hits a chokeslam but Del Rio rolls to the outside. He necksnaps Show and tries for the cross armbreaker but Big Show slams him backwards to break. Didn't this guy just go through a table and have his knee destroyed? Del Rio switches up his assault and goes a kneebar on the injured leg. Show fights to the ropes and Del Rio allows him to get to his feet for whatever reason. Show's knee can't hold his own weight, so the referee calls for the bell...AGAIN.
Winner: Alberto Del Rio
-Would it have killed Show to tap out to Del Rio? He got run over by a car then was attacked by the World's Fattest Man AND had a leg submission applied on a supposedly crippled leg. We can't even get a submission after all that? The win does absolutely nothing for Del Rio and Big Show is still over as much as he was 5 years ago (read: kinda). Match was an angle then 5 minutes of one guy kicking another guy in the leg *.
Most recent updates:
This article is
What is the duplicate article?
Why is this article offensive?
Where is this article plagiarized from?
Why is this article poorly edited?