WWE Capitol Punishment: Alex Riley Beats the Miz, Booker T Might Be Crazy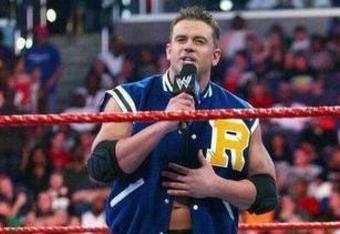 -Meanwhile, the Miz treats Alex Riley like a joke and is apparently really awesome.
-Maybe this Miz-Riley feud would have been more entertaining to me if Riley was portrayed as a bumbling moron in every single situation...just a thought.
The Miz vs. Alex Riley
Wow, the Miz goes from headlining WrestleMania to second from the bottom at Capitol Punishment...that's gotta sting. Riley gets a hometown pop but even that wasn't very impressive but, of course, King puts it over like Steve Austin just walked out. If there was ever a time for a Vince Russo-like bloody brawl, this is it.
Riley attacks immediately and they brawl until Miz gets a boot to the face and stomps away. Knee strikes put Riley down and vanilla offense from the Miz follows. Riley tries a comeback but Miz stops him with a short DDT for two and another big boot has Riley reeling. He still makes a comeback attempt but tries a blind charge and only hits ring post.
We head to the outside for ANOTHER big boot by Miz and Booker already wants the referee to stop the match. Wow, what a finish that would be. Between him worrying about Kofi's career being over and Riley getting seriously hurt from 3 big boots, someone might want to talk to Booker about maybe not over-selling things.
Another Riley comeback (to zero reaction) is stopped by a chinlock. Yes, you ready that right, a chinlock...thrilling stuff. Snap reverse DDT gets two and Miz gets his clothesline in the corner. Double ax handle from the top gets another near fall as Booker T is ready to call an ambulance to ringside. Someone gets this man an IV, stat!
Miz hangs Riley in the Tree of Woe but A-Ry pulls himself up and Miz whiffs on a dropkick attempt, crotching himself on the ring post. Riley makes his big babyface comeback and hit a spinebuster for two (someone must have talked to HHH before this match). Riley gets his own big boot from apron but it only gets two.
We head outside and Riley kicks his ass around the ring and Cole loses his mind so Riley dumps him on his head. Miz jumps him from behind and grabs the briefcase but the referee thwarts the attack and Riley hits a jumping DDT for the upset win.
Winner: Alex Riley
-This finish is either a really good sign for Alex Riley or a really bad sign for the Miz. Kudos to WWE for giving Riley the win but I would really be concerned for the lack of crowd reaction. Also, Booker T is clinically insane. Call the thing ** because it was pretty boring in the opening minutes.
-Meanwhile, Sgt. Slaughter and Vickie Guerrero meet an Obama impersonator backstage and hilarity ensues.
Most recent updates:
This article is
What is the duplicate article?
Why is this article offensive?
Where is this article plagiarized from?
Why is this article poorly edited?