NFL Lockout: American Economy Takes Hit as NFL Lockout Rolls On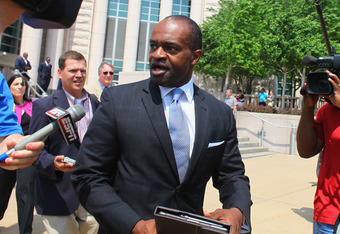 NFL Lockout Beginning to Hurt American Economy
Sports fans, Adam Schefter and the NFL Network were previously the only victims of the ongoing NFL lockout.
Now it's beginning to hurt a lot more people as the labor disputes cruises past the 100 day barrier.
Jason Maloni of the Washington Post breaks down the specifics on how large an impact this is having on America:
Consider that for the average city hosting an NFL team, a regular season accounts for the employment of about 3,739 people, according to an Edgeworth Economics report commissioned by the NFL Players Association. That's 115,000 jobs across the entire country. Each community that hosts an NFL team would suffer a loss of approximately $160 million in economic activity, about $5 billion spread across the 31 communities that NFL teams call home.
MUST READ: 32 Most Embarrassing Moments in NFL History
Government officials are beginning to realize this and are taking action. The mayor of Houston sent a letter to commissioner Roger Goddell outlining how a prolonged lockout is hurting thousands of people in his community. Mayors in Miami, Minneapolis, Kansas City and elected officials in San Diego also have reportedly contacted the NFL with similar concerns.
There are plenty of other business owners that have been indirectly effected by a lost season. Bar and restaurant owners across the country have outstanding Sunday sales because of the full slate of games. Without them, revenue will drastically be cut and sports bars across the country will face closure.
When a billion dollar business is put on hold, there are tons of effects on the economy as a whole and the NFL lockout is hurting plenty of them right now.
Most recent updates:
This article is
What is the duplicate article?
Why is this article offensive?
Where is this article plagiarized from?
Why is this article poorly edited?