2011 Fantasy Baseball Waiver Wire Gems: National League
June 19, 2011
Harry How/Getty Images
Kenley Jansen, RP Los Angeles Dodgers ( 5 percent owned in Yahoo)
Current Stat Line: 1 W/1 L/36 K/6.14 ERA/1.59 WHIP/1 SV
Jansen struggled greatly before he landed on the DL with shoulder inflammation. Aside from the injury, a .375 BABIP, 66 percent strand rate and 13 percent HR/FB percentage, did not help matters.
While rehabbing he also worked on his slider and splitter. The Dodgers don't have many options for the closer role so expect Jansen to pick up some save opportunities. He may even take over the job full-time.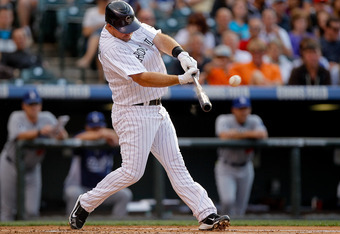 Justin Edmonds/Getty Images
My Projection: 4 W/3 L/80 K/3.60 ERA/1.25 WHIP/10 SV
Danny Espinosa, 2B Washington Nationals ( 47 percent owned in Yahoo, 79.8 percent ESPN)
Current Stat Line: .233 AVG/34 R/12 HR/41 RBI/8 SB
I can't believe Danny Espinosa is still owned in less than 50 percent of Yahoo leagues. I have written about him here and here. He is on pace to shatter my projections.
Get with the program people, I don't want to have to do this again.
My Projection: .240 AVG/75 R/25 HR/84 RBI/16 SB
Ty Wigginton, 1B/2B/3B/OF Colorado Rockies ( 20 percent Owned in Yahoo, 27.6 percent ESPN)
Current Stat Line: .266 AVG/23 R/6 HR/23 RBI/4 SB
Ty Wigginton is a great player to own in daily leagues. He is eligible at four positions, plays on the west coast, bats fifth in a good lineup and has a good track record. He looks to be getting a good amount of playing time so give the journeyman a shot.
My Projection: .260 AVG/60 R/15 HR/60 RBI/6 SB
Charlie Blackmon, OF Colorado Rockies ( 17 percent Owned in Yahoo, 35.1 percent ESPN)
Current Stat Line: .381 AVG/6 R/0 HR/6 RBI/5 SB
Dexter Fowler is in trouble.
Before being called up to the Rockies, Blackmon was hitting .342/49/10/49/12 in Colorado Springs. The talent is there and Jim Tracy sees Blackmon as their future leadoff hitter.
If he continues to produce, we may see him there by year's end.
My Projection: .300 AVG/40 R/7 HR/40 RBI/18 SB
Jonathan Neise, SP New York Mets ( 39 percent Owned in Yahoo, 44.9 percent ESPN)
Current Stat Line: 6 W/5 L/69 K/3.46 ERA/1.31 WHIP
It seems Neise is improving with every start. Since his blow-up at Wrigley, he has strung together four quality starts with a line of 3-0/25 K/1.61 ERA. His BB/9 has improved to 3.06 and his GB rate sits at 51 percent.
If I didn't already have three starters going today, this guy would be starting for me against the Angels. 
My Projection: 14 W/9 L/140 K/3.40 ERA/1.25 WHIP
Click here for our other waiver wire gems!
Brian "Killboy" Kilpatrick is a Senior Writer for 4thandHome.com, where this, and other work, can be found. Additionally, he is co-host of The 4th and Home Show on Blog Talk Radio.