NBA Draft 2011: Who Are Jonus Valanciunas and Jan Vesely?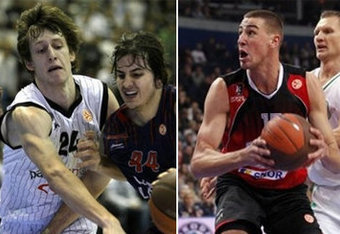 Fans have Little Knowledge of Two High Caliber Players in the 2011 NBA Draft
Jonas Valanciunas and Jan Vesely have very high ceilings. So high, in fact, that some scouts see them as top five picks. That is awesome for scouts who travel to Europe and get to see them in person. But, what about the fans that never get to leave the country and have to rely on guys like me? Well fans, do not worry because I am here to lend a helping hand and shed some light on the situation.
Jonas Valanciunas is 6'11" 240 lbs. He just turned 19 years old in May and has so much room to grow. He has length but needs to add bulk to his frame. Valanciunas is from Lithuania and has played on their national team, helping them win games and receiving personal awards as well. He would be either a power forward or a center in the NBA.
When you see him, his 7-6 wingspan sticks out. He uses his arms effectively, rebounding the ball with great skill and forcing opponents to adjust their shots. The one thing that impressed me was his ability in the pick and roll. He is very good up close to the basket, finishing well and also drawing fouls. Free throws tend to be an Achilles heel with big men these days, but that is not the case with Valanciunas. He shoots well above 80% sometimes into the 90's. I like him a lot, I just wonder if he can handle himself in the post against a broader, thicker defender in the post.
Jan Vesely comes from the Czech Republic. When I first saw him, it was apparent that this young man plays above the rim. Like Valanciunas, he is tall at 6'11" but is also has a small frame. Vesely only weighs 230 lbs. He turned 21 in April and has some very raw ability.
He would play small forward in the NBA and is an athletic freak. That is awesome when you think that he is almost seven feet tall. Vesely has a high motor with a terrific finish around the rim. If you watch him play, you might think of a European Blake Griffin. He runs the floor really well. I love his abilities but I feel that he too needs to work on his frame. Vesely has shown decent defensive skills, but players in the European leagues are easier to guard compared to NBA players. Vesely will have to prove that he can take on stronger foes while they attack the rim.
I like both of these players potential. They can each make their mark in the league. My advice to both of them is find the nearest GNC and buy (legal) supplements.
Stay tuned for more updates on the NBA Draft and its prospects throughout the day
Most recent updates:
This article is
What is the duplicate article?
Why is this article offensive?
Where is this article plagiarized from?
Why is this article poorly edited?