2011 NBA Draft: Which 3 Players Are Guarenteed Busts?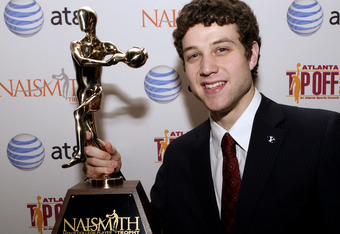 With the 2011 NBA Draft Only Days Away, There are Players That I Am Certain Will Be Busts
Have you ever watched basketball and began to think that certain players won't produce in the NBA? After hearing all the draft talk in the past months, I have been watching films, non-stop. There are three players that I continue to watch and doubt.
With all respect to Jimmer Fredette, I don't think he is going to make it. Sure, we watched him do some amazing things, but it was the same way with Adam Morrison. While that is an unfair comparison, it is real. Jimmer will not score at will in the NBA. What else does he bring to a team? He will never be a starter. His ceiling screams role player coming off the bench. When he gets defended by a much more athletic player, and his scoring slides, what then does he bring to the table? The answer is not much.
The second player that doesn't make sense to me, is Bismack Biyombo. He might be great defensively overseas, but will he be able to do that in the NBA? One thing is for sure, he has no offensive game. During a workout in front of talent evaluators, Biyombo proved that there is nowhere his air-ball won't go, except the rim. He is still an athletic monster and has great size, 6'9" 240lbs. What will he bring to the table for the team that drafts him? Shot blocking and......? That is it? What else is there to his game? He will be another wasted, top ten pick.
The last man on the bust list is Kawhi Leonard. I rooted for SDSU all year long. I had them in the final four, to be honest. I watched a lot of Leonard's games. But, the problem is I can't think of one offensive thing that stands out! Sure, Leonard is very athletic and has tremendous energy. One problem I keep seeing is that Leonard is 6'7" and has the prototypical size to play the wing in the NBA, but size isn't everything. A decent defender would neutralize him without breaking a sweat. He is extremely inconsistent and won't be anything more than a decent role player.
I hope all three of these players prove me wrong and go on to have awesome careers, but there are too many holes in their games. Fredette, Biyombo, and Leonard all have some potential. I just can't fathom them reaching it.
Stay tuned for more updates on the NBA Draft and its prospects throughout the day
Most recent updates:
This article is
What is the duplicate article?
Why is this article offensive?
Where is this article plagiarized from?
Why is this article poorly edited?