The Top 50 Mascots in College Basketball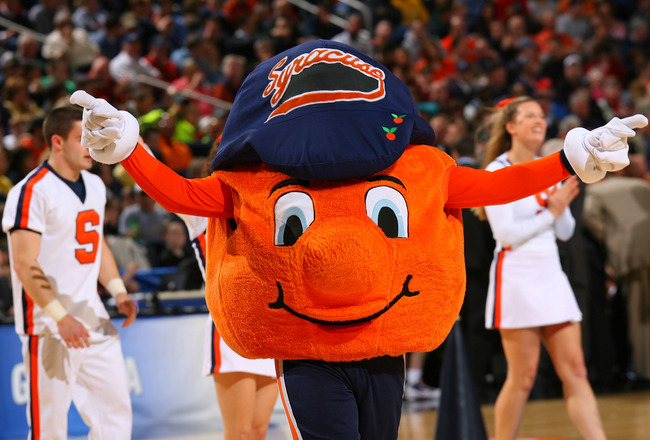 Rick Stewart/Getty Images
One of the reasons, other than March Madness, college basketball has been so popular is the game day atmosphere. You will be hard pressed to find a better live sporting experience than a basketball game at the Carrier Dome or Camden Indoor.
The fans have a big part in this, as does a winning team, but lets not forget the mascots. Over the years the mascot has become a big deal with some schools having tryouts that rival job interviews.
For example, to become Aubie the Tiger at University of Auburn students must complete two tryout sessions, followed by an interview where students are told to dress business professional.
The mascot has become an important part of the college sports experience and with that said here are the top 50 mascots in college basketball.
50. UC Santa Cruz Banana Slug
Let's start the list off with a Division III mascot and that is the Banana Slug from UC Santa Cruz. It gets the award for the least threatening mascot on this list and one of the oddest mascots I have ever heard of.
49. Keggy the Keg: Dartmouth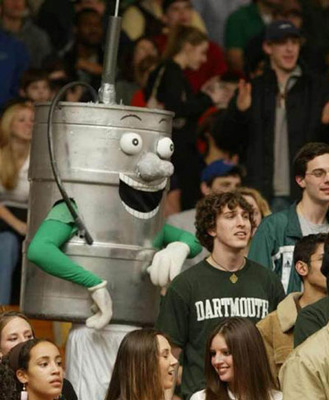 Keggy is the only mascot on this list that is not the official mascot of its school. Dartmouth though has never had an official mascot and even though Keggy has been approved by the student government as the official mascot, Dartmouth College has not accepted this smiling keg as their school's athletic representative.
48. Bernie: Siena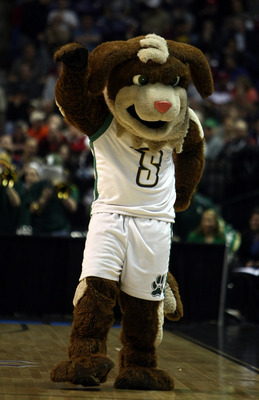 Jonathan Ferrey/Getty Images
Even though dogs, specifically bulldogs, are one of the more popular choices for mascots, Bernie is the only St. Bernard mascot in Division I athletics.
47. Beaker: Morehead State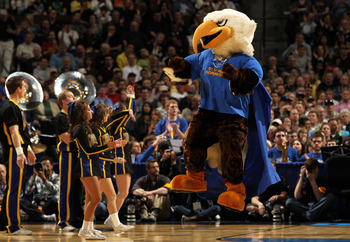 Doug Pensinger/Getty Images
Beaker got some much needed publicity thanks to Morehead State's run in the tournament this year. Although, can someone tell me why an eagle needs a cape?
46. Big Blue: Utah State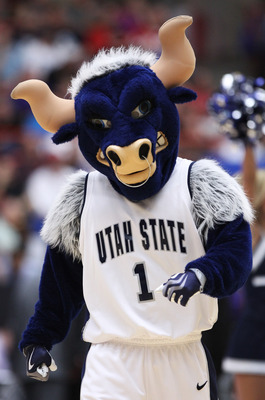 Christian Petersen/Getty Images
Big Blue is not afraid to mix it up with other mascots like in 2009 when he stole New Mexico State's mascot mustache and this happened.
45. Norm the Niner: UNC Charlotte
Streeter Lecka/Getty Images
Norm the Niner is UNC Charlotte's mascot and has to be the creepiest mascot on this list.
44. Sam the Minuteman: UMass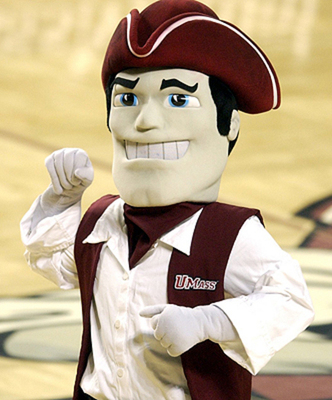 For a school that hasn't really had a competitive basketball team since John Calipari left, UMass' mascot Sam the Minuteman is pretty famous. He finished second place in the 2005 Capital One Mascot of the Year and recently appeared in an ESPN commercial seen here.
43. Sparky the Sun Devil: Arizona State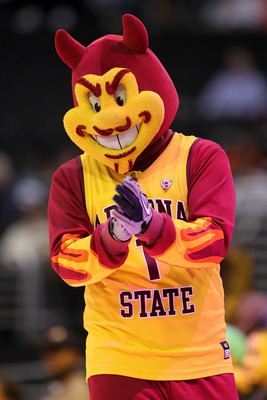 Jeff Gross/Getty Images
Arizona had a number of mascots before settling on the Sun Devil in 1946. Sparky is one of the more recognizable mascots in college basketball.
42. Cy the Cardinal: Iowa State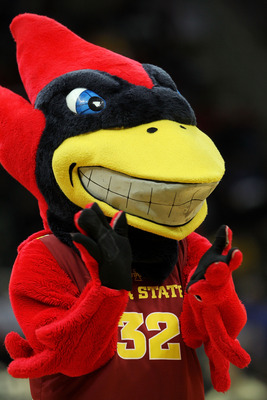 Jamie Squire/Getty Images
Iowa State's nickname is the Cyclones and since it was hard to depict a cyclone, the school decided to go with a cardinal due to the school colors, cardinal and gold.
41. Nittany Lion: Penn State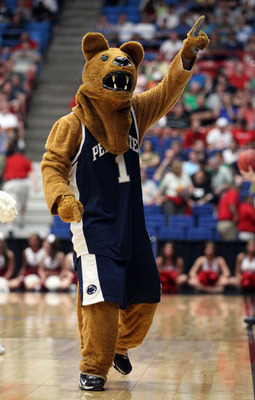 Christian Petersen/Getty Images
Some may ask what exactly is a Nittany Lion? Well I am glad you asked because it refers to the mountain lions that used to roam the area, and more specifically Mount Nittany. Penn State however may want to think about updating the mascot costume as it looks like it has been around longer than JoePa.
40. Raider Red: Texas Tech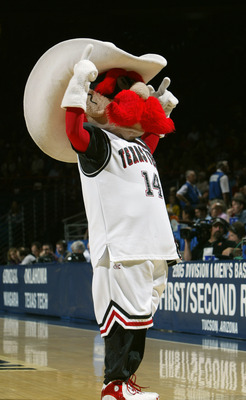 Stephen Dunn/Getty Images
The Masked Raider is Texas Tech's primary mascot but his horse can't go to all sporting events. So they call in Raider Red, who looks like Yosemite Sam with a black mask.
39. Paydirt Pete: UTEP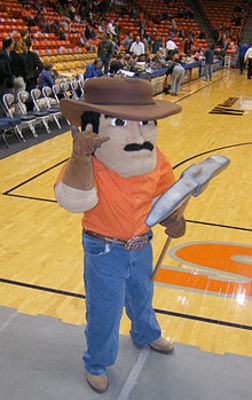 UTEP's Paydirt Pete gets the award for having the best name for a mascot on this list but has to be one of the plainest mascots on this list.
38. Testudo: Maryland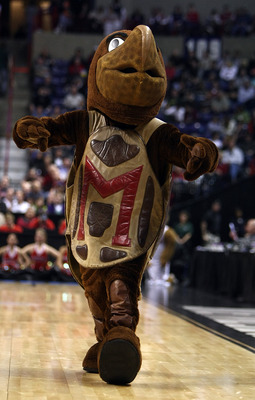 Jonathan Ferrey/Getty Images
Testudo is a diamondback terrapin, which is actually a Latin word for tortoise. Very classy, Maryland.
37. Chip: Colorado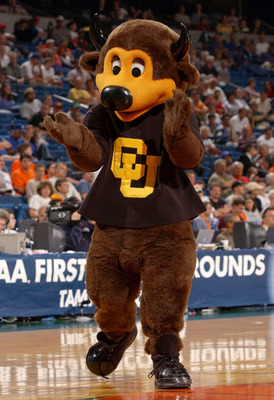 Doug Pensinger/Getty Images
University of Colorado's Chip is a two time National Champion at the UCA Mascot Championships winning in 2009 and 2010. Chip is supposed to be a buffalo but I think he looks more like a furry devil.
36. Cosmo the Cougar: BYU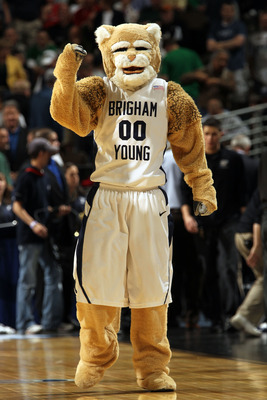 Doug Pensinger/Getty Images
Cosmo the Cougar is BYU's mascot and I wouldn't be surprised if within the next few years he changed his name to Jimmer.
35. The Wildcat: Kentucky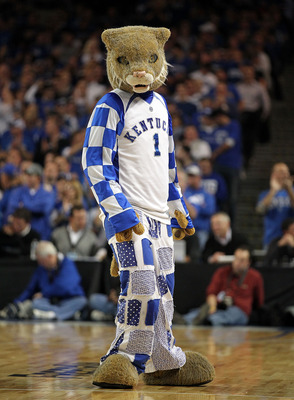 Andy Lyons/Getty Images
The Wildcat, pictured here, is one of three official mascots for Kentucky. It may be time for the Wildcat to get a facelift and get him some new clothes that don't look like table clothes.
34. Mike the Tiger: LSU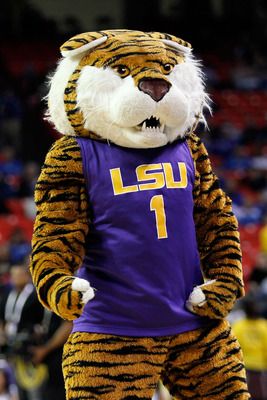 Kevin C. Cox/Getty Images
LSU has Costumed Mike, pictured here, and a real life tiger as their mascots. According to Wikipedia, there have been six Mike the Tigers since 1936 and LSU has a tradition where they will release white smoke from the school's Veterinary Medicine building. This tradition is something that is used when a new Pope is elected and smoke is released at the Sistine Chapel.
33. Knightro: UCF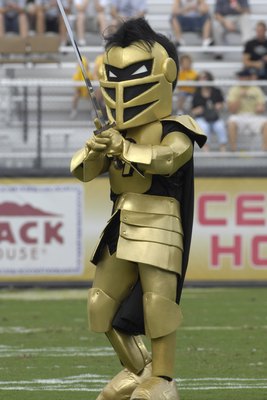 Al Messerschmidt/Getty Images
In 2007, UCF decided to drop the word Golden from their team names and just be the UCF Knights. Obviously, Knightro didn't get the memo.
32. YoUDee: Delaware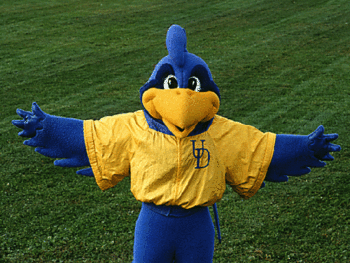 Don't be fooled by his smiling face, YoUDee is one tough hen. According to his website, the reason he is blue and gold is because his great-great-great grandfather was in the Revolutionary War and Captain John Caldwell said "There's no yellow streak in that chicken. He's blue to the bone."
31. HokieBird: Virginia Tech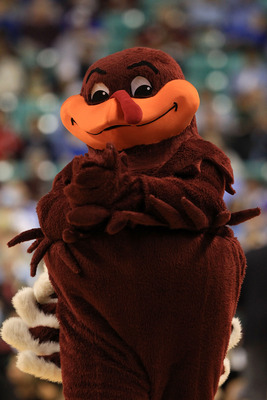 Streeter Lecka/Getty Images
The HokieBird is Virginia Tech's official mascot and is recognized more for his antics at the college's football games. For example in 1996, he was ejected for getting into a brawl with Miami's mascot and I didn't want any problems with HokieBird, so I made sure he got on the list.
30. Bucky Badger: Wisconsin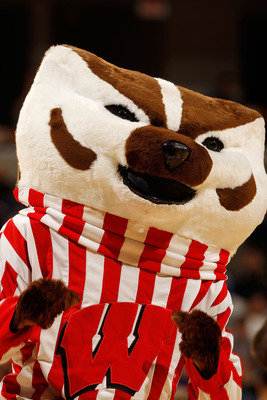 Jonathan Daniel/Getty Images
Poor Bucky Badger having to wear that turtle neck that makes him look like an old-school barber pole. Come on Wisconsin and help the badger out with some new clothes.
29. NC State "Struttin" Wolf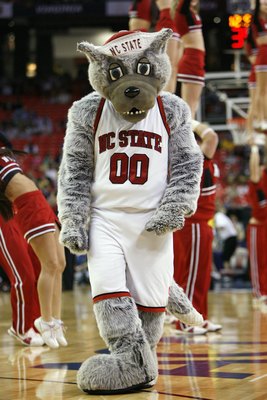 Kevin C. Cox/Getty Images
NC State is represented at games by the Struttin Wolf. Could they have picked a sadder looking wolf?
28. Big Al: Alabama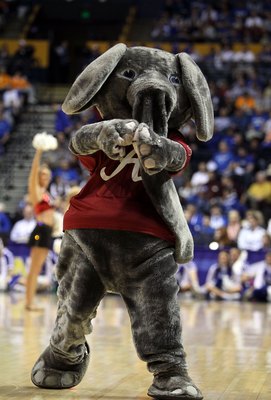 Andy Lyons/Getty Images
University of Alabama's Big Al is one of the biggest mascots in college sports. Yes that was a pun intended using big with him being an elephant and all. Ok, let's move on....
27. Stanford Tree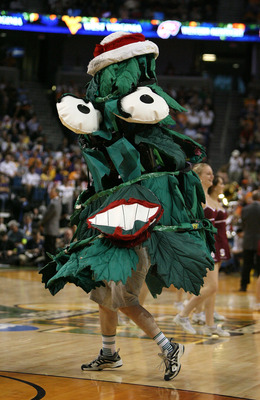 Doug Benc/Getty Images
Stanford decided to go with the Tree even though their nickname is the Cardinal. This has to be one of the most bizarre looking mascots in college basketball.
26. Aubie the Tiger: Auburn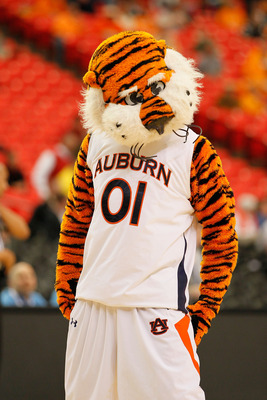 Kevin C. Cox/Getty Images
University of Auburn's Aubie the Tiger is one of the top mascots in the game today. He is a six time champion in the UCA National Mascot competition since 1991. Not bad for a Tony the Tiger look-a-like.
25. Demon Deacon: Wake Forest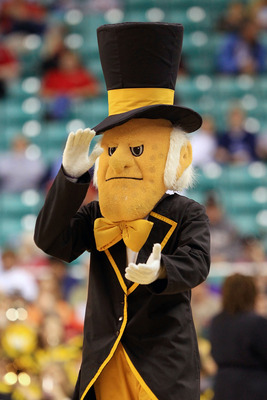 Streeter Lecka/Getty Images
For a team that is called the Demon Deacons, the mascot doesn't look very demonic.
24. Leprechaun: Notre Dame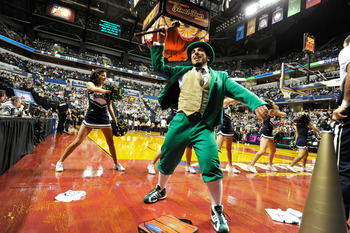 Jamie Sabau/Getty Images
Notre Dame's mascot is so recognizable that he doesn't need a special name other than Leprechaun. He is the leader of "The Leprechaun Legion", one of the louder student cheering sections in college basketball.
23. Pistol Pete: Oklahoma State
Jamie Squire/Getty Images
Pistol Pete is actually based on real-life cowboy Frank Eaton and was first associated with Oklahoma State back in 1923. However, it wasn't until 1958 that he was officially adopted as the school's mascot.
22. The Oregon Duck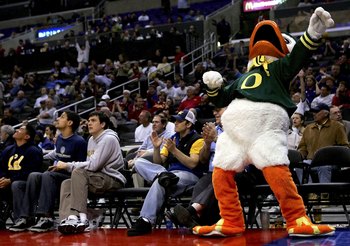 Lisa Blumenfeld/Getty Images
The Oregon Duck has an undeniable resemblance to Disney's Donald Duck and at football games has to do a push up for every point scored. Lucky for him he doesn't have to do that at basketball games.
21. Buzz: Georgia Tech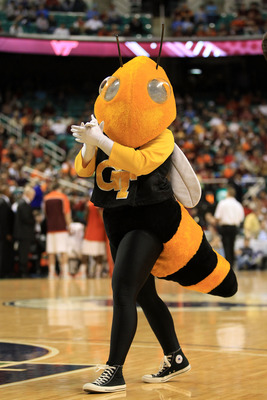 Streeter Lecka/Getty Images
Buzz is Georgia Tech's mascot and they have some pretty strict requirements if you want to be Buzz. According to Wikipedia, you must be about 5'4" and be able to do the Buzz flip, his trademark front flip and go through two day tryouts.
20. Jonathan the Husky: UCONN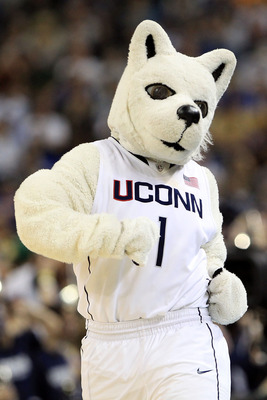 Streeter Lecka/Getty Images
Jonathan the Husky is probably on Cloud Nine right now, still enjoying UConn's national title. Unfortunately, just because your basketball team won the whole thing doesn't mean you are automatically the number one mascot in college basketball.
19. Monte: Montana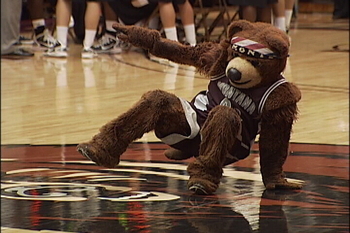 You can't go wrong with a break dancing grizzly bear and University of Montana's Monte made this list because of his moves on the dance floor.
18. Hey Reb!: UNLV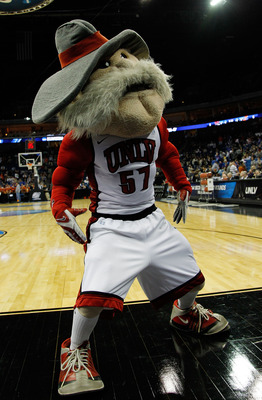 Tom Pennington/Getty Images
Is it just me or does UNLV's mascot, Hey Reb, look like Yosemite Sam or the Raider Red's father?
17. Goldy Gopher: Minnesota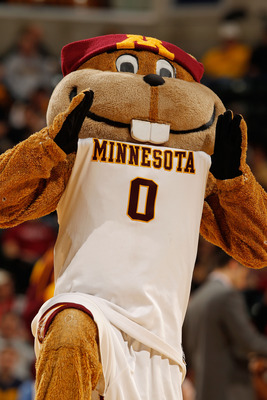 Jonathan Daniel/Getty Images
Not everyone is a fan of the University of Minnesota mascot as earlier this year, a professor punched the mascot in the face during a gymnastics competition. Maybe you should just stick to basketball Goldy.
16. Big Blue: Old Dominion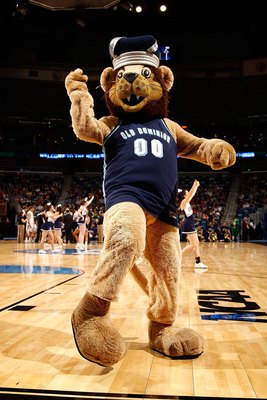 Chris Graythen/Getty Images
The crown is fitting for Big Blue as the Old Dominion mascot is the reigning Capital One Mascot of the Year but unfortunately he is only 16th on this list.
15. Big Red: Western Kentucky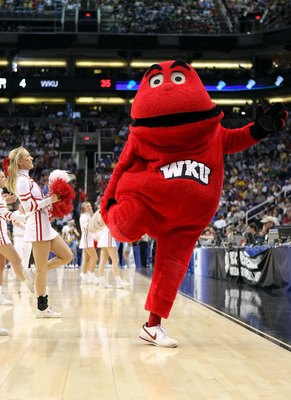 Stephen Dunn/Getty Images
What is Big Red? Western Kentucky's website describes him as a "furry, lovable creature." Whatever Big Red is, he is one of the most recognizable mascots in college basketball, appearing in ESPN commercials and was even inducted into the Mascot Hall of Fame in 2007.
14. Rodney the Ram: Virginia Commonwealth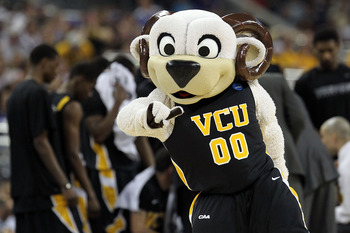 Ronald Martinez/Getty Images
Rodney the Ram got a makeover just in time for VCU's impressive run to the Final Four this year. Maybe the new Rodney was their good luck charm?
13. Sebastian the Ibis: Miami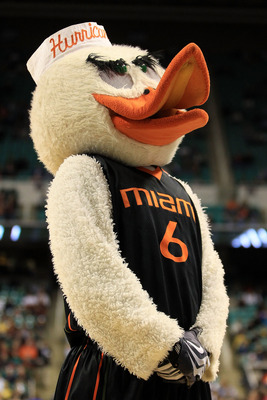 Streeter Lecka/Getty Images
Sebastian is the mascot for Miami University and is one of the more popular mascots in college basketball. The guy even has some skill on the hardwood as you can see here making a half court shot followed by his famous C-A-N-E-S chant.
12. Purdue Pete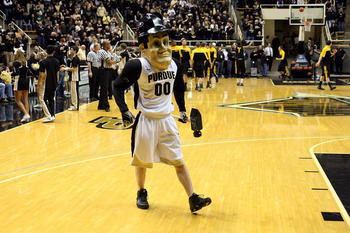 Chris Chambers/Getty Images
Technically Purdue Pete is not the official mascot of Purdue. It is actually a Victorian style locomotive called the Boilermaker Special. Purdue Pete is more recognizable and I think a train would ruin the basketball court.
11. Albert Gator: Florida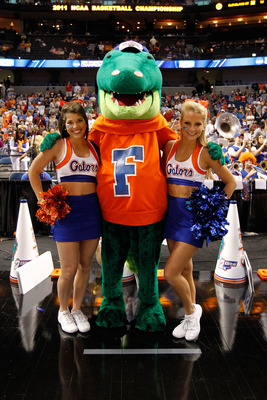 J. Meric/Getty Images
Albert Gator may need to be careful as his wife, Alberta Gator, may start to get jealous if he keeps taking pictures like this.
10. Brutus Buckeye: Ohio State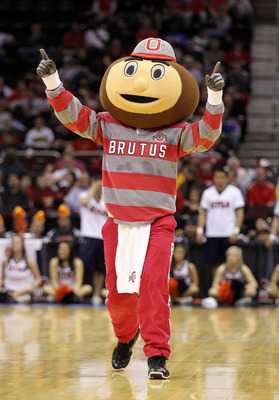 Andy Lyons/Getty Images
Brutus Buckeye has shown he is more than just a nut that can entertain fans. Back in 2006, he made his new reporting debut on The Daily Show. Unfortunately, it didn't end very well.
9. Smokey: Tennessee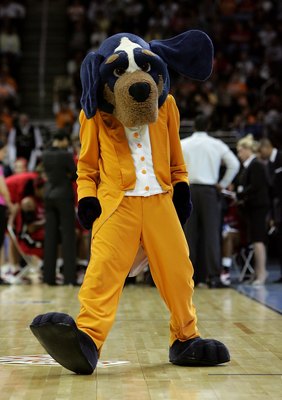 Jim McIsaac/Getty Images
University of Tennessee's Smokey is one of the best dressed mascots on the list and it looks like Bruce Pearl gave him some fashion tips before he left.
8. Hink: Butler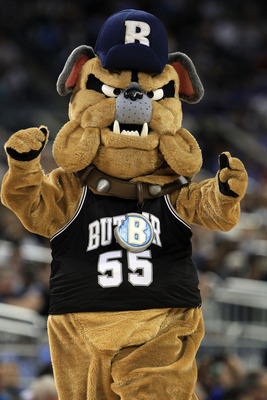 Streeter Lecka/Getty Images
Butler University has two mascots in Butler Blue II, a real bulldog, and Hink, pictured here and named after Hinkle Fieldhouse. It is fitting that Hink wears a silver medal, seeing as how Butler has finished second the last two years.
7. The Hawk: St. Joeseph's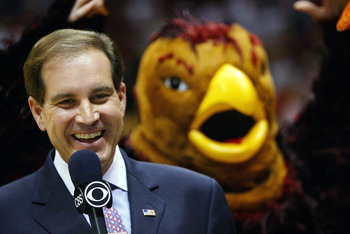 Doug Pensinger/Getty Images
Watch out Jim Nantz, St. Joseph's Hawk is sneaking up on you. According to the Hawk's website, "The Sporting News, Sports Illustrated, Sports Illustrated for Kids, Street & Smith's Basketball Yearbook and ESPN College Basketball magazine have selected it as the nation's top mascot."
6. Big Jay and Baby Jay: Kansas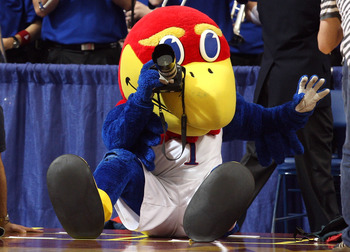 Jonathan Daniel/Getty Images
Jayhawk Nation has two mascots that will be seen at their games and according to their website, Big Jay scares and intimidates opposing team and mascots while Baby Jay, with the 1/2 jersey, puts a smile on everyone's face.
5. Rameses: UNC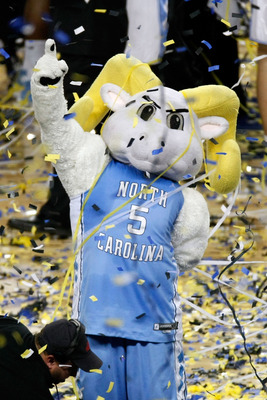 Gregory Shamus/Getty Images
Rameses is University of North Carolina's mascot and is tied with Joe Bruin for being the oldest on this list, at 87 years young. I think there is something to be said about a tradition that long.
4. Otto the Orange: Syracuse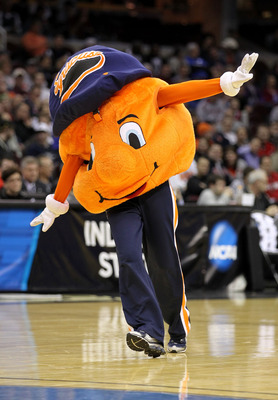 Andy Lyons/Getty Images
Otto has been Syracuse's mascot for over 30 years now. That is a pretty good run for a piece of fruit and he hasn't shown any signs of rotting.
3. Duke Blue Devil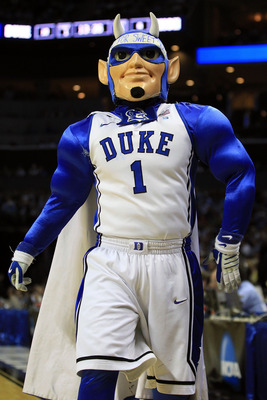 Streeter Lecka/Getty Images
This mascot is the leader of the Cameron Crazies, the student section at Cameron Indoor. He has become one of the more recognizable mascots in college sports, in part to Duke's recent success on the hardwood.
2. Joe Bruin: UCLA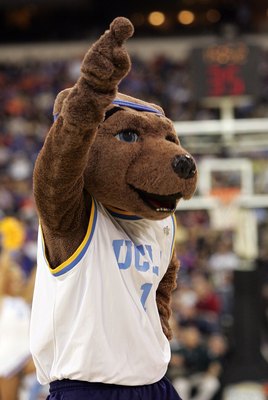 Streeter Lecka/Getty Images
Sorry Joe but you are not number one on this list. One of the oldest mascots, Joe Bruin has been UCLA's mascot since 1924. He doesn't look bad for an 87 year old bear.
1. Sparty: Michigan State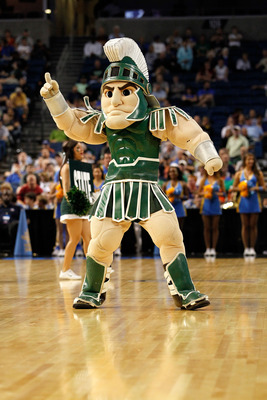 J. Meric/Getty Images
Michigan State's Sparty is one of the top mascots in the game today. He is regularly in Capital One Mascot advertising and even was on the Nintendo Wii's NCAA Football 09. Congrats Sparty you are the top mascot in college basketball.
Keep Reading