College Football 2011: Pittsburgh Media Fuels Pitt-Penn State Rivalry
June 17, 2011
We are only a few days removed from the announcement that Penn State and Pittsburgh agreed to face each other in a home-and-home series beginning with the 2016 football season. The rivalry is great for the state of Pennsylvania and for college football.
I am excited that the two have come to terms to bring back the series, but it is five years away. This minor detail does not stop the Pittsburgh media from fueling the flames of the rivalry, however.
The Pittsburgh media has been quoted as saying in the past that it was Joe Paterno's fault the rivalry was ended. They have also said that it will never be continued while Paterno is the head coach. Here is some of the Pittsburgh Post-Gazette article published in 2000:
Paterno will mention how Pitt betrayed him when it joined the Big East basketball conference in 1982 rather than join Penn State in an all-sports Eastern conference. He can't help himself. He has to mention it every Pitt-Penn State week. No matter how big he has become, no matter how many championships he has won, no matter how close he is to breaking Bear Bryant's Division I record for victories, he is a small man when it comes to Pitt. It doesn't matter that Pitt didn't join the Big East until after Penn State had applied and been rejected. He blames Pitt for ruining his dream. That's his story and he's sticking to it.
"One of the most disappointing things in my life that happened at Penn State was that. ... It was a bitter pill to swallow. I was disappointed. There's a little frustration on my part."
That's the only reason the Pitt-Penn State series is going on a long hiatus.
So the media says that the only reason for the rivalry being ended is Joe Paterno. Now, with the rebirth of the rivalry under Joe Paterno, what does the media say?
One clear thing is PSU has a timeline for the retirement of Joe Paterno, who has held a decades-old grudge against Pitt because he believes it sabotaged his plan for an Eastern power conference. It's no coincidence that the streak of 58 consecutive Pitt-Penn State games, which started in 1935, stopped when the Lions began Big Ten play in '93.
"I think Joe Paterno is getting soft," said Jackie Sherrill, the former Pitt coach and Paterno nemesis. "The Joe Paterno I used to know, he was not that soft. He must be getting soft in his old age, or is trying to do the right thing."
The guess here is Paterno won't be coaching the Lions in 2016, when he will be 89 years old. And that his declining to comment on the resumption of this series speaks volumes about his involvement in the resumption of it.
So both articles say that Joe Paterno is to blame for the end of the rivalry. By saying that he declined to comment due to his feelings towards Pitt, the media makes it seem as though the deal was made without Paterno's consent. Obviously Paterno had some sort of say in the matter.
Another thing that both of the Pittsburgh articles make you believe is that Paterno wanted nothing to do with Pitt once Paterno's dream of an Eastern conference fell apart. If Penn State wanted nothing to do with Pitt, then why did Penn State still play Pitt? Let's take a look.
* Pitt joined the Big East Conference in 1982, thus dashing Paterno's dream of an Eastern conference.
* Penn State played Pitt from 1982-1993.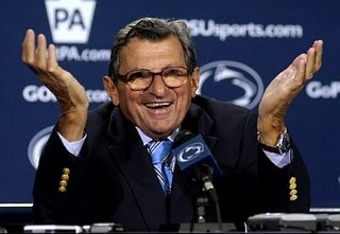 * Penn State joined the Big Ten Conference; its schedule now became less open for non-conference opponents.
* Penn State played Pitt in 1997, 1998, 1999 and 2000.
If Paterno has a "grudge" against Pitt and is trying to avoid the Panthers, then he has done a terrible job. Penn State played Pitt 16 times since Paterno became "angered and soft."
The rivalry ended in 2000 for reasons unknown to me, but one obvious reason that could have contributed to the ending of it could be the fact that both teams are in different conferences and therefore have limited schedule space.
In order for Penn State to play Pitt, it would have had to give up games against Notre Dame, Alabama, Miami and Nebraska. Penn State had home and home series with these teams because they are former rivals of Penn State.
Now, another former rival (Pittsburgh) has been scheduled because there is room on the schedule for them.  Penn State has room for Pitt now, and it scheduled the Panthers into its open slot in the 2016 and 2017 seasons.
So here are the real reasons why the rivalry was ended:
* Penn State stopped playing Pitt because there was no room on the schedule. Now it has found room for Pitt.
* Pitt and Penn State joined two different conferences, so scheduling became a problem.
If Pittsburgh had agreed to Paterno's Eastern conference idea, then it could have played Penn State every year.
Pittsburgh also has more open spots than Penn State has had. Pitt stopped talk of bringing back the rivalry when Penn State asked about doing a 2-1 ratio of games (two at Penn State and one at Pittsburgh). For whatever reason the two parties agreed on a home and home series for 2016 and 2017.
Both sides are at fault for the rivalry ending; it is not just Penn State's fault, and it is not just Pittsburgh's fault.
Thanks for reading.
Leave your comments below.
For another view on this topic, click here.