Top 25 Sexiest South American Sports Hotties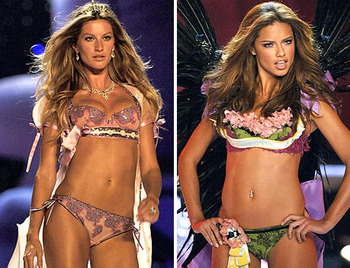 South America's awesome. I know it from pictures. More specifically, I know it from the pictures of their women.
I also hope to visit there someday and see those women. My life's goals are set high, you see.
Until then, let's take a look at some of those pictures—of women. I just want to be clear that you won't be seeing photos of the country's beaches or anything.
Here are the Top 25 Sexiest South American Sports Hotties.
25. Chris Namus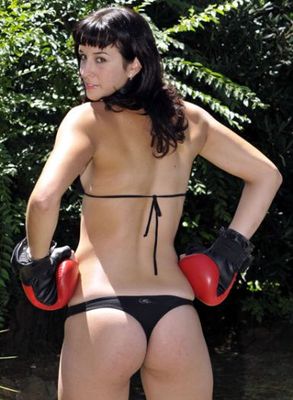 Chris Namus, a Uruguayan boxer, trains super hard in a thong before fights, as you can see.
Now if that's what they wore in the ring, I might watch it more often.
24. Talita Antunes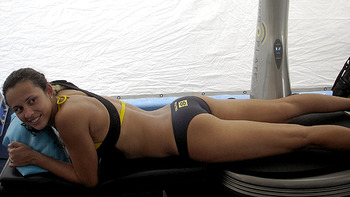 I find women's beach volleyball to be the most arousing of all women's sports.
Their swimsuits are not only sexy—they're practical. A common gripe among beach-goers is that sand often finds its way into the butt crack. Not so in women's volleyball. Those swimsuits act as a barrier against sand/buttcrack infiltration.
What I'm saying is, this is Brazilian beach volleyball player Talita Antunes, sand-free and everything.
23. Lisa Guerrero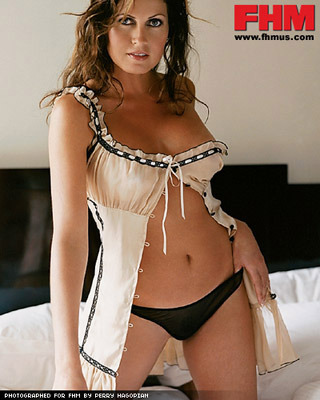 Lisa Guerrero is an American sportscaster of Chilean descent. She's made appearances on The Best Damn Sports Show Period and was a sideline reporter for Monday Night Football in 2003.
Monday Night Football let her go after one year, I assume because they're dumb as hell.
22. Carolina Salgado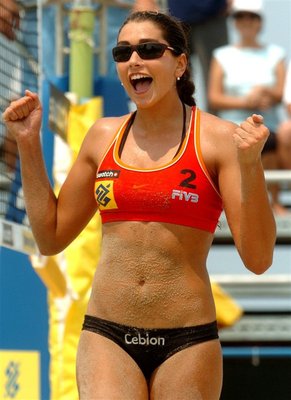 Carolina Salgado is a Brazilian professional beach volleyball player. You know, that sport men watch because it's totally enthralling.
Don't get me wrong. I appreciate the talent involved, but I appreciate what they're wearing more.
What can I say? I'm human.
21. Cecilia Comunales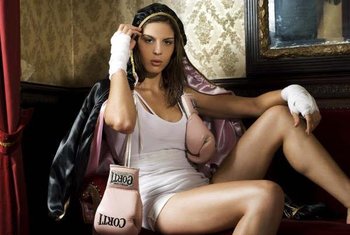 Cecilia is a lightweight boxer from Uruguay, and I fear she may seriously damage her face someday, which would be tragic.
Don't tell her that, though. She'd probably punch you. This is why you don't date a boxer. You'll lose every argument—physically. Oh, and painfully.
20. Flavia Delaroli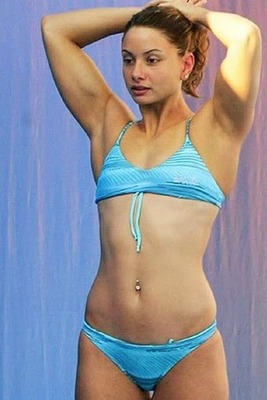 If you're thinking about getting into freestyle swimming, you'll want to check out Flavia Delaroli, the 27-year-old Brazilian.
And if you don't, just take a look at her pictures. You win either way. Though personally, I prefer her without the cap on her head.
19. Luciana Aymar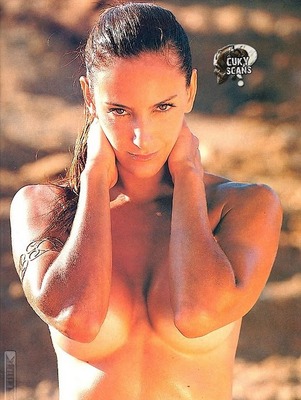 From Argentina, Luciana Aymar has a bodacious booty but boasts bodacious ball skills before breakfast...boy. All that in, uh, field hockey—just to let you know.
We call this alliteration. This site doesn't see enough of it.
18. Danielle Fornarelli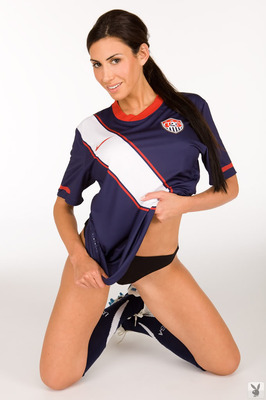 Danielle Fornarelli is a Playboy model who was chosen by Nike to display the U.S. Men's National Team's 2010 World Cup jerseys.
It was a great way to get men excited about the World Cup. Of course, they might have been excited for all the wrong reasons.
And just in case you were wondering, you may or may not find nude photos of her if you were to look. Again, if you were to look...
17. Juliana Veloso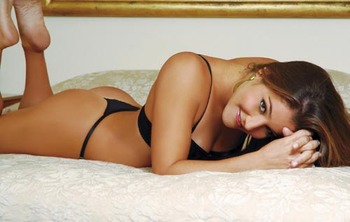 16. Ana Paula Araujo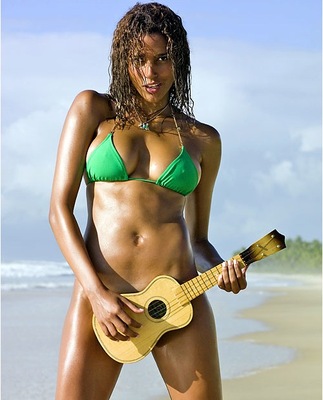 Brazilian model Ana Paula Araujo appeared in the 2007 Sports Illustrated Swimsuit Issue, rocking the ukulele.
I really wish she wasn't, though. The picture could have been so much better without it.
15. Maya Gabeira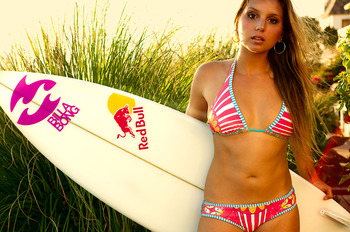 14. Larissa Riquelme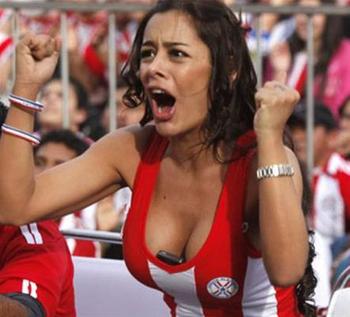 Bananas, this photo. Bananas!
Larissa is a Paraguayan model who has come to the worlds attention due to her undying love and devotion for the Paraguay national soccer team.
And by undying love and devotion, I mean her...happily smothered cell phone?
God I love Paraguay...now.
13. Luli Fernandez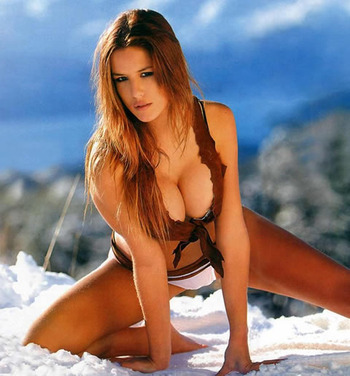 Luli Fernandez once dated Fernando Gago, a midfielder who plays for Real Madrid. Luli's wikipedia page also claims she's a skater, mostly because you can write anything on Wikipedia.
Plus, the site also says that she "has been awarded an affair with Mick Jagger." If you're anything like me, you laughed at that sentence for about 10 minutes.
What a strange thing to say.
12. Las Marineritas De Almirante Brown (Cheerleaders)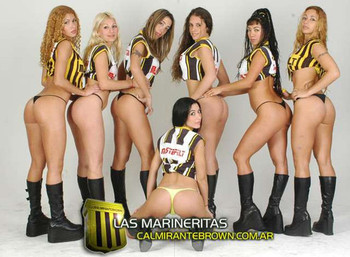 Gaze at the booty—you can't resist.
This is Las Marineritas De Almirante Brown, or in simple English, the cheerleaders for the Argentine Football League.
They specialize in looking super hot and getting boyfriends and husbands slapped upside the head for looking at their assets.
What do you expect them to look at?
11. Ana Paula Mancino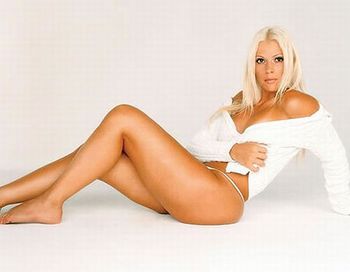 Ana is a Brazilian volleyball player, though it's kind of hard to find pictures of her actually playing volleyball.
Not that I'm complaining. If there's anything better than seeing her in uniform, it's seeing her bare more skin.
10. Fabiana Semprebom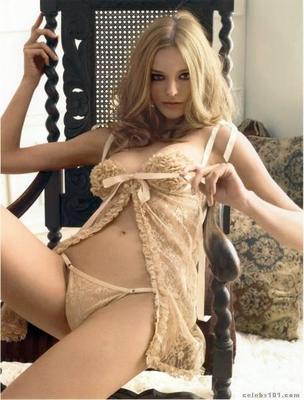 There's this guy named Guillermo Canas, and he's a professional tennis player. He's married to Brazilian model Fabiana Semprebom, which is why we find her here.
Good enough, yeah? Just look at the photo.
9. Adriana Monsalve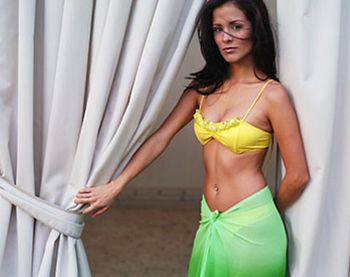 Reporter Adrianna Monsalve is a Venezuelan beauty who graces our television screens on ESPN Deportes.
Though I'm Mexican, I don't speak Spanish, so it is, of course, on mute. Not that it matters. They say 93 percent of communication is nonverbal anyways.
Pictured: nonverbal communication.
8. Fabiola De Silva
Fabiola da Silva is an accomplished inline skater, having earned over fifty medals in the LG Action Sports World Tour.
Plus, she's hot, and that never hurts. And if the photo is any indication, she must not crash a lot. That's blemish-free skin I'm seeing.
And probably some photoshop. Whatever.
7. Laisa Andrioli
Laisa plays for the Brazil's national soccer team, and she also gets really, really naked. Which part of that sentence did you care about most?
If it's the first part, something's wrong with you.
6. Bia and Branca Feres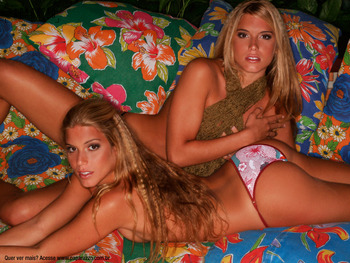 You watch a lot of synchronized swimming? Yeah, me neither. But had I known the swimmers looked like this, I'd be tuned in to every event.
What you're looking at is two of the most beautiful Brazilian women to ever do things in sync in the water, and, yes, that includes making awesome whirlpools fellas.
There's a ridiculous amount of hot photos of them, so don't limit yourself to the one I've posted here. Treat yourself. Tell your girlfriend you're researching...for...a Bleacher Report...article...
Hey, it's technically true—for me at least.
5. Daniela Cicarelli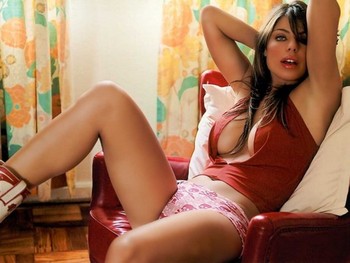 Daniella was engaged to Ronaldo at a time....yadda yadda...
She has sex on the beach. More specifically, in the water. Which I hear isn't good for the woman. Knowledge is power!
Suffice it to say, a simple google search can help you find what you're looking for...
4. Leryn Franco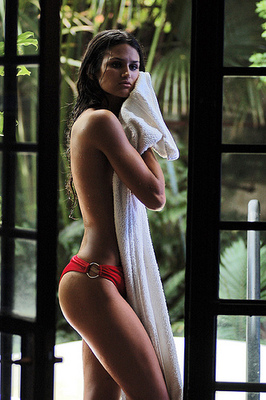 Leryn is a Paraguayan athlete who specializes in the javelin throw.
I know what you're thinking. It'd be awesome to date a woman who knows her way around a pole. But it would be terrible if you think about it.
Keep in mind, her job is to throw that pole as far as she can; that doesn't bode well for you. Also, if you ever cheated on her, there'd be no safe distance to run.
Javelin's are rather sharp and can pierce your chest with ease.
3. Shakira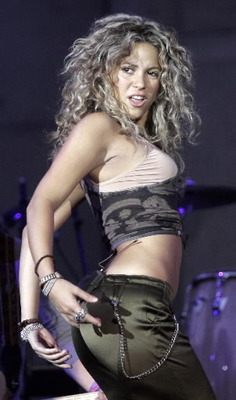 I know Shakira mostly for doing this.
I watched that clip for 36 consecutive hours, and if it wasn't for the firefighters pulling me from my burning home, I would still be going strong.
She is currently linked to Gerard Pique, a defender for FC Barcelona.
2. Gisele Bundchen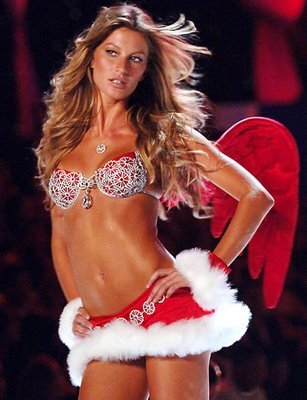 I'm a huge fan of Tom Brady, but this guy seems to be testing my faith in him lately.
Ever since this photo surfaced, as well as this video, I'm starting to wonder what Gisele sees in him.
What's worse, I think he might be a dork. And that hurts.
Gisele, super hot Brazilian model, if you're reading this: Don't let Tom dance anymore. His dancing might have been worse than Elaine's on Seinfeld.
And that's hard to do.
1. Adriana Lima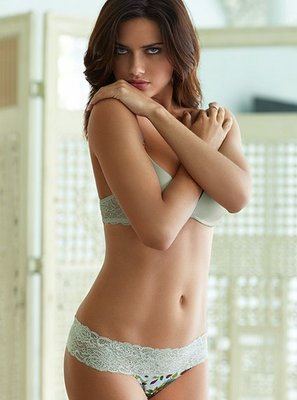 Marko Jaric is a professional basketball player who has played for the Clippers, Timberwolves and Grizzlies. He's also married to Adriana Lima, making him the luckiest son-of-a-bitch alive.
That's enough about him. His existence benefits us in no way.
Adriana Lima is the type of beautiful woman who makes you forget your name when talking to her. If you saw her walking down the street when you were driving, it's a guaranteed car crash.
Now that's beauty; it makes you stupid and potentially dangerous.
Keep Reading