Los Angeles Lakers: Baron Davis Could Help a Return to the Finals in 2012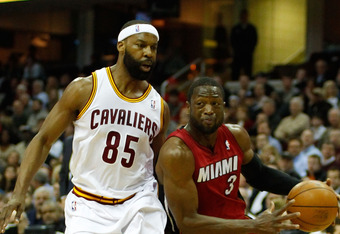 Jared Wickerham/Getty Images
Now that the Los Angeles Lakers have picked their new coach, Mike Brown, they will begin the tedious process of working towards a title. The Lakers were swept in the second round of the playoffs this year by the team that went on to win the Larry O'Brien Trophy, the Dallas Mavericks. After the series, clamor falsely revolved around how the Lakers were too slow or too old, but for the most part, they just looked uninspired.
The core players will be coming back, as they should. Kobe Bryant, Andrew Bynum, Ron Artest, Pau Gasol and Lamar Odom are as solid a foundation as any other in the NBA. But the team will have to make some serious decisions, one being at point guard.
The Lakers can draft a point guard, and likely will, but whoever comes in will not start right away. Derek Fisher might stay one more season and mentor a young guard, but that's not guaranteed. The other point guard, Steve Blake (Shannon Brown is more of a shooting guard and he might not be back), had an underwhelming season.
Blake played badly in the regular season and even worse in the playoffs. In year two, his play should improve as he becomes more comfortable with his Lakers teammates. But putting Blake on the trade block might bring about an even better scenario.
That scenario revolves around Luke Walton. His playing time dwindled down over the last few seasons, and he got virtually no minutes in this year's playoffs. But Walton won't be easy to move. If the Lakers can combine Walton and Blake's contract, which together totals more than $9 million next year, they could add an important piece to the championship puzzle.
Should the Lakers Bring in Baron?
Many have mentioned the Lakers bringing in a point guard from around the league as an important new piece; I tend to agree.
If the Cleveland Cavaliers pick Kyrie Irving in the NBA Draft, they will have to choose whether to keep Ramon Sessions or Baron Davis. Even Sessions' agent has recently alluded to the lack of room for the Cleveland guards in the case of an Irving selection. The consensus has been around trying to nab Sessions. In my opinion, the Cavaliers won't want to give him up. They will be willing to move Davis' contract.
The Lakers need to make a bold move on the L.A. native. Davis could be just what the Lakers need in order to return to championship form. I know, people will say Davis isn't good enough or that his shot selection is terrible. People will say he is inconsistent on defense or geriatric. But that type of talk shouldn't be listened to.
Davis turned players like Jamaal Magloire and Chris Kaman into All-Stars, and helped Andris Biedrins have one of the best shooting percentages in the league (which should make Davis an attractive pickup for Bynum).
He injected life into dying franchises like the Warriors, Clippers and Cavaliers. And he mentored youthful players like Monta Ellis and Eric Gordon to stardom. He also led the Warriors to one of the biggest upsets in NBA history, a round one win over the Dallas Mavericks in 2007.
And for Davis's supposed lack of concentration and drive, I don't buy it. When watching Davis play, he is one of the more passionate players on the court every night. You could see his enthusiasm for the game when the Cavaliers beat the Lakers this year.
At 32 years young, Davis is still one of the most exciting guards to watch. And beyond the criticism, a player like Kobe Bryant, the ultimate motivator, will take Davis' game to an even higher level by sustaining Davis' passion throughout the season.
There is only one problem: a large contract. But to be able to join a championship contender alongside Kobe Bryant, and to come back to his beloved hometown, Davis would happily structure a new deal in 2013 for less money when his contract expires.
If the Lakers want hold the Larry O' Brien Trophy at the end of next season, they will find a way to make the numbers work (and Blake and Walton's contracts should facilitate). The Lakers should bring in the player Magic Johnson calls his little brother, and bring "Showtime" back to L.A.
This article is
What is the duplicate article?
Why is this article offensive?
Where is this article plagiarized from?
Why is this article poorly edited?

Los Angeles Lakers: Like this team?