Detroit Red Wings: 5 Ex-Wings That Could Fill Vacated Assistant Coaching Slots
Dave Sandford/Getty Images
As soon as the Red Wings were bounced out of the second round of the playoffs, the biggest question mark hanging over the team was whether or not Nicklas Lidstrom would retire.
One month removed from their Game 7 loss, that question still looms large in Detroit, but it has since been joined by a slew of others, the answers to which will immediately impact the team's future.
Who will replace Brian Rafalski on the blueline?
Will Kris Draper be offered another contract?
Who will be Jimmy Howard's back-up next season?
Added to the list of on-ice personnel uncertainties are now two large questions behind the bench - who will serve as Mike Babcock's assistant coaches next year?
Both Brad McCrimmon and Paul MacLean have left Detroit for head coaching jobs in the KHL and with the Ottawa Senators, respectively.
Though the possibility of their departure was clear, having to replace two thirds of his coaching staff along with several key player positions probably wasn't something GM Ken Holland was fully prepared for at season's end.
The list of possible replacements is impressive, as Ken Hitchcock, Craig MacTavish and Peter DeBoer are all former head coaches looking for full-time work this summer.
But with an equal number of head coaching vacancies in Minnesota, New Jersey and Winnipeg, their availability is far from certain.
While there are certainly many other candidates beyond former head coaches out there, considering a former Red Wing may be the best way for the organization to go.
Ken Holland and Co. are fond of keeping players in the fold and, in some cases, bringing them back in after a lengthy absence.
These moves have typically involved adding former players such as Chris Osgood and Dallas Drake back to the roster, however, looking at ex-Red Wings to fill the vacated coaching positions seems a likely move, and one worth making.
Indeed, both McCrimmon and MacLean were once Red Wings and while there's much to be said about the value of bringing in "new blood," bringing quality people back to the organization could be equally as successful.
If Holland and Babcock do find mining through old rosters for assistant coaching candidates a worthwhile exercise, they'd do well to highlight five names in particular.
Follow Matt on Twitter: http://twitter.com/MAhutter12
Gerard Gallant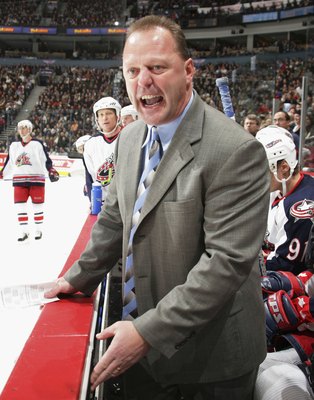 Jeff Vinnick/Getty Images
Not only is Gallant a notable Red Wing alumnus, he played several seasons as Steve Yzerman's winger on the Wings' top line, he already has NHL coaching experience.
Gallant was the Columbus Blue Jackets' head coach from 2003 to 2006 before being fired by the organization for failing to build the team into a contending playoff squad.
Whether this was due to Gallant's coaching inabilities or a weak and talent-starved roster is debatable, however, my guess is the latter was the bigger problem.
After his tenure in Columbus, Gallant was an assistant to Ted Nolan with the New York Islanders until Nolan's dismissal in 2008.
Gallant has developed a reputation for being good with younger players and instilling an intense, up-tempo style that could be very well complimented by Mike Babcock's similar philosophy.
Indeed, since his NHL coaching days ended in 2008, Gallant has found success in the Quebec Major Junior league having twice secured Coach of the Year Honors (2010, 2011) and just secured a Memorial Cup with the Saint John Sea Dogs.
Gallant's recent success could mean several teams could be interested in his services as head coach, so Detroit going after him for second-banana duties may not be as appealing to him as to others.
Still, if Gallant is interested in coming back to the NHL as a coach, he couldn't do much better than returning to his former team.
Chris Chelios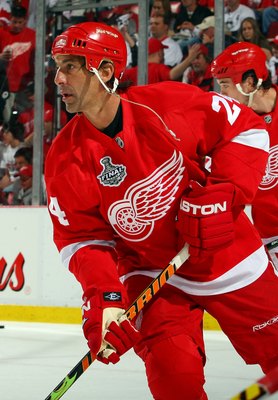 Jim McIsaac/Getty Images
Admittedly, this may be more of a sentimental pick than an objective one, but, Chris Chelios has the makings of a good coach nonetheless.
Not only is he experienced beyond measure, but his passion and head for the game is unmatched among most human beings on planet Earth.
As a defenseman, he became infamous for belting out cheap shots, trash talking opponents and being a nasty, even dirty player along the boards. However, he also had tremendous offensive prowess, read the game better than most of his opponents and displayed a defensive awareness that was second to none.
Before he left the Red Wings in 2009, he had already taken several of the younger players under his Wing and was considered by Babcock to be something of an on-ice coach during games.
As he's now serving as an advisor to Ken Holland, Chelios is already in the organization and thus, transitioning him to a coaching position would be an easy task.
Whether Chelios would want such a charge, or, the Red Wings offer it to him is unknown. But, if they did, Cheli would figure to be an above average bench boss.
Igor Larionov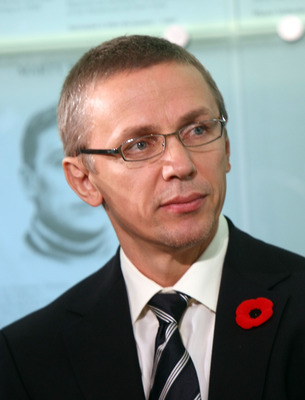 Bruce Bennett/Getty Images
Igor Larionov was a living legend before he even came to the NHL.
As part of the seemingly superhuman Soviet Red Army team, he exhibited his genius hockey-IQ and passing ability as part of the feared "KLM Line".
After making his NHL debut with the Vacouver Canucks in 1989, Larionov continued his career with the San Jose Sharks before landing in Detroit in 1995.
Along with fellow Russian hockey legend Slava Fetisov, Larionov helped lay the ground work for what would become a near-dynasty in Detroit and went on to win three Stanley Cups with the team (1997,98 and 2002).
Now a member of the Hockey Hall of Fame, Larionov's official hockey duties rest in his position as Director of Hockey Operations with SKA St. Petersburg of the KHL, however, he still holds a residence in suburban Detroit.
"The Professor" viewed the game as a master chess player surveys the board and that type of mind not only makes for a legendary player, but a superb coach.
Larionov may not have an interest in coaching in the NHL, and all the rigors that entails, but it would at least be worth a call to the man to find out.
Fredrik Olausson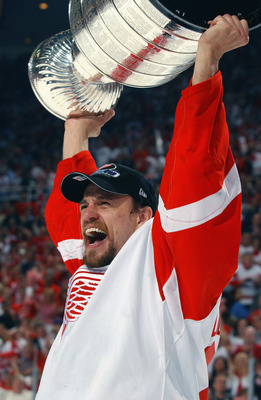 Dave Sandford/Getty Images
As defensemen went, Fredrik Olausson wasn't exactly a physical force and he certainly didn't set the world on fire with his offensive abilities.
Still, his calmness with the puck and hockey-sense made him a safe and stabilizing blueline presence.
Olausson played only one season with the Red Wings, 2001-02, but that proved good enough to earn him his first and only Stanley Cup of his career.
However, Olausson's ties to Detroit go beyond that season.
The very next year, Olausson was a member of the Mighty Ducks of Anaheim whose head coach, one Mike Babcock, took his squad all the way to Game Seven of the Stanley Cup Finals.
That year turned out to be his last in the NHL as he returned to his native Sweden to play for HV71 Jonkopings in the Swedish Elite League.
Olausson is currently serving as an assistant coach for the same team who also happens to sport Red Wings goalie prospect Daniel Larsson in net.
Given Detroit's current and growing European contingent of players (Jakub Kindl, Jan Mursak and Tomas Tatar among those on the rise), having a guy like Olausson behind the bench could not only help the team as it is currently constructed, but ensure the younger guys making their way to the team have a European mind behind the bench to help guide their development.
Fredrik Olausson may be a bit off the radar, but he's an intriguing option nonetheless.
Steve Thomas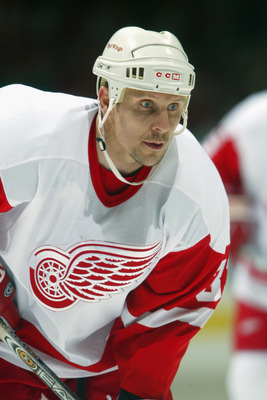 Jeff Vinnick/Getty Images
Steve "Stumpy" Thomas is currently employed by the Tampa Bay Lightning as a player development consultant.
That appointment has as much to do with his 20 years of NHL experience as it does with his long-time friendship with GM Steve Yzerman.
It was that friendship that lured Thomas to the Wings in 2003-04 in search of a Stanley Cup championship, something he had never achieved to that point in his career.
Unfortunately, that dream fell short of the mark as the Wings were bested by the Calgary Flames in the second round of the 2004 playoffs.
Stumpy retired having completed a very respectable career, but one that did not include a Stanley Cup.
Coincidentally, the closest Thomas ever came to a championship was the year before he joined the Wings.
Like the aforementioned Olausson, Thomas was a member of the Anaheim team that eventually lost to the New Jersey Devils in Game Seven of the 2003 finals.
He reportedly had a good relationship with Mike Babcock who viewed him as a valuable veteran voice in the locker room and on the ice.
It would be interesting to see if that relationship could work with Thomas in an assistant coaching position under Babcock.
Keep Reading

Detroit Red Wings: Like this team?