2011 US Open Golf Championship: The Opportunity to View Epic Human Failure
June 15, 2011
This weekend is the US Open Golf Championship. I am not a big golf fan. I have no real interest in who wins and who is the No. 1 player in the world.
The last time I recall being really excited about a golf tournament, Jack Nicklaus was making his huge comeback at the Masters in 1986. I was at my grandparents trailer by the lake and it was raining so we weren't fishing. I found myself really drawn in to the drama of the comeback and what it meant for golf history for Nicklaus to win. Since then golf has rarely made me roar in excitement like that day.
My back has made me a very occasional golfer. At one point I was playing often and had gotten fairly proficient. But currently I play just now and then and usually when its someone else's idea. My golf-watching on television is about as sporadic. I just don't find it compelling usually. Who scores 25-under par to win the North Hackensack Open just doesn't draw me to the television.
There are the moments of triumph and fantastic shots under pressure circumstances. But every sport has moments of triumph. Walk-off homers, last-second shots and overtime touchdown passes can all provide those same moments of superb achievement at the most crucial of times and team sports usually draw me in more completely.
What golf can provide that is not highlighted as well in any other sport is the opportunity for epic human failure. Baseball players strike out, football players fumble, basketball players miss shots, but only in golf is a complete meltdown so graphically and poignantly shown on live television. And the major tournament is where this is seen most clearly.
The weekly tournament on the golf tour is not important enough for most of the players to see the type of total meltdown that is memorable. There are certainly some last hole miscues that occur but they pale in comparison to what is seen at a major tournament. The majors are where history is made and what you can be remembered for years to come. Unfortunately what many players are remembered for are the late round meltdowns.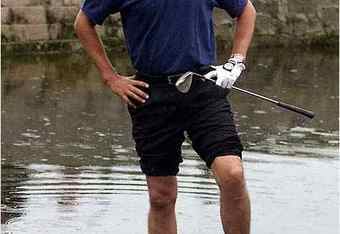 That French guy at the British Open, Mickelson hitting the hospitality tent on the last hole in '06, Norman's one iron at the Masters in '89. (Yes I do know the French guy's name but it's more fitting that he is just the anonymous player who had the lead only to blow it so totally.) There is a long list and it is striking and interesting watch unfold.
No other sport shows as dramatically the wheels falling off of a player. Golf is a difficult thing to do. Hitting that silly little dimpled ball consistently is extremely hard. And make no mistake, these guys are gifted at striking the ball. They can do things the rest of us can not even think of attempting. Up against a root, with trees in the way I am going to choke up on a long club and try to just hit it low and roll it down the fairway as far as I can make it go. But a professional golfer is going to hit it 50 yards out to the right and then make it hook back in and land on the green softly. The shot-making is at times remarkable.
Then you add in the pressure. Ahhh, pressure. Suddenly those routine shots they have hit a million times do not seem so easy when it's the last few holes of a major tournament. The muscles tighten up or the head doesn't trust what the muscles tell it and it only takes a tiny miss to make a golf ball fly to some bad, bad places.
What else can explain why a guy nicknamed Gene the Machine for his sweet swing can bogey five holes in a row after taking a five-shot lead with nine holes to play in the 1977 PGA Championship.
Ed Sneed made three bogeys in a row on the last three holes of the 1979 Masters to force a playoff that he ultimately lost. There are so many examples of this, it becomes hard to pick just one. I am not even counting the total round meltdowns of a player in the lead who balloons to a plus-80 round on the final day of a major tournament. That list is too large to contemplate. Vince Lombardi said "fatigue makes cowards of us all," but for golfers, this should be changed to "the last nine holes of a major makes duffers of us all."
In addition, the desire to win and to make one of those Corey Pavin at the '95 Open type of final shots leads to some disastrous decisions. Sam Snead thought he needed a birdie to win that led to his eight on the final hole in the 1939 US Open. Norman had not teed off with a one iron all week before the final hole in 1989.
Mickelson had just made a miraculous par after hitting it into a garbage can, yet still took the chance with the driver that hit the tent. And of course the French guy deciding to go into the water to hit a shot on his way to the final hole triple bogey is as mystifying a decision as you will ever see. He only needed a double bogey to win yet he…aughh. Only golf can show that level of human drama and breakdown.
Scott Hoch famously backed away from his two-and-half-foot par putt to win the playoff at the 1989 Masters. He later admitted he was so excited that he had neglected to read the putt. After taking his time to read it, he missed the putt anyway and lost the playoff. Maybe he would have been better off not reading it and just hitting the danged thing.
The last thing a golf player seems to need is time to think about what's going on. In golf, you hit one shot and then walk around for several minutes thinking about the next shot. During this time to think the realization that you may be about to make history seems to be too much for many of them.
Tiger Woods was the greatest golfer in the world for a long time, because he had the ability to bear down and make the good shot when he really needed it. But this is rare and what made him a contender for the best ever title until his recent life meltdown has left his golf skills in a fog.
For the rest, even professional golfers who practice endlessly and hit thousands upon thousands of shots, when it comes down to a pressure moment they fail as often as they succeed. To me this makes the major tournaments an interesting sporting event to watch.
You may be watching to see who wins and if Phil can finally win one and all the rest, but I will be watching to see who will have the latest episode of epic human failure shown so clearly.