Mind over Momentum: Thomas vs. Luongo in Game 7 of the 2011 Stanley Cup Finals
June 15, 2011
Harry How/Getty Images
During the second intermission of Vancouver's blowout loss at the TD Garden in Game 6, Mark Messier was asked to comment on the bizarre nature of the series through nearly six games. Both the Vancouver Canucks and the Boston Bruins have held serve on home ice, but the bipolar nature of Roberto Luongo's goaltending has been a truly odd phenomenon.

"Psychological Warfare" was the term Messier used to describe the finals, and although the Bruins and Canucks seem to be on relatively even terms in Vancouver, the Canucks clearly lost the psychological battle in Beantown, where they were outscored 17-3.
In other words, the magnified pressure of the Stanley Cup Finals turns a simple hockey game into a mental battleground, and mental momentum is often the catalyst for subtle shifts in confidence and energy, both positive and negative.

Of course, any team sport can be considered a metaphorical battlefield, especially when that sport is as physical as hockey. But the 2011 Stanley Cup Finals have offered something truly unique. While Tim Thomas has had the mental focus of an enlightened spirit, Roberto Luongo has shown us how the ebbs and flows of the ego.
Since Mike Gillis took over the Vancouver Canucks, Eastern mantras have become part of the Canucks' discourse—in press conferences, in interviews and in the locker room. It is a phenomenon that is spreading throughout the NHL, but it is perhaps most present in the Canucks, who continually assert that they're "taking it one day at a time" and remaining "focused on the moment" rather than looking beyond the "task at hand."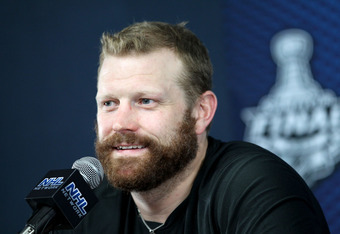 Jim Rogash/Getty Images
As Alain Vigneault stated following Vancouver's 7-2 Game 4 loss against the Chicago Blackhawks in the first round, "Our process is one game at a time, focusing on the right things to do, and with the right work ethic."
Throughout Western society, Eastern practices such as yoga, meditation, and the idea of "presence" are being filtered into mainstream consciousness at an accelerating rate. In the NHL, more and more teams are integrating yoga into their practice routines, both for the flexibility yogic routines help develop and for the mental sharpness and calm breathing yoga tends to generate.

Tim Thomas, the odds-on favourite to win the Conn Smythe Trophy irrespective of the result in Game 7, has been practicing yoga ever since a wonky hip sidelined him for much of the 2009-10 season when Tuukka Rask became Boston's No. 1 goaltender. But after offseason hip surgery and regular yoga workouts, Thomas has had as good a season as any goalie in NHL history. He credits yoga for much of his success.
Roberto Luongo, on the other hand, seems to lose his focus at the slightest sign of adversity. It's unfortunate, but true. We've seen it in past playoffs against Chicago, when one goal seems to snowball and he can't make the next big save when his team needs it to keep them in the game.
It happened again in this year's series against Chicago when his calm presence that helped Vancouver build a 3-0 series lead suddenly collapsed in Game 4. Chicago's 7-2 win made Luongo look like a completely different goalie than he had been early in the series. And in that series, the momentum carried over to Game 5, as Chicago posted a 5-0 win.
And now, in the 2011 Stanley Cup Finals, Luongo has been tremendous at home and a sieve on the road. It's bizarre, but it's also the consequence of a fragile mind that needs the ego to feel good in order to be calm and in control of his crease. Whereas Tim Thomas always seems to be in control—until you get him moving around his crease where you can exploit his aggressive nature—I believe that Roberto Luongo internalizes the pressure in a way that prevents him from staying in the moment once he lets in a questionable goal.
One bad goal, and everything he knows about his strengths and talents, the scouting reports and his technique in goal, all of it seems to abandon him, replaced by the helter-skelter mindset of anxiety.
But this is where things get truly interesting. For the past three years—effectively since Mike Gillis took over as the team's General Manager—the Canucks have been working with a mysterious scientific entity known as the Mind Room, which uses products developed by Thought Technology to analyze players' brains through biofeedback and neurofeedback.

In effect, the Canucks' lead sports psychologist, Dr. Len Zaichkowski, has been working with Canuck players to guide them into a meditative state to help retrain players' brains to handle stressful on-ice situations in a calm manner.
By measuring muscle tension, skin perspiration, temperature, respiration and heart-rate variability, Mind Room's goal is to help players overcome the anxiety and stress that many people feel when faced with intense situations, such as the pressure of a Game 7 in the Stanley Cup Finals. 
Obviously, Roberto Luongo's ability to remain calm and focused in Boston hasn't been optimal. But he's been great on home-ice throughout the playoffs, and especially in this series.
So let's hope Dr. Zaichkowski's work with the Canucks will pay off in Game 7, because the single most important factor to winning the Stanley Cop tonight will be Bobby Lou's focus.
And just in case this Mind Room business sounds like a whole lot of hocus-pocus, in addition to working with the Canucks, the Italian-based Mind Room has also worked with the Boston Celtics, the Chelsea soccer team, the AC Milan team that won the Champions' League in 2007, the Italian national soccer team that won the World Cup in 2006 and the Spanish national soccer team that won the last World Cup in 2010.