US Open Golf 2011, DeShawn Stevenson, NFL Lockout and Today's Sports Stories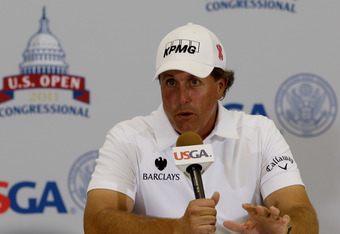 Rob Carr/Getty Images
The US Open will feel a lot different this year as it will mark the first time in almost two decades that Tiger Woods hasn't competed.
No doubt the ratings will dip and the focus on one of golf's top notch events will lessen as its most compelling figure rests at home, hoping to return to his once dominant self.
That's why the US Open 2011 needs Phil Mickelson. The bottom line is if you can't root for the sport's most compelling figure, you might as well root for the sport's most likeable guy.
Mickelson needs a US Open win in the worst way.
Mickelson has never appeared to want to be the best—in that he has never seemed as driven or obsessed with his own greatness as Woods has—but that doesn't mean he isn't self-aware enough to understand just what another major would do for his legacy.
With Tiger on the shelf, the sport needs Phil. The US Open would be a great place to reestablish himself.
For more on the US Open Golf 2011, and all of today's breaking sports news, stick with Bleacher Report.
Elsa/Getty Images
Vancouver Riots were a grim reminder of how ugly fans can be
Defeats are felt deeply by the fans. It sits with them, and often the reminders of their heartbreaking defeats are avoided like a plague. Sport talk radio gets shut off and people skip the daily news. It's ok to take it personally for a day. It's part of feeling passion and emotion.
However, what happened last night in Vancouver is the other side of sports. It's the grim side that shows the ugly nature of people. It shows that something as insignificant as an NHL Game 7 can bring out the worst in people and with no explainable reason.
Make no mistake, there is no excuse or defense for what anyone did in the streets of Vancouver. Even to have stood there as an audience for those that vandalized and destroyed public property was indefensible. But what makes it worse is this isn't the first time a city has reacted foolishly to victory of defeat.
The truth is that in the heat of the moment, those who lack good common sense and sound judgment will do terrible things in the name of victory and defeat. They may not realize it at the time, but what they have effectively done is change the narrative for their own history. No longer will last night be remembered as the thrilling end to a great Stanley Cup final, but rather, it will be remembered for the foolishness of some fans far too ignorant to leave with class and respect.
This article is
What is the duplicate article?
Why is this article offensive?
Where is this article plagiarized from?
Why is this article poorly edited?
Jasper Juinen/Getty Images
Ricky Rubio is a disaster waiting to happen
The deal is done. According to ESPN.com, the Spanish legend has already inked a deal with the Minnesota Timberwolves.
Now it is only a matter of time before Ricky Rubio is playing in the NBA. Of course the worry is whether or not he's going to live up to the billing. Rubio's arrival was supposed to be a good thing, but as it has turned out the Rubio wait has been more of a running joke.
The 20 Cushiest Jobs in Sports
David Kahn, the fearless and oft mocked Minnesota GM, has assured critics that Rubio was coming to the states and that he was going to be worth the wait. However, a year of Rubio on the bench with injuries and dwindling numbers made it harder to stand up to the criticism.
Rubio is going to fail in light of all the criticisms placed on him. Look, it's not the Rubio isn't a talented kid, but it's tough to like a guy who's only had one standout game. Rubio's game against the gold medal USA team in 2008 was something to see, but beyond that he's been nothing short of average.
Minnesota is pinning their hopes to a guy they hope can be Tony Parker. He's likely to Be Toni Kukoc.
That's not a knock, but it always won't allow him to meet expectations.
This article is
What is the duplicate article?
Why is this article offensive?
Where is this article plagiarized from?
Why is this article poorly edited?
Alex Livesey/Getty Images
Kim Clijsters continues disappointing 2011
It seems tough to call a year "disappointing" when it began by winning a Grand Slam title. Still, ever since the Australian Open Clijsters has found herself on a collision course with bad luck.
First the French Open and now Wimbledon. The tennis star announced on Wednesday that she was going to have to miss the crown jewel of the tennis Grand Slam events. It appears that she is suffering from a foot injury from a day earlier.
Clijsters was rumored to have had trouble at the French Open because of an injury she had got while dancing at a friends' wedding a month earlier. Now she has to withdraw from Wimbledon.
The 20 Cushiest Jobs in Sports
It's a tough few months for one of the better players on the woman's side. For Clijsters this would have been a good shot for her to take Wimbledon. Clijsters has been eight times but has never made it past the semi-finals.
However, for Clijsters this might serve the greater good. Where she has failed at Wimbledon, she has more than succeeded at the U.S Open. There she is a three time Grand Slam winner and has won it two years straight.
Clijsters has to be disappointed by coming up short on her journey to Wimbledon, but a good showing at the U.S Open and it will have made for a pretty good year.
This article is
What is the duplicate article?
Why is this article offensive?
Where is this article plagiarized from?
Why is this article poorly edited?
Dilip Vishwanat/Getty Images
NFL Lockout Shows Promise, but Promises Nothing
The whispers are exciting enough. Just the idea that we might be nearing the end of the labor negotiations and one step closer to having football restored is enough to make us all happy.
But don't believe the whispers, as the stories of the NFL and its players getting close to an agreement is not as exciting as we would like to think. If you want to know the truth, know this: the fact that the NewYorkPost.com is reporting that the NFL is "80-85 percent" of the way there, doesn't mean a thing.
The old saying that "close only counts in horseshoes and hand grenades" should apply to all labor negotiations, too.
The 20 Cushiest Jobs in Sports
The problem with the NFL is that it's not small things that are at stake. This isn't about adding a better practice facility to stadiums. It's about money—and a whole lot of it. It's about more money than most of the other sports combined. It's about TV contracts that are only going to get more profitable as years go on.
What happens in those rooms is more important to the future of the sport than most can realize. It's not about this pie. It's not about the pie five years from now. It's about who has leverage when that pie gets cut in 10 years.
Ask the MLB owners how they like having the players hold all of the power. They'll tell you that they hate it.
The players and the owners are close, but that doesn't mean a thing. Forget the whispers. Wait for the press release.
This article is
What is the duplicate article?
Why is this article offensive?
Where is this article plagiarized from?
Why is this article poorly edited?
Mike Ehrmann/Getty Images
DeShawn Stevenson Plays Into Bad Boy Reputation
It's been agreed upon in many circles that guys with neck tattoos are often beyond saving (half jokingly of course), but DeShawn Stevenson had a chance.
As word broke Wednesday morning that Stevenson was arrested in Dallas for public intoxication, everyone collectively shook their heads. Not in disbelief, but with a sadness that comes with the expectation of bad behavior.
The report, which appeared on foxnews.com, said that Stevenson was so intoxicated that he had no idea where he was at the time of the arrest.
The 20 Cushiest Jobs in Sports
Coming off the heels of one of the best NBA Finals in recent memory, and one of the most thrilling upsets of all-time, Stevenson had a chance to really change the perception of himself.
He's been known for jawing, brash behavior and taking shots at LeBron James, but an NBA ring can fix a lot of those things. Stevenson, for all his antics, was a legit factor in the series. There were stretches where he outplayed the target of his venom, LeBron James (or LeBron James outplayed himself, whichever you prefer).
Rings give you credibility, right or wrong. Rings validate a lot of your antics. However, making a foolish mistake, like getting hammered in public, only backs up what people thought of you in the first place.
People assume DeShawn Stevenson is a clown. No NBA title can change that now.
This article is
What is the duplicate article?
Why is this article offensive?
Where is this article plagiarized from?
Why is this article poorly edited?
Streeter Lecka/Getty Images
Tiger Woods' Absence Is a Blessing in Disguise
There is no question that Tiger Woods has made the sport of Golf (at least as a televised sport) far more popular than it was before his arrival. The ratings don't lie, and search engines don't lie either. His greatness, mixed with the interest in his turbulent personal life, has elevated the sport to places it's never been.
Still, Woods missing a major is a good thing for golf.
Every sport needs a transition. It took the NBA years to recover when Michael Jordan bowed out. The sport begged for new stars and made a number of mistakes along the way, but it got there.
The 20 Cushiest Jobs in Sports
Golf must do the same, but it needs Tiger-less events like the US Open 2011 (which will get far more press and TV coverage than an average tournament) to do it. The only way to create new stars and new heroes is to do it on the grandest stage, with the most at stake.
The NBA creates heroes in the playoffs. Golf must do the same with the US Open. Of course, this isn't to put pressure on the young golfers who stand a chance of winning. It's simply to remind everyone that we will eventually have to experience golf without Tiger, and appreciate the people who are playing.
The US Open 2011 will be a great start to that.
This article is
What is the duplicate article?
Why is this article offensive?
Where is this article plagiarized from?
Why is this article poorly edited?

Dallas Mavericks: Like this team?