2011 NBA Mock Draft: Washington Wizards Want to Trade Up for Derrick Williams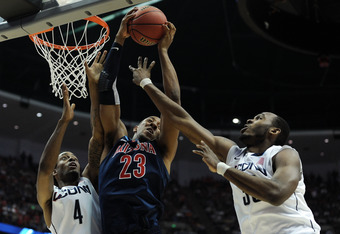 Wizards Want Derrick Williams From 2011 NBA Draft To Pair With John Wall
The Washington Wizards endured another miserable performance during the 2010-11 season, even with John Wall, the first-overall pick in the 2010 NBA Draft, averaging 16.4 points, 8.3 assists, 4.6 rebounds and 1.8 steals as a rookie.
If the Wiz are to ever return to being a playoff-caliber team, general manager Ernie Grunfeld will need to find a legitimate scorer who can create his own shot to pair with Wall after trading away Gilbert Arenas and watching his team average only 97.3 points per game.
As such, it should come as no surprise that, according to Sam Amico of Fox Sports Ohio, the Wizards are intent on moving up from the sixth pick that they currently own—preferably to the second slot, which would presumably put them in prime position to nab Arizona's Derrick Williams.
Adding Williams to the mix with Wall, JaVale McGee and Andray Blatche would give Washington a solid young nucleus with which head coach Flip Saunders could build a contender in the Eastern Conference, slowly but surely.
Of course, moving up four spots will certainly cost the Wizards a pretty penny. The Minnesota Timberwolves, who currently own the second pick in the 2011 NBA Draft, are interested in moving the selection but are reportedly asking a bit too much for it. The third pick, belonging to the Utah Jazz, and the fourth pick, belonging to the Cleveland Cavaliers, are also on the market, though neither of those picks quite guarantees to deliver Williams with a bow on top.
Then again, even if Washington does manage to get ahold of the second selection, the Cavs could always opt to take Williams first overall and leave the Wizards out in the cold.
1. Cleveland Cavaliers - Kyrie Irving, PG, Duke
2. Minnesota Timberwolves - Derrick Williams, PF, Arizona
3. Utah Jazz - Brandon Knight, PG, Kentucky
4. Cleveland Cavaliers - Enes Kanter, C, Kentucky
5. Toronto Raptors - Jonas Valanciunas, PF/C, Lithuania
6. Washington Wizards - Jan Vesely, PF, Czech Republic
7. Sacramento Kings - Kemba Walker, PG, UConn
8. Detroit Pistons - Kawhi Leonard, SF, San Diego State
9. Charlotte Bobcats - Marcus Morris, SF, Kansas
10. Milwaukee Bucks - Alec Burks, SG, Colorado
11. Golden State Warriors - Klay Thompson, SG, Washington State
12. Utah Jazz - Chris Singleton, SF, Florida State
13. Phoenix Suns - Bismack Biyombo, PF, Congo
14. Houston Rockets - Donatas Motiejunas, PF, Lithuania
15. Indiana Pacers - Jimmer Fredette, PG, BYU
16. Philadelphia 76ers - Markieff Morris, PF, Kansas
17. New York Knicks - Marshon Brooks, SG, Providence
18. Washington Wizards - Jordan Hamilton, SF, Texas
19. Charlotte Bobcats - Tristan Thompson, PF, Texas
20. Minnesota Timberwolves - Nikola Vucevic, PF, USC
21. Portland Trailblazers - Kenneth Faried, PF, Morehead State
22. Denver Nuggets - Tyler Honeycutt, SF, UCLA
23. Houston Rockets - Darius Morris, PG, Michigan
24. Oklahoma City Thunder - Tobias Harris, PF, Tennessee
25. Boston Celtics - JaJuan Johnson, PF, Purdue
26. Dallas Mavericks - Josh Selby, PG, Kansas
27. New Jersey Nets - Trey Thompkins, PF, Georgia
28. Chicago Bulls - Shelvin Mack, PG, Butler
29. San Antonio Spurs - Nikola Mirotic, SF, Serbia
30. Chicago Bulls - Kyle Singler, SF, Duke
Most recent updates:
This article is
What is the duplicate article?
Why is this article offensive?
Where is this article plagiarized from?
Why is this article poorly edited?