Vancouver Riots 2011: Riot Lovebird Photo Already Creating Web Buzz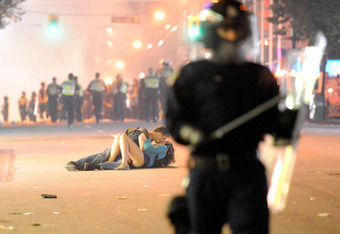 Vancouver Riots 2011 Was a Black Eye For the City, But Stunning Photo Is Making the Rounds
Last night, the city of Vancouver took a massive blow, as riots escalated out of control following the Canucks' loss at the hands of the Boston Bruins.
The images were frightening and disturbing, as citizens clashed with police, tipped cars, set things ablaze and looted shops. It was sickening behavior from a group of fans that clearly hadn't learned their lesson from 1994, when the city was full of chaos after another Stanley Cup loss.
As the chaos settled in the city, images continued to come out, and one has received special attention. It is a photo of a couple lying in the street, kissing, as the police try and push back the angry masses.
I can't figure out if I should be appalled, confused or impressed. I know that during a riot, emotions run high, but to get a girl to not only kiss you, but lie in the street and do so is quite the move.
MUST READ: NHL Power Rankings: Picking the Top 50 Players in the League Next Season (Video)
Obviously, these two have their priorities in order. As cars are ablaze, and people are being seriously injured, these two thought about who they could make out with as police showed no mercy towards the violent mob.
It has already spawned some funny photoshops, which you can see here and here, and you can tell that this is the image that will go around the internet for some time after this riot.
The photo may be lighthearted, but what happened last night is appalling, and shows that some people in that city simply don't know how to control themselves. There was no need for this type of behavior, and everyone involved should be ashamed of their actions.
No one will ever feel sorry for Vancouver after what happened last night.
Most recent updates:
This article is
What is the duplicate article?
Why is this article offensive?
Where is this article plagiarized from?
Why is this article poorly edited?