NBA Rumors: Two Teams Already Fined For Speaking With Players During NBA Lockout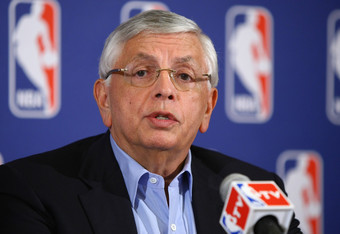 The NBA lockout has already gotten two teams in trouble.
The league has been extremely strict regarding the rules during this painful lockout. Flip on NBA TV and you will find nothing regarding current players in the league. Every thing is either classic games or WNBA action. Click on NBA.com or your favorite teams site and you will find no images or mentions of current players on the roster.
So naturally they are going to throw the hammer down upon finding out that teams have had contact with their players considering you aren't even allowed to mention they exist.
Adrian Wojnarowski has reported that two undisclosed teams have already been busted by David Stern and the NBA for speaking with players since the July 1st lockout went into effect. The esteemed Yahoo! Sports writer has a solid suggestion as to whom might be one of the teams in trouble:
The NBA's fined two undisclosed teams for speaking on players in media during lockout, league source says. Kahn's a good bet as one of them.
Wojnarowski is likely referencing to the fact the Minnesota Timberwolves GM mentioned both Ricky Rubio and Brad Miller by name when holding the press conference to announce the firing of head coach Kurt Rambis.
Kahn is widely regarded as one of the worst/dumbest GM's in the league. He drafted two point guards back-to-back in the top 10 in 2009, he drafted Derrick Williams with the second overall pick in this year's draft despite having Michael Beasley and Kevin Love already firmly entrenched at the forward positions. He also put his foot in his mouth when suggesting the NBA Draft lottery was rigged when his team lost the top pick to the Cleveland Cavaliers.
The other team is up for debate, but it may have been the Dallas Mavericks. Not because Mark Cuban was with the player's at the ESPY's—they earned that accomplishment. But head coach Rick Carlisle was on Portland sports talk radio show and mentioned multiple Blazer players by name.
The fine could reach up to a million dollars, but with what appears to be a long lockout ahead of us, expect the NBA to dole out undisclosed fines to the tune of $50,000 or so.
Because they are in a lockout, and every dollar counts right?
Most recent updates:
This article is
What is the duplicate article?
Why is this article offensive?
Where is this article plagiarized from?
Why is this article poorly edited?