NBA Rumors: Will Players and Fans Backlash if Superstars Play Overseas?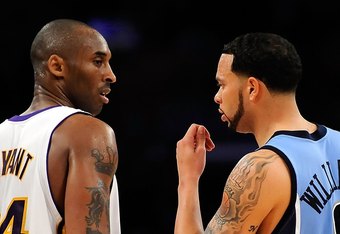 The new fad among NBA superstars seems to be playing overseas. We've heard rumors that Deron Williams, Kobe Bryant, Ron Artest, Amar'e Stoudemire, Carmelo Anthony, Tony Parker and many others could play overseas if the lockout lasts into the season.
Thankfully, Stoudemire has come to his senses, unlike the Williams' and Bryant's of the NBA Universe.
"Europe teams are calling, I think I'm going 2 stay here in the states. My loyalty is with the State of New York an the NYK's," according to Stoudemire on Twitter per HoopsHype.com.
Finally!
Whether or not Amar'e made this decision on his own is beside the point. All that matters is that he expressed his loyalty to the United States and his organization. We need to see more players do this instead of agreeing to play overseas.
Now, if the players all concluded prior to the lockout they would threaten to play overseas to force the lockout to end sooner then I applaud them. Yet it I have a difficult time believing that's what they did.
These superstars are looking to play ball and cash in on their star power. Forget that. I'd rather them all play at Rucker Park than go overseas to play. Hell, form your own league in the meantime. Enough of this separation from your country and organization.
There may have been a renegade rift in the NFL Players Association, but they were united for the most part. If the lockout costs the players games and they actually play overseas, they could see a backlash from the fans and other players around the league. They would lose a sense of camaraderie as they disperse around the world.
The fans would be outraged as they could not see their favorite superstars play ball. When they come back to the States once the lockout is lifted, fans could very well frown upon them for deserting them at this emotional time. While we fans suffered due to the lockout, a select few decided to capitalize overseas.
Lucky them, but why should we support them upon their return to the league? They clearly do not need the league as much as we want to believe. They do not need us fans as much as we want to believe.
I applaud loyalty. Stoudemire is at least showing New Yorkers he is loyal to the cause. Will Nets fans really say the same about Deron if he ventures overseas?
For everyone's sake, I hope our favorite superstars' threats will force the lockout to end much sooner than later. Hopefully Deron and Kobe have something up their sleeves…
Most recent updates:
This article is
What is the duplicate article?
Why is this article offensive?
Where is this article plagiarized from?
Why is this article poorly edited?