LeBron James: What Does the Hate Say About James and About Us?
Mike Ehrmann/Getty Images
LeBron James is being raked over hot coals in the media and among basketball fans everywhere. His mental toughness is being questioned and rightfully so. As everyone knows by now, James virtually disappeared in the fourth quarter of nearly every game in the NBA Finals.
There are stories on every sports website and newspaper stating how James does not compare to the other greats in NBA history. This is true, as although Michael Jordon and Larry Bird had their fair share of heartbreak, the losses were never a result of their lack of ability. James has, until proven otherwise, removed himself from the conversation of who is the greatest basketball player of all time.
Many fans have enjoyed the negative criticism because, quite frankly, negative criticism is fun. Roger Ebert would not be able to successfully publish a books titled "Your Movie Sucks" or "I Hated, Hated, Hated This Movie" if negative criticism was not fun.
But there is something underneath the glee of watching a trumped-up star fall.
James is not just being portrayed as fool's gold for his premature ordination as King James. He is being portrayed as a villain. Someone who deserves to fail because he is a bad person.
The evidence of this villainy is often said to be the ESPN special where he announced which team he was going to play for and the fact that he left the Cleveland Cavaliers. The ESPN special was ridiculous and fans often feel scorned when a player leaves them for greener pastures. However, does this really qualify James to play the role of the villain?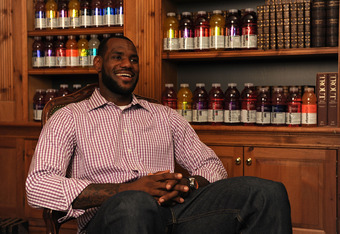 Larry Busacca/Getty Images
Several other high profile players left their teams for more lucrative or beneficial deals throughout the season. Amar'e Stoudemire left the Phoenix Suns for the New York Knicks.
Stoudemire started his NBA career with the Suns much as James did with the Cavaliers. However, Stoudemire was not publicly ridiculed by Suns fans or Suns management. Of course Stoudemire did not announce his decision in a gaudy television special, but it should also be noted that nobody was willing to pay him money to do so.
What seems to have really set the public against James is hubris with which he carried himself. This was manifested in the previously mentioned television special, the celebration in Miami when he signed with the Heat, and the advertising campaign which seemed to prematurely declare him amongst the best players ever. The scorn directed at James is based on his apparent pride and ego more so than any specific action.
Is having an inflated sense of ego really that bad?
Jason Richardson, currently of the Orlando Magic, was arrested for driving 90 miles an hour in a 35-mile per hour zone with his young son in the car a year after being cited for a DUI. Gilbert Arenas was charged with carrying a weapon without a license, admitted to keeping unloaded guns in his locker and reportedly had an altercation which included the guns over gambling debts with another teammate. Jason Kidd was arrested for domestic violence and later divorced with accusations of abusing his wife being levied at him.
Ronald Martinez/Getty Images
Richardson and Arenas played on teams opposing James during the 2010-2011 season, with Kidd playing against James in the playoffs. Yet at no point did the controversies of these players garner anywhere as much attention as the attitude of James did. This is not to say that these should have been brought up, each man has attempted to or is in the process of making amends, but it is interesting that their actions were dwarfed by the demeanor of James.
To say that someone has a large ego or degree of self importance is an opinion. There is no actual measure for acceptable degrees of ego. Somehow in the public eye the attitude of someone seems to outweigh their actions.
What is it that makes potentially dangerous actions seem less threatening how one player carries himself publicly? Some people would answer racism in that people with darker skin are expected to act stupid but cannot act uppity. To a degree this probably carries some truth; however, it is not the whole truth. Light skinned actor Charlie Sheen had numerous public scandals including abusing substances and people but only seemed to fall out of the public's favor when he began declaring himself better than the show he was starring.
Perhaps it has something to do with our collective egos. On some level it is disheartening to see people make untold fortunes based on the ability to play a game well. Not to take away from any of the insanely hard work that NBA players put into honing their craft but it can seem unfair that people who are less genetically gifted could never achieve the levels of fame and success regardless of their dedication.
When athletes make mistakes it shows their human side. It also shows that they are in fact not better than us and, depending on the degree of their scandal, may be much worse than us. Karma seems to be in balance on some universal level.
When people who have had their hard work enhanced by sheer luck and probability announce they are better than us it strikes as something deeper. This is even more true to the fans of a sport whose spending pays the athlete's salary. During an economic downturn the anger becomes palpable.
So does James deserve so much anger and hatred? Probably not. He is annoying, of that there is little doubt, but the public's venom towards him seems more reflective of how we see ourselves than anything he has actually done.
This article is
What is the duplicate article?
Why is this article offensive?
Where is this article plagiarized from?
Why is this article poorly edited?

Miami Heat: Like this team?