Aaron Rodgers Record Label: Super Bowl MVP Not Scoring with New Record Label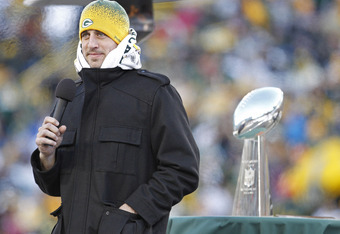 Aaron Rodgers Record Label Not Scoring with Critics
Well, it's officially the NFL lockout now, folks, that time when professional football players find something to do with their time, and try so very hard to be stars off the field.
Aaron Rodgers, the slinging Super Bowl XLV MVP for the Green Bay Packers, has decided to make the NFL lockout harder on his loyal fans by opening up a new record label that should have our ears ringing long after the lockout is over.
Rodgers recently started record label Suspended Sunrise Recordings, and has decided to bring along the band The Make for his first act.
The Make, who, besides having a rather unoriginal name, are also virtually impossible to find on the Internet (just try Googling "the make").
But that's not all. The Make is coming out with a music video titled Get It shot live in a bowling alley!
Choreographer Sarah Blakley has some rousing words bound to gain some loyal followers to the label, via KRCRTV:
"'We have dancers that just got off the Usher tour. We have one dancer that just got off Justin Bieber tour. We have another guy who was hired by Michael Jackson to be on the 'This Is It' tour. All the dancers are working and are very professional.'"
Also:
"The bass player for the rock band Sugar Ray is directing the video."
First of all, if I hear Justin Bieber's name once more I think I'm gonna puke.
Two, it's rather telling of a band when the dancers are more well-known than the band members themselves.
And three, Sugar Ray?! Really?!
I used to "wanna fly," but when Sugar Ray came out, they kinda turned me off to the idea.
I give a nod to Rodgers for trying to do something useful with his free time, but exposing football fans to this may actually see his popularity decrease.
No, I don't "get it," Aaron, and it seems rather fitting that your new record label makes sunrises suspend.
Most recent updates:
This article is
What is the duplicate article?
Why is this article offensive?
Where is this article plagiarized from?
Why is this article poorly edited?