NBA Rumors: Derrick Rose out for Revenge Following Bitter Playoff Exit?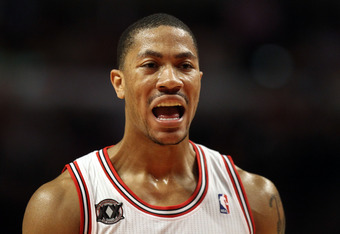 When the Chicago Bulls lost to the Miami Heat in the Eastern Conference Finals, Derrick Rose didn't go out and party (like Erick Dampier and a few Heat after losing to the Mavs). No, Rose was devastated. The MVP had led the Bulls to the league's best record in 2011, but couldn't get the job done in the playoffs.
Yahoo! reported that Rose practically went into a depression after the early exit. He was quoted saying:
"Being that close [to the NBA Finals], and not getting it, hurt. I just stayed inside the whole time. I didn't go anywhere else. I wore pajamas, watched a lot of movies, drank Powerade and got delivery food. My body was just sore and wore out. Mentally, too. I'm just getting over it. I know my time will [come] soon. That's how I think about it. I guess you have to pay your dues."
That type of reaction to a loss shows one thing: passion. Rose is young and has plenty of years left to win a ring. It isn't even like he's a 38-year old veteran who just blew his last shot.
The hunger for victory is something that can't be understated in the world of sports and the Bulls star obviously has it. He isn't the only one who's fell that low after a loss late in the season though. Dirk Nowitzki admitted to Dallas News that he went on a three-week drinking binge after losing the 2006 NBA Finals just to try to forget about the loss.
Dirk got his revenge against the Miami Heat. Derrick Rose could be next.
All the Bulls need is one piece, one more scorer. Their defense is elite. If they can sign a two-guard who can take some of the scoring load off Rose, it's over.
It took years for Dirk to get his payback. Derrick Rose may have to wait just one offseason.
David Daniels is a Featured Columnist at Bleacher Report and a Syndicated Writer. Follow him on Twitter.
Most recent updates:
This article is
What is the duplicate article?
Why is this article offensive?
Where is this article plagiarized from?
Why is this article poorly edited?