NBA Rumors: Why Players Association Must Decertify Now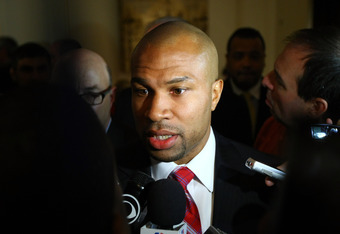 If sports fans thought the NFL owners and players were far apart in getting a deal done, the tension of their dispute pails is comparison to what's going on in the NBA. While the NFL season could realistically begin on time, the NBA could realistically lose an entire year of play.
According to ESPN, New Jersey Nets point guard Deron Williams talked about the current progress of the CBA negotiations in an interview saying, "I don't see a deal getting done anytime soon because we're so far apart." Reports continue to flood in that the players and owners aren't even close to getting a deal done. Knowing the extent of the lack of progress, the NBA Players Association must decertify.
If the NBAPA doesn't decertify, or even if they delay decertification, the two sides won't get a deal done in time to have a full season. Unlike the greedy NFL owners, the owners in the NBA actually have a reason to lock the players out. The owners are losing money, but the players know the fans don't come to games to see the owners; the players bring in the money for the league and they aren't going to play for less pay without a fight.
The New York Times report on the lockout says that the NBAPA decertifying is indeed possible as Jeffery Kessler, the outside counselor for the Players Association said:
"It's not off the table in any way. There's no immediate urgency to that issue. It's an option the players are actively considering. But they have time to decide whether it makes sense to end the union or not."
The players have to take the owners to court if a deal is going to be reached any time soon. Kessler may tell the media that the players have time, but don't be fooled. Time flies fast when you're on a deadline to get the season started, just ask the NFL.
David Daniels is a Featured Columnist at Bleacher Report and a Syndicated Writer. Follow him on Twitter.
Most recent updates:
This article is
What is the duplicate article?
Why is this article offensive?
Where is this article plagiarized from?
Why is this article poorly edited?