Vancouver Riot: How Will Hockey Riot Affect Canadian Businesses?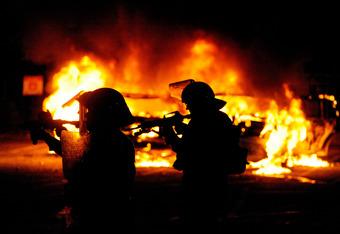 Vancouver Still Working Through Riots That Tore Apart The City, Will It Affect Businesses In Canada?
One of the single dumbest "traditions," if you want to call it that, is fans rioting when their favorite team wins or loses a major sporting event. Wednesday night, Canadians revolted following the Canucks 4-0 loss to the Bruins in game 7 of the Stanley Cup Final.
The rioting left at least 150 people in a hospital getting treatment for injuries. In addition to that, businesses in Vancouver were left with their stores a complete wreck thanks to these idiots.
From ESPN.com:
Rioting and looting left cars burned, stores in shambles and windows shattered over a roughly 10-block radius of the city's main shopping district.

Vancouver mayor Gregor Robertson said "organized hoodlums bent on creating chaos incited the riot" and noted the city proved with the 2010 Winter Olympics that it could hold peaceful gatherings. A local business leader estimated more than 50 businesses have been damaged.

Must Read: A Look At The Top Tweets Covering The Vancouver Riot
The thought process of these rioters completely baffles me. They aren't helping anything, their names get in the paper only because they are being escorted to prison and they leave their city a complete mess.
It reflects poorly on the people and the city. These businesses are going to lose a lot of money because they have to shutdown until the stores are repaired.
These kinds of things make me embarrassed to be a fan of sports. There is no reason for this kind of ridiculous behavior. There's a big difference between being a fan and being an idiot, and every single person who took part in this incident falls into the latter category. I hope they feel good about what they did because the whole world is piling on them right now.
Most recent updates:
This article is
What is the duplicate article?
Why is this article offensive?
Where is this article plagiarized from?
Why is this article poorly edited?