Dirk Nowitzki Girlfriend: Jessica Olsson Helps Dirk Destroy Evil Empire in Miami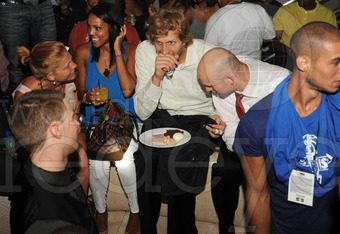 Jessica Olsson Is Mavericks' Secret Weapon as Dirk Nowitzki's Girlfriend
The Dallas Mavericks have the title. A week ago, we would have greeted that news with bugged out eyes and a fully dropped jaw to the floor.
The same could be said about Dirk Nowitzki. We all tagged him as the softest thing to come out of Europe since Brie cheese.
Nowitzki didn't back away from challenges, he folded, and then found the nearest cave to hide in. All of that has changed, his image and late-game acumen.
MUST READ: Erin Andrews: Her 25 Hottest Off The Field Moments
Dirk is no longer synonymous with choking. We can now consider the man a hardened champion. So what gives? How did this guy go from Clark Kent to Superman in no seconds flat?
I will forego the basketball analysis for the more intriguing theory. Nothing beats the love of a good woman. Nowitzki traded in a nut job (his last fling tried to keep him close by faking a pregnancy) for a genuine hottie.
Jessica Olsson is the sultry Swede that has stood by her man all playoffs. That is better than any good luck charm. There is still not a whole lot known about Ms. Olsson. She can be seen in the above photo taken by World RedEye. They have a bunch of Mavericks celebration pics here.
So it may not be scientific, not much of what I write ever is, but it is a sexy hypothesis. And really, what more do you want on a Monday.
Olsson was the key to the Dirk Nowitzki revival. Only a woman can make a man feel fresh and new. That's my theory, and I am sticking to it.
Most recent updates:
This article is
What is the duplicate article?
Why is this article offensive?
Where is this article plagiarized from?
Why is this article poorly edited?