2011 NBA Champion Brian Cardinal: The New York Knick That Never Was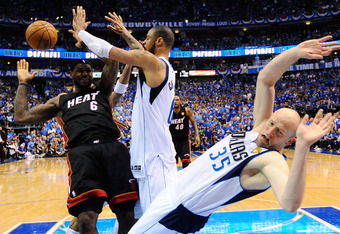 Pool/Getty Images
By defeating the Heat in just six games during the 2011 NBA Finals, the Mavericks proved that a well balanced team with even better chemistry (rather than pure-packed star power) wins championships.
The championship win is the first for future Hall of Famers like Dirk Nowitzki and Jason Kidd, as well as former "Sixth Man of the Year" Jason Terry, and veterans like Shawn Marion, Peja Stojakovic, and Tyson Chandler.
All of these players have great skills and unique stories that brought them to be NBA Champions. Fiery but classy Mavs owner Mark Cuban was not afraid to spend the extra money on them all, if it meant molding a winner. After years, it's finally coming together.
Each player on the Mavs played an important role towards ultimately winning the big prize, but there's no denying that each of the above mentioned players have been somewhat of a starring attraction at some point during their NBA careers.
That's not the case for Mavs reserve forward Brian Cardinal.
Cardinal, on the other hand, has flown under the radar his whole career. Having never assumed the starring role in the NBA, Cardinal has been known for doing all the little things a team needs to win. Though he can certainly hit the three ball, Cardinal is more known for diving on the floor for loose balls and throwing his body wherever it needs to be to pester his opponent while on defense. For doing all the dirty work, the 34-year-old has been nicknamed "The Custodian."
Cardinal has bounced around quite a bit during his 11 seasons in the NBA. He has played for six teams, not including a stop in Spain earlier in his career.
While New York Knicks fans watched (and surely dreamt of what could be) Cardinal and the Mavs win a title, they may or may not have recalled that Cardinal was actually a Knick for a very short time. Alas, he never took the court for the team.
In February 2010, when the Knicks were gearing up for what was hyped up as the biggest summer and offseason in franchise history, the team was more concentrated on clearing cap space than winning ballgames. That mindset, coupled with the inability to find playing time for Darko Milicic, prompted the Knicks to trade Milicic to the Timberwolves in exchange for Cardinal.
Needless to say, he was subsequently waived and was never able to contribute. It wasn't the right time for Cardinal nor the Knicks. All that said, as they build for the future, the Knicks need to take a page out of the Mavs' book: good role players like Cardinal are what bring balance to a well-oiled, championship-winning machine.
Looking at the team as it stands now, the Knicks do not have a player like Cardinal on the roster. All those missed loose balls, all those easy shots so uncontested were due to the team not having a player like "The Custodian" around. Those extra effort plays (or lack of, rather) often led to losses for the Knicks this season.
Chris Chambers/Getty Images
The team improved tenfold this season as a playoff contender, but to become a championship contender, all voids must be filled.
Cardinal is a guy who fills a void. Of course, he plays gritty defense and, like Brian Scalabrine, is often forgotten about and left open to hit a three in the corner. Even so, his impact is so crucially —yet subtly—felt at times.
For example, Cardinal came up big late in game 6 of the finals as Dallas was trying to pull away with the victory that would secure them the first championship title in franchise history. Though he himself is usually the man left open on the court, Cardinal would find himself double-teamed as he drove in the lane, allowing him to dish out a tricky pass to Nowitzki, who sank a three as the Mavs began to build a insurmountable lead.
Cardinal played in five out of the six games in the finals, and certainly proved his worth with an injury to Brendan Haywood and foul trouble plaguing Tyson Chandler throughout.
As the New York Knicks continue to mold a legitimate contender of their own, they should recognize the value a player like Brian Cardinal brings. Though the two sides missed out the first time around, a union may come to fruition next season, as he will be a free agent. Nevertheless, should Cardinal continue on with the Mavericks, at least he's shown the Knicks the type of player they should look for.
For Keith's Knicks coverage and much more, visit Knicks Journal.
Follow Knicks Journal on Twitter.
This article is
What is the duplicate article?
Why is this article offensive?
Where is this article plagiarized from?
Why is this article poorly edited?

New York Knicks: Like this team?