Erin Andrews: Her 25 Hottest Off the Field Moments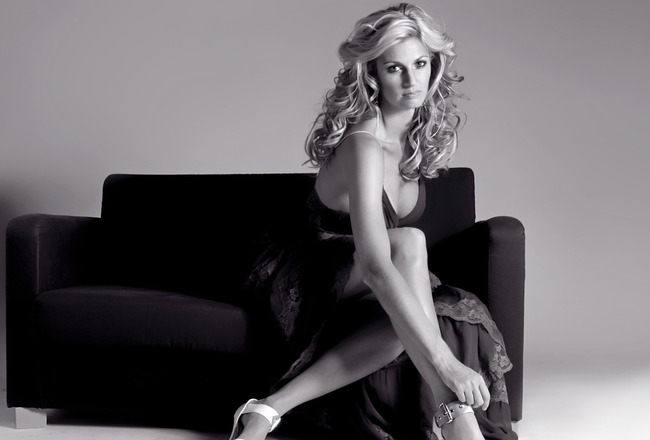 We know her. We love her. We drool over her. She's Erin Andrews, and she is on the Mount Olympus of hot sports reporters.
Whereas many hot female reporters attempt to use their looks to further their career with provocative shoots in men's magazines (Jenn Brown, I'm looking at you), Andrews has been extremely professional and conservative both on and off the field.
I don't know about you, but to me that just makes Erin Andrews that much hotter.
She may not parade around in bikinis, but that doesn't mean that Andrews hasn't had her moments in the sun.
Here are her 25 hottest off-the-field moments.
25. Short Black Dress
Michael Buckner/Getty Images
Just because Erin dresses professionally on the field doesn't mean that she can't let loose when she's off it.
Andrews knows how to wear a dress, and she knocked people out in this classy short black dress.
24. In Moves Magazine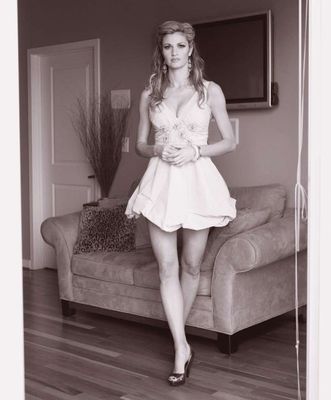 This is a shot from a photo shoot in Moves magazine about how Erin "puts sexy into sportscasting."
I've never read the magazine, but I have to wholeheartedly agree with their editorial approach.
23. On Jimmy Kimmel

I rarely watch late-night talk shows, but this is definitely one reason to tune in.
No, she's not flipping off the audience. I'm pretty sure she's just waving really fast. I guess we can never be sure though...
22. Harassing Oscar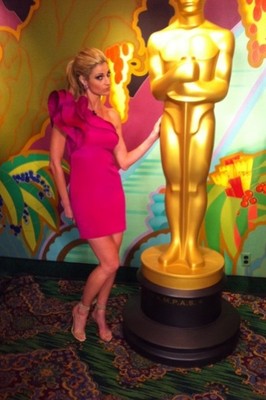 I have never wanted to be a nine-foot gold statue more than I do right now.
21. On the Job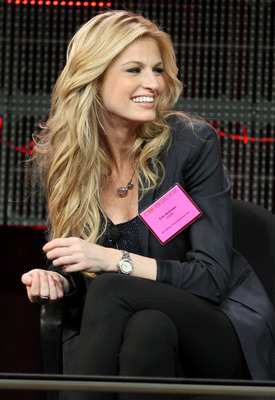 Frederick M. Brown/Getty Images
Erin's not just a sideline reporter—she's also an ambassador for ESPN. Here she is at a panel discussion with Kirk Herbstreit and Chris Fowler just days before the National Championship game in 2011.
20. Chillin' with the Boys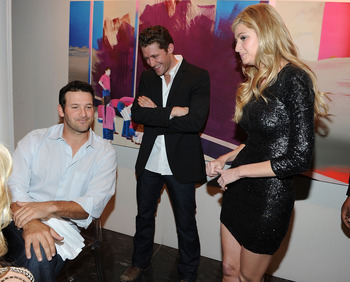 Michael Buckner/Getty Images
One of the best parts about Erin Andrews is that she seems like she'd be a cool girl to hang out with.
Here she is in her element with Tony Romo and that dude from Glee. Her other best parts, her legs, are also on display.
19. Chillin' with the Girls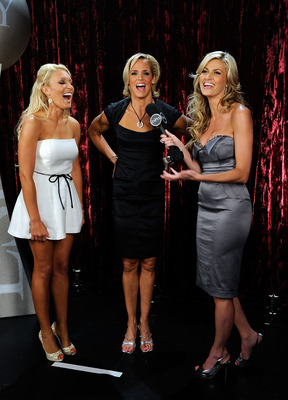 Kevork Djansezian/Getty Images
Erin may be a bit of a tomboy, but she also likes to hang out with the girls. Here she is at the ESPYs with hot athletes Natalie Gulbis and Dana Torres.
Apparently somebody said something hilarious.
18. In a Purple Dress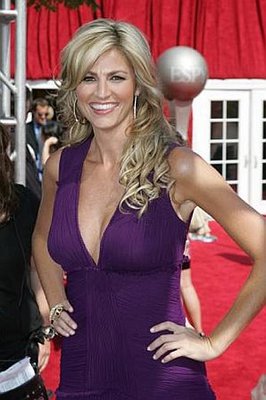 Here's Erin looking hot once again in a stunning purple dress with a plunging neckline. Just when you think she can't get any hotter, she outdoes herself.
17. Very, Very Good Morning America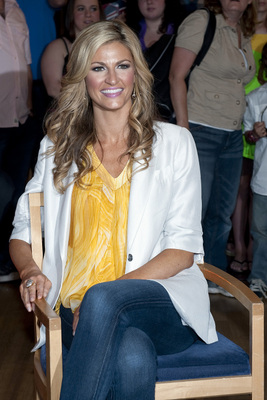 For those of you that may not know, Andrews is branching out beyond sports and has been doing segments on Good Morning America.
While we miss her on the sidelines, we have to be proud of her for taking the next step in her career.
I don't know about you, but seeing Erin looking like this first thing in the morning certainly starts my day off right.
16. Self-Portrait at the Oscars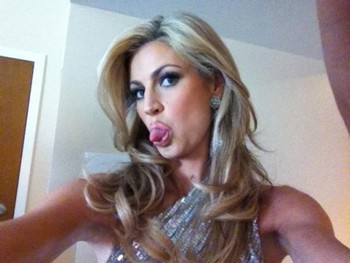 I don't know if she's saying, "Haha! I'm at the Oscars and you're not!" or "man those hors d'oeuvres were gross!"
Either way, she looks good doing it.
15. Sexy Face on DWTS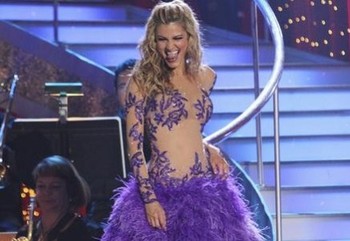 One of Erin's problems on Dancing With the Stars was that she wasn't "sexy" enough for the judges.
As a result, we got faces like this. It may not be the sexiest out there, but since it's on Erin Andrews we can't help but stare.
14. ESPYs 2009, Dress One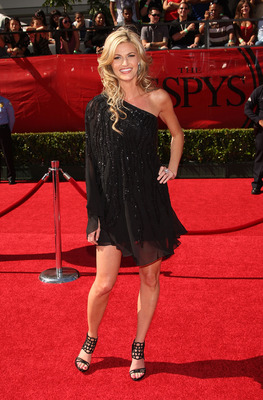 Jason Merritt/Getty Images
Erin proved that she knows how to walk a red carpet at the 2009 ESPYs in this sexy, off-the-shoulder black dress.
I wonder if they had a sideline reporter on the red carpet, and if he or she was nervous when interviewing Erin Andews.
These are the things that go through my mind.
13. ESPYs 2009, Dress Two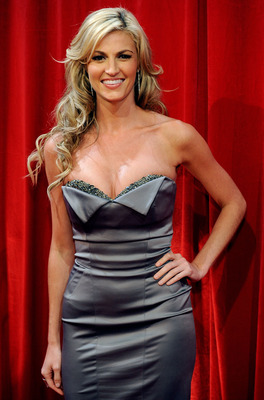 Kevork Djansezian/Getty Images
Erin was a true diva at the 2009 ESPYs, wearing a different dress during the ceremony than she did on the red carpet.
We fully support this behavior. The more looks for Erin Andrews, the better.
12. Was Blind, but Now I See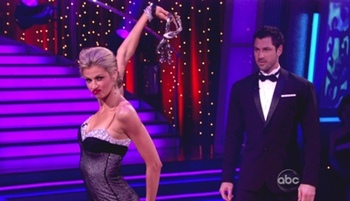 Erin showed her courage and confidence when she performed a blindfolded waltz with her partner, Maksim Chmerkovskiy.
Everyone in the audience was happy to see her finally shed the blindfold...and put on a little bit of an angry face.
11. At the CMT Music Awards 2010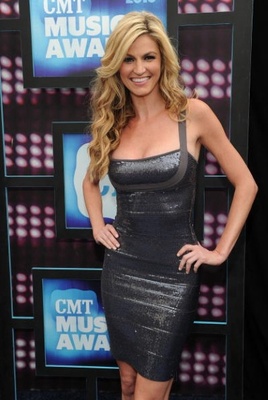 Erin doesn't limit herself to sports events. She also showed up at the 2010 CMT Music Awards.
Is it just me, or does she have a little Faith Hill thing going on here?
10. GQ Photo Shoot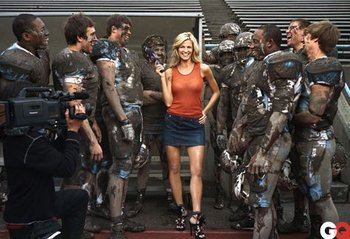 This may appear to be an on-the-field moment for Ms. Andrews, but it is actually a ruse.
This was one in a series of photos for GQ. The other ones are great as well and I encourage you to check them out, but there was something about this one that caught my eye.
9. Kissy Face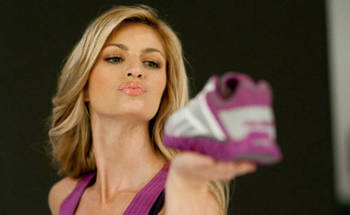 I choose to ignore the shoe in this ad and pretend that Erin Andrews is making that face at me instead.
Please feel free to do the same.
8. Doing Her Best Uma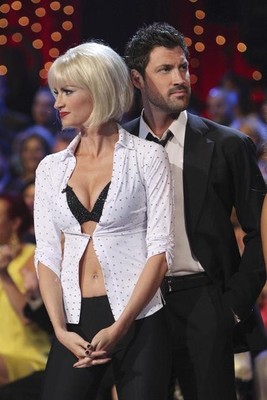 Mrs. Mia Wallace is one of the hottest and most iconic female characters in film history, so it's only appropriate that she would be portrayed by one of the hottest and most iconic sports reporters in history.
Not only did she look great but she also backed it up on the dance floor.
Well done, Ms. Andrews.
7. Dirty Girl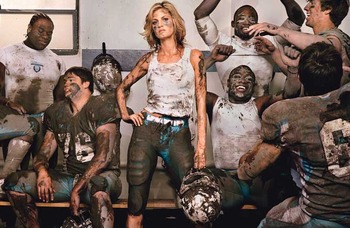 This is another shot from the GQ photo shoot. I can't say that I've ever imagined Erin Andrews playing football before.
Now I will never stop imagining Erin Andrews playing football.
6. ESPYs 2010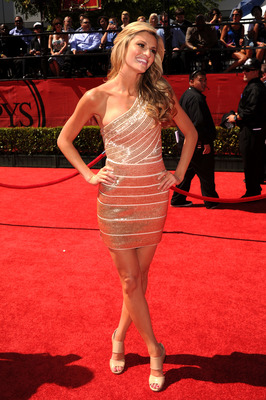 Jason Merritt/Getty Images
One of the few times we can count on Erin dressing up is at the ESPYs every year. Here she is in 2010, wowing us with a nice shiny number.
5. Double Vision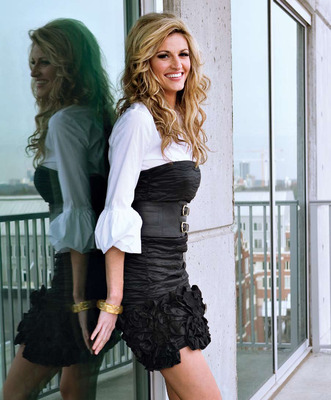 What's better than one Erin Andrews? That's right: two Erin Andrews.
This is another shot from the Move magazine spread where we get a nice view of Erin from both sides.
4. Cocktail Dress for the ESPYs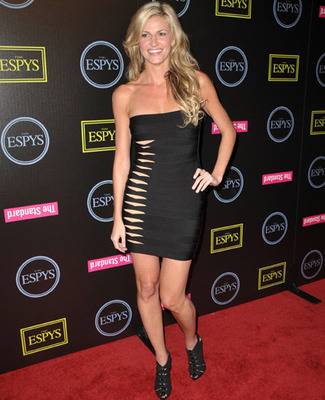 Sometimes you start to think that maybe Erin Andrews is just a novelty because she's a sports reporter and that if she was just a regular girl you wouldn't think twice about her.
Then you see pictures like this and smack yourself in the head for being so foolish.
3. Elegant Photo Shoot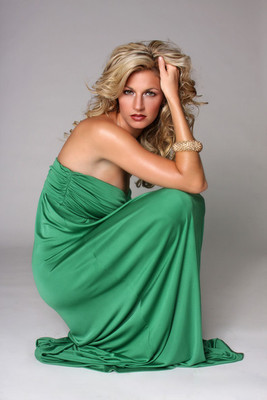 One of Erin's major strengths is her ability to be sexy but remain classy at the same time. It's not easy to do, but she seems to do it effortlessly.
She doesn't do many photo shoots, but this picture is particularly hot.
2. On the Red Carpet at the Oscars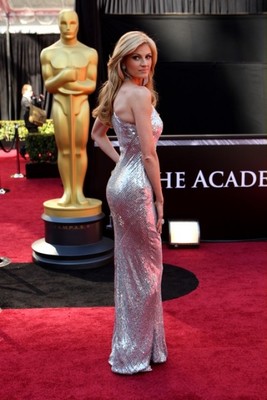 I really don't know why Erin Andrews was at the Academy Awards, but I send an email to the invitation committee every day thanking them for their precious, precious gift.
1. Flexibility on Display on DWTS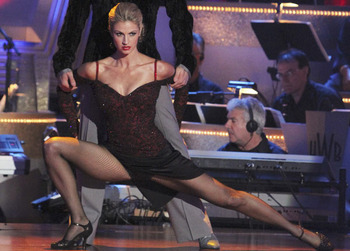 There are certain times as a writer when you do an injustice to a moment if you attempt to describe it or discuss it.
Sometimes, you just let the moment speak for itself.
This, my friends, is one of those times.
Keep Reading