NFL Lockout: The NFLPA Has Yet to Talk to Leaders of NFL Alumni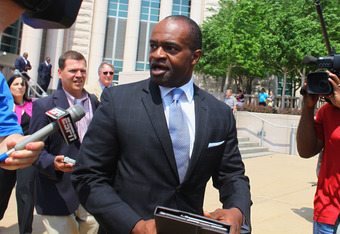 How Much Longer Will the NFL Lockout Last?
The NFL lockout has lasted three months now. That's about three months too long, if you ask me. As a fan, I say this has to end now, but as a realist I know the lockout will unfortunately press on.
It's possible the lockout could be ending sooner than some had thought, but really nobody knows what will happen. Negotiations and secret meetings continue to take place, which leads me to believe that a lot of progress is being made.
One thing that isn't happening is a discussion between the NFL Players Association director DeMaurice Smith and NFL Alumni president George Martin. Is this a good or bad thing for NFL players?
MUST READ: 50 Fastest Players in Sports History
Martin is displeased with Smith right now because the two have yet to sit down and talk about the lockout.
Marting told reporters that "there's strength in unity" and at the moment he doesn't think Smith believes that. Per ESPN:
The fact that we can't sit down and at least discuss not only our similarities but our differences if there are any. I think that's a travesty.

When you do not have a conversation at this point with the recognized leader of NFL Alumni, how can you say you have the best interest of retired players at heart when you won't even sit down and talk to their leadership. That to me flies in the face of rationale.
I have to agree with Martin here because Smith should have already made time for him. I know Smith is very busy trying to end the lockout, but it would be wise to at least have a short chat with the leader of the NFL Alumni.
Smith has received a lot of criticism for the way he has been handling the lockout. The new collective bargaining agreement needs to help the not only the present players but also those from the past. The current players will one day be retired, and they too will want the proper benefits.
I know that Smith has ideas for what the retired players should be getting, but he needs to make time for Martin.
Most recent updates:
This article is
What is the duplicate article?
Why is this article offensive?
Where is this article plagiarized from?
Why is this article poorly edited?