Toronto Raptors Trade Speculation: Should the Raptors Pursue Andre Iguodala?
June 12, 2011
Mike Ehrmann/Getty Images
There have been a number of trade rumors surrounding Philadelphia 76ers guard/forward Andre Iguodala as of late.
Ric Bucher of ESPN reported a possible deal between Philidelphia and Golden State that would send Monta Ellis to the 76ers and Andre Iguodala to the Warriors, while Marc Stein of ESPN.com reported a possibly trade of Andre Iguodala for Chris Kaman, and more recently Steve Kyler of Hoopsworld reported a possible trade of Andre Iguodala to the Orlando Magic for Hedo Turkoglu and Jameer Nelson.  
Andre Iguodala has not yet officially requested a trade and Philadelphia's front office has been steadily denying reports that Andre Iguodala is on the market. Nevertheless, with all the recent rumors swirling, it's looking more and more like Andre Iguodala will finally be leaving Philly.
What does this mean for the Raptors? 
Long story short, it means they once again have the opportunity to land Andre Iguodala whom they passed on in the 2004 draft in favor of Rafael Araujo, but is Iguodala worth what the Raptors would have to give up in order to get him?
How Iguodala helps the Raptors
Defense: Andre Iguodala is a solid defender, something the Raptors could really use.  He is strong and athletic.  He would give the Raptors an aura of toughness that they lack.
Athleticism: Iguodala is very athletic and would fit in perfectly with the likes of DeMar DeRozan and Jerryd Bayless.
Rebounding: Iguodala is an excellent rebounder, especially at the two.  The Raptors could really use his presence on the glass, and although he is only 6'6", his length and athleticism enable him to keep up with and guard opposing small forwards without any real trouble.
Playmaking: Iguodala is a good passer and his playmaking skills will certainly come in handy as an extension to Toronto's young point guards—Jerryd Bayless and Brandon Knight/Kemba Walker.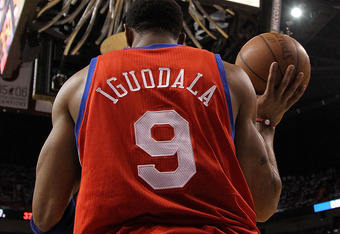 Mike Ehrmann/Getty Images
Penetrating: Iguodala can flat out finish at the rim and he has no trouble getting there.  This causes opposing defenses to collapse on him and consequently gets his teammates a lot of open looks from the perimeter and mid-range.
How Andre Iguodala could hurt the Raptors
Outside Shooting: Iguodala is not a very good three-point shooter, which is really too bad since this is one area the Raptors need to improve.  Aside from that, his mid-range shot could use some work as well.
Competitiveness/role model: The main reason Iguodala would be traded is because he is not on good terms in Philadelphia. His willingness to compete has certainly come in to question, and I think this may only get worse if he comes to the Raptors—who are currently playing much worse than the 76ers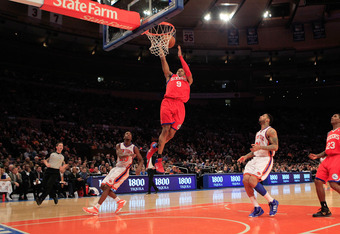 Chris Trotman/Getty Images
Final Thoughts
Andre Iguodala will be 28 at the end of the month and is currently under contract for the next four years at around $12.3 million per year.  The money is not so much a problem as age/health. 
Iguodala relies heavily on his athleticism and toughness and his slashing style of play certainly takes a toll on his body—as we saw last season when he battled an injury.
Will a change of scenery help refresh Iguodala's career or will playing small forward take years off of his career?  Will his expensive four-year contract result in another mistake similar to the one the Raptors made by signing Hedo Turkoglu?
Or, will Iguodala find a niche in Toronto and help them get back to the playoffs, not with his scoring, but instead with his defense, rebounding, passing and leadership?