Miami Heat: Should Pat Riley Blow Up The Big Three Already?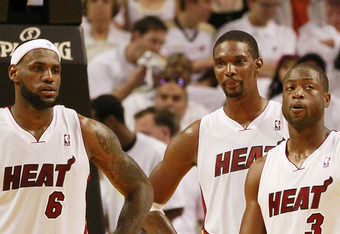 Miami Heat Need to Rethink Big Three Following NBA Finals Loss
The Miami Heat's big three were essentially exposed in the NBA Finals by the Dallas Mavericks. They lost the last three games of the series and all in the fourth quarter.
Dallas' zone defense proved to be too tough for LeBron James and Dwyane Wade. Chris Bosh was a nonfactor, just as he was for most of the season.
In the fourth quarter of Game 6, not a single player in Miami stepped up to be 'the man.' Everyone played hot potato with the ball as they trembled while their Championship dreams crumbled beneath them.
Of course, as the cynical monsters of the media that we are, we have to ponder Miami's next move. We, of course, have to place blame first and foremost, but this was a collective effort.
Let's get one thing straight, though, getting to the NBA Finals is an incredible accomplishment. Yet when one team can boast three of the best players in the world and they all fail to show up in the NBA Finals in different situations, something must be done.
As Wade and James became closer and closer throughout the season, Chris Bosh seemed to take the backseat. This offseason, Miami needs to trade their 'smallest' superstar. Bosh plays too small for his position and his confidence seemed to shrink by joining Wade and James.
There are two major superstars on the market who could help the Heat win a title next season—Orlando's Dwight Howard and New Jersey's Deron Williams. Not many expect either to re-sign with their respective franchise.
New Jersey and Orlando would still net a star in return. Bosh could essentially play small forward in New Jersey as he prefers to play away from the basket and would have Brook Lopez and Kris Humphries to lean on up front.
Orlando knows Dwight is unhappy and although they would prefer not to trade him to Miami of all places, Bosh would still be a draw for the Magic fan base.
Miami in return would upgrade one of the two positions they desperately need to upgrade. Udonis Haslem could slide into the starting role, which would be far more beneficial for the Heat given his rebounding and defensive prowess.
Despite only being in Miami for one season, it may be time to move Bosh.
Most recent updates:
This article is
What is the duplicate article?
Why is this article offensive?
Where is this article plagiarized from?
Why is this article poorly edited?