NBA Finals 2011 Live Blog: Miami Heat vs. Dallas Mavericks Game 6 Coverage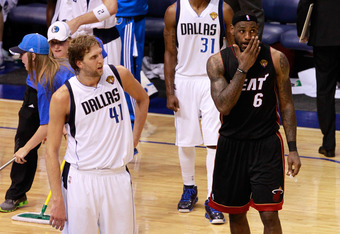 Tom Pennington/Getty Images
Tonight is Game 6 of the 2011 NBA Finals. The Dallas Mavericks are one win away from the first title in franchise history. The Miami Heat can stave off elimination and force a Game 7.
Will Miami (specifically LeBron James) be able to quiet the critics? Or will Dirk Nowitzki finally complete a humble quest he's been on for over a decade?
LeBron's difficulties and Dirk's success in the fourth quarters of this series have been well documented. Dirk is outscoring LeBron 52-11 overall and 26-0 in crunch time (last five minutes of the game when the teams are within five points).
Dwyane Wade has had a fantastic series, but he's been completely overshadowed by his ridiculously over-covered counterpart.
In fact, the media has made this entire series about one man and one man only. Will his first title hunt as a member of the Heat end tonight? Or will we see one more game?
More important than any of that, will anyone be coughing tonight?
These questions, and many more will all be answered over the course of the next few hours.
Stay right here with Bleacher Report's live blog for scores, updates and analysis...
Thanks to all of you for tuning into to tonight's live blog. And thanks to the Heat and Mavericks for an incredible NBA Finals.
Congratulations to the Mavericks.
I'll be seeing you all throughout the offseason...
Here's hoping we don't have a lockout!
Ronald Martinez/Getty Images
The game is officially in the books as Dallas wins Game 6, 105-95. The Mavericks win the 2011 NBA Finals.
Congratulations to the Miami Heat for winning the Eastern Conference and giving the Mavericks the best competition they've faced in this postseason.
Dallas ultimately won this year because they are a team. They definitely deserve this title. Perhaps will people will stop questioning Dirk's toughess.
Ronald Martinez/Getty Images
Dirk hits a nice lay-in after Kidd's feed. Mavericks (especially Dirk) have a slight look of disbelief. They've done it. 2011 NBA Champions--Dallas Mavericks. With 19 seconds left, Kidd hits two free throws to put Dallas up 105-92.
LeBron misses a long pull-up three. Jason Kidd turns it over. Dallas leads 101-92 with less than a minute left.
Terry hits a big jumper but LeBron responds with a three. Miami trails by nine with 1:30 left.
This is it. With 2:27 left, will Miami be able to overcome a 10-point deficit? Or will the Mavs hold on for the franchise's first title?
Ronald Martinez/Getty Images
Dallas controlling the clock with another offensive rebound. Another HUGE bucket for Dirk. Forget the struggles he had the rest of the game. He's bringing it now.
Huge defensive play by Jason Kidd as he strips LeBron going to the basket. Dirk gets a steal on the next possession and hits a huge pull-up jumper on the other end. Wade responds with his own fadeaway as Dallas 97-89.
Mike Ehrmann/Getty Images
In what has otherwise been a very solid game, the officiating is starting to get very suspect down the stretch.
Miami has managed to withstand another Dallas rally and they have plenty of time to come back and win this game. 94-87 Dallas with 5:30 left on the clock.
Action going back and forth right now. Dirk hit a jumper and LeBron answered with a follow shot after Haslem went over Dirk's back. Now Terry is at the line. Hits the first and misses the second and Dallas's lead is 92-82.
After a much-too-easy drive from Barea, Dallas now leads 89-77 with eight minutes left in the fourth quarter.
Jason Terry has Miami on slow roast as he hits another pull-up J. Dwyane Wade dribbles it off his foot and Nowitzki misses another three.
Ronald Martinez/Getty Images
I gotta tell you guys. The pace of this game is fast and furious. What an exciting Game 6. Just about everyone on both teams are bringin' it hard tonight. Tough for this writer to keep up with!
Nine minutes left in the game. Dallas leads 85-77.
J.J. Barea is feeling it tonight. He jsut hit a pull up three on House. Dallas leads 84-77.
Dirk continues to struggle (4-20 from the field) and Tyson Chandler just picked up his fifth foul. Miami crawling back into the game again as Chalmers heads to the line and hits both free throws. Dallas leads 81-77.
Dwyane Wade just killed J.J. Barea on a back door cut and then elevated over Dirk Nowitzki for an and-one. He misses the free throw though. Dallas up 81-75.
As Haslem misses a free throw, it's starting to look like this might be the storyline of tonight's game. They've missed a ton freebies.
Ian Mahinmi hits a big elbow jumper at the buzzer to give Dallas a nine-point lead heading into the fourth quarter. Dallas leads 81-72.
Dallas played well and extended their lead in that quarter and they've been very strong in fourth quarters throughout the postseason.
Will they seal this and win the franchise's first title? Or will LeBron and Dwyane Wade silence the critics and turn the corner in this series and their careers?
Fourth quarter is next!
James misses another free throw. Miami has now missed 11 freebies. James hits second. 79-72 Dallas.
Juwon Howard misses two free throws after being set up beautifully by LeBron James. Jason Kidd hits a deep three on the other end. Dallas leads 79-71 with LeBron heading to the line with 30 seconds left in the third.
LeBron James finally scores this half. Blows by Shawn Marion in the post. Dallas leads 74-71 with two minutes left in the third.
Mike Ehrmann/Getty Images
With three minutes left in the third, Dallas leads 72-65 and LeBron is starting to fade away once again. He hasn't really done anything this half. If Miami loses this series, I'm sure that's all ESPN will be talking about the entire offseason.
LeBron James just got away with the most blatant carry I've ever seen in an NBA game. Wade called for an offensive foul (drawn by Cardinal) and a technical foul.
Chris Bosh makes one of two free throws and Dirk responds with his first three-pointer. Great drive, draw and kick by Brian Cardinal. Dallas leads 71-65.
Miami slowly creeping back, lead back down to three. Dallas up 65-62. Barea draws an offensive foul while matched up with LeBron James. Jason Kidd hits a three on the other end to put Dallas up 68-62.
This article is
What is the duplicate article?
Why is this article offensive?
Where is this article plagiarized from?
Why is this article poorly edited?

Dallas Mavericks: Like this team?