UFC 131: Memorable Moments from the Junior Dos Santos vs Shane Carwin Fight Card
Photo courtesy MMAWeekly.com
UFC 131 is in the books and there were some important takeaways from the event:
Even with monitors, the judges can really make some terrible decisions.
Being a one-trick pony doesn't cut it these days in the UFC.
Kenny Florian cuts weight a lot better than, say, Jake Shields.
Sam Stout is not a bad guy.
Entering the cage to a Culture Club song doesn't mean you can't knock someone out.
Be ready for anything from any opponent.
Herb Dean is among, if not, the best referees in the game.
Shane Carwin can take a punch.
Intrigued? Hope so, read on for more details.
Begin Slideshow

»
Omigawa's face says it all
When the scores were read for the first fight of UFC 131, it was somewhat surprising to hear that the judges had awarded the win to Darren Elkins over Michihiro Omigawa.
One person who also found the scoring surprising was UFC president Dana White, who told ESPN: "And now we've got TV screens. What the f***? You've got a TV screen. How did you judge that 30-27? We're going to pay (Omigawa) his win money. I don't care what the judge says, he won the fight. … I say he won. Overruled."
Sam Stout hit Yves Edwards with a left hook that dropped Edwards to his back unconscious. Stout said at the postfight press conference:
"He folded right up and went down and hit the back of his head pretty hard. I had my eyes right on his eyes and I saw them roll back, so I wasn't going to go in and try to do any more damage than was necessary."

"This is just a sport to me and I'm not somebody who's trying to hurt anybody and Yves Edwards is a guy with class and I've respected him for a long time. He's a good guy. He gave me a cookie at the weigh-ins. I'm not going to try and hurt a guy like that."
UFC president Dana White had the following to say about the knockout: "It's one of the most vicious knockouts in UFC history, if not the most vicious."
Donald Cerrone used numerous powerful leg kicks to take Vagner Rocha out of their bout at UFC 131. Rocha, a submission expert, had no chance in the fight as Cerrone landed kick after kick to the legs of Rocha, giving him no chance to take the fight to the ground.
Cerrone's kicks were powerful enough that it would not have been a surprise had the fight been stopped early. Don't believe that? Watch the fight again and witness that after the third round ended, Rocha sat against the cage and stayed there for quite a while.
CompuStrike numbers indicate that Cerrone landed 63 leg strikes during the fight.
Dave "Pee Wee" Herman entered the octagon for his bout against Jon Olav Einemo to the strains of Cultue Club's "Do You Really Want to Hurt Me?"
Both fighters were making their UFC debut in this heavyweight bout. Einemo, an accomplished submission fighter, had Herman on the ground in the first round, but he was unable to gain any real advantage and the fight eventually went back to standing.
In the second round Einemo used his fists to hurt Herman, but Herman was able to recover, eventually gaining the advantage, dropping Herman and earning the TKO at 3:19 of Round 2.
A nice win for Herman in his UFC debut; his walk-in music, on the other hand, could use some work.
During the first round of their fight at UFC 131, Demian Maia seem to catch Mark Munoz off guard, showing a much-improved and, to most, completely unexpected striking game.
Maia has always relied on his grappling skills, so it was a surprise to see him dominate Munoz while the fight remained standing in the first round.
Maia appeared to take the first round outstriking Munoz, 21-5, in that round.
Munoz was able to recover and take the second and third rounds, but Maia showed that he had made significant progress toward becoming a more well-rounded MMA fighter.
For his part, Munoz showed that he could be primed to make a move up the middleweight rankings.
Kenny Florian fought in the fourth weight class of his UFC career on Saturday night when he earned a unanimous decision win over Diego Nunes.
After the fight Florian said the weight cut was the "hardest thing I ever did in my life."
However Florian showed no ill effects from the cut. At the postfight press conference he said, "Actually, I felt great out there. During the fight I felt real good. I actually felt I got stronger as the fight went on. It's tough. That little guy (Nunes) is fast, and I think my timing was a little off in the first round. But once I was able to adjust, I felt great and felt I was actually able to outlast him."
Florian's assessment of the fight was right on as Nunes took the first round, but he faded during the second and third rounds where Florian got the best of him.
The win against Nunes has, according to UFC president Dana White, put Florian in the mix for a shot at Jose Aldo's featherweight title.
Ethan Miller/Getty Images

Following UFC 131, UFC president Dana White heaped praise on referee Herb Dean for two fights he referred during the event.
White was asked by Ariel Helwani if Dean made the right decision to allow the Shane Carwin vs. Junior dos Santos fight to continue beyond the first round, White answered, "Obviously it went three rounds so Herb Dean was right. I think he's the best referee in the business ever."
White continued, "Junior (dos Santos) was looking at him saying, `C'mon, stop this fight.' Junior said tonight, 'I was saying that 'cuz I was tired.' Herb Dean said, 'I'll stop the fight when I think the fight is ready to be stopped.' "
The other fight that caught White's attention was the Nick Ring vs. James Head fight where Dean took control after a stoppage. The fighters were arguing what position they were in before the stoppage and Dean told them exactly where they were and what the hold was at the stoppage. As White said, "Most of the referees wouldn't know what that position is. He's the best referee in the business."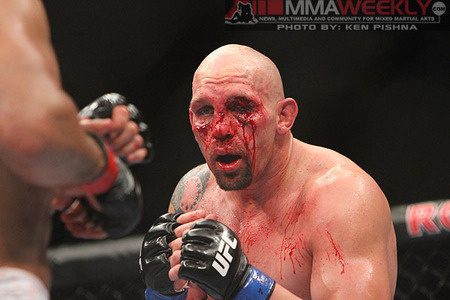 Junior dos Santos put the gloves to Shane Carwin during the main event, sending the former UFC heavyweight interim champion to the emergency room.
Which leads us to the final memorable moment...
The main event at UFC 131 saw top heavyweight contenders Junior dos Santos and Shane Carwin face off to determine who would fight UFC heavyweight champion Cain Velasquez in his first title defense.
Dos Santos dominated the fight, taking Carwin out of his comfort zone. Dos Santos kept Carwin at a distance, preventing him from landing one of his powerful strikes. Dos Santos used that distance to his advantage, using his speed to land damaging jabs to the face of Carwin.
Dos Santos did drop Carwin in the first round, but while he was able to inflict a serious amount of damage during the exchange he was unable to finish him.
The dominating performance from Dos Santos set him up to face Velasquez at some point in the not so distant future.