NBA Finals 2011: Miami Heat, Dallas Mavericks and All the Latest Game 6 Buzz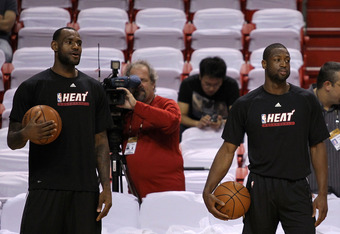 Chris Chambers/Getty Images
The 2011 NBA Finals is the series the NBA needed
Let's face it NBA fans. Whether you love the Heat or hate the Heat, you're still watching this series. Despite the fact that the games last into the later part of the night, or that some games lack fundamentals, it's almost impossible to turn away and go to bed. There are simply too many compelling storylines.
The Heat had everyone convinced, after Game 1, that they were going to win this series in four or five games. With seven minutes left in Game 2, every fan still felt that way. Then something amazing happened and I'm sure everyone knows by now. Dallas stormed back with great defense, and amazing play from Dirk Nowitzki, to cap a fantastic finish.
Game 3 rolled around and analysts were raving about Dallas' momentum. Surely Dallas was going to take Game 3 after a historic Miami collapse? That would not be the case. The Heat went on to win after a Dirk missed a shot at the buzzer. The next game saw the Heat take the lead into the fourth quarter. But, Dallas came back and hit some clutch free throws to seal the deal. It didn't help Miami that LeBron James had zero points in the fourth quarter.
After LeBron's performance in Game 4, he was called out by the many people. He responded with a triple-double but only had two points in the fourth quarter in Game 5. Clutch three-pointers by Jason Kidd and Jason Terry, made the crowd erupt in celebration as the Mavericks closed Game 5. Now the fun begins.
Tonight's Game 6 will show us how badly the Heat want this. The series has been theirs for the taking. Whether it be the inability or the unwillingness to close, we may never know. The Heat need to win both games at home. Miami needs more than Dwyane Wade to carry the team and LeBron needs to be able to close. The energy will be high in Miami and I don't expect the game to be close. The Heat will win and this electrifying series will be forced into a Game 7.
I firmly believe that the Heat will win the next two games, but the Cleveland fan inside me is cheering for the Mavericks as if they were my own.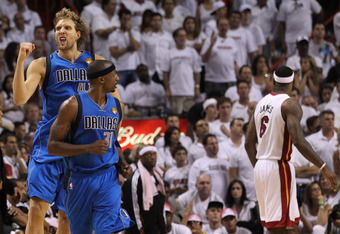 The Dallas Mavericks proved it takes an entire team to win a championship and not just a few superstars
With the odds against them, the Dallas Mavericks are world champions for the first time in the franchise's history. The team couldn't have deserved it more.
Owner, Mark Cuban is considered by many to be the best owner in the NBA. His class showed through when he had David Stern present the Larry O'Brien trophy to the first Dallas Mavericks owner, Donald Carter.
Let us not forget about Jason Kidd, who is going to go down as a top five point guard, even without a ring. A title just makes for a stronger argument. Dirk Nowitzki will never be known as the best player without a ring, that will still reside with LeBron James.
Coach Rick Carlisle was given a raw deal, when he was forced out of the Indiana Pacers organization for Larry Brown. This is Carlisle's first title as a coach, but also won one as a player for the Boston Celtics in 1986.
No one gave the Mavericks a chance. It seemed as if every major news outlet wrote them off in ever series, and made them underdogs.
The Mavericks started with the Portland Trailblazers. Many expected them to be bumped out of the playoffs. But, that never happened. They advanced to play the defending champion, Los Angeles Lakers. Surely, the Mavericks would lose there. Not only did they win, but they stomped the Lakers throughout the entire series, sweeping them 4-0 in the series. That set them up to play the Oklahoma City Thunder. When it seemed like the Thunder would take command of the series, Dallas roared back. Coming back from huge deficits and ultimately earning a birth to face the Miami Heat.
After game one of the finals it appeared that Dallas' run was finally over, but in fact it had just begun. Led by MVP Dirk Nowitzki, Dallas beat the Heat four game to two. Dallas capped off a finals run that most story books couldn't have told. Whether you were a fan or not, they were hard to root against.
The Dallas Mavericks have been in the league since 1980. It took them 31 years to taste ultimate success. I think the wait was worth it.
This article is
What is the duplicate article?
Why is this article offensive?
Where is this article plagiarized from?
Why is this article poorly edited?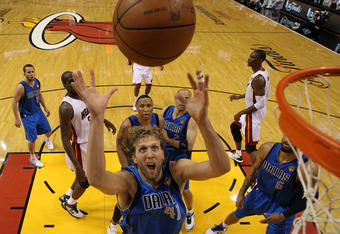 At the end of the third quarter in game 6 of the 2011 NBA Finals, Dallas looks to close in on their first ring
This is the moment Cavalier and Mavericks fans alike, have been waiting on. Dallas leads by 9 heading into the final quarter. The odd thing is that Dirk Nowitzki hasn't done anything, yet. This series continues to keep NBA fans on the edge of their seats.
The third quarter ended with an Ian Mahinmi buzzer beater and the momentum was heavily in the Dallas' favor. Dallas has had a total team effort and every single player has contribute in some way. If they do end up holding on, Rick Carlisle will get a lot of the credit, and he should. Carlisle has rotated the right players throughout the entire series. He has outcoached Erik Spoelstra.
The whole Arena is patiently waiting to see if LeBron James will arrive in the fourth quarter, or if Dirk Nowitzki will take over. If LeBron takes over, Miami will be on their way to game seven. If Dirk does what has become expected, Dallas will have their first title.
Either way, the Heat aren't leaving Miami.
This article is
What is the duplicate article?
Why is this article offensive?
Where is this article plagiarized from?
Why is this article poorly edited?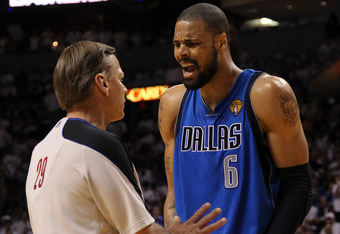 There might be one thing that the Dallas Mavericks can't beat in game six of the 2011 NBA Finals
Call it some sport conspiracy theory if you will, but the referees will make a game seven happen. When the fourth quarter starts the Heat will get every foul call possible and will be allowed to go to the free throw line at will. Miami must hit those shots, even if some of them are unearned.
Dallas needs to force turnovers with low amounts of contact to be allowed a hot. I do expect them to get foul calls too, but not in the high frequency the Heat are about to receive.
The NBA wants a game seven, This series is too good not to go to the last possible minute. Ratings would be through the roof all over the country for a definite end to an amazing series. Do I want to see a game seven? No. I want Dallas to close it out tonight. I want Jason Kidd to get a ring that is long overdue and I want the same for Dirk.
There is also the small factor of being a lifetime Cavs fan and not wanting to see certain people have such an honor. Let's not call it hate, ok? I think that if this game isn't close with eight minutes to go, the officials will have their say.
You say conspiracy and I say too obvious not to be true.
This article is
What is the duplicate article?
Why is this article offensive?
Where is this article plagiarized from?
Why is this article poorly edited?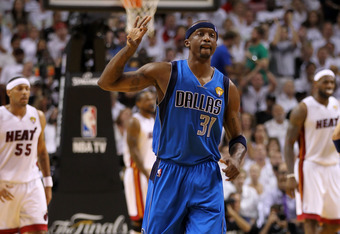 The Miami Heat must find a way to cool off Jason Terry during the second half in game six of the 2011 NBA Finals
The Mavericks lead at the half, 53-51, and they have one man to thank. Jason Terry is 8-10 from the field and has 19 points going into halftime, while playing 17 minutes of the first half. His pull up mid-range jumper has been deadly so far and Dallas is looking to get him more shots.
Meanwhile, Dirk Nowitzki is 1-12. Can you imagine how much Dallas would be up by, if Dirk was shooting 33%? I have no doubts that Dirk will find his range, but can JET keep up his impressive start?
The Heat's offense has been well spread and efficient, but that is not the problem. Miami needs to figure out how to stop Terry. They must close out on him. JET is 5-5 from inside the arch and 3-5 beyond it. He has yet to shoot a free throw, but it doesn't matter. If a player shoots 80% from the floor, encourage him to continue shooting.
Maverick fans hope Terry can keep this hot streak alive, while Dirk figures out a different way to get the ball in the hoop. If both of these happen, it is going to be a long off-season for the Miami Heat.
This article is
What is the duplicate article?
Why is this article offensive?
Where is this article plagiarized from?
Why is this article poorly edited?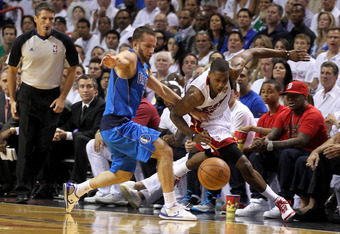 Pushing and shoving after big shots happens all the time, so it isn't different in the 2011 NBA Finals
Udonis Haslem hits a huge three to put the Heat up by two and the Mavericks call timeout. As both teams are walking back, DeShawn Stephenson pushes Haslem who gets in Stephenson's face, after such action.
That is where it should have ended.
Instead, Mario Chalmers comes running down the court and shoves Haslem, causing the refs to fire off their whistles and break up the scuffle. This little outburst would have been water under the bridge, until Chalmers made his bonehead move. This sparked the referees to look at the film and see what they could find.
Upon further review, Stephenson, Chalmers, and Haslem were given technicals. This particular scrum wouldn't have been reviewed if it wasn't for Chalmers. After the players were broken up, Chalmers was still running his mouth. This inspired Chris Bosh to come over, grab Chalmers, and yell at him. This got Chalmers attention and he settled down.
It didn't matter. The Stephenson and Haslem technical offset, but Chalmers techincal didn't at the Mavericks sent Dirk Nowitzki to the line where, of course, he made the free throw.
Mario Chalmers better pray the Heat don't lose by one, otherwise he will be one of the goats.
This article is
What is the duplicate article?
Why is this article offensive?
Where is this article plagiarized from?
Why is this article poorly edited?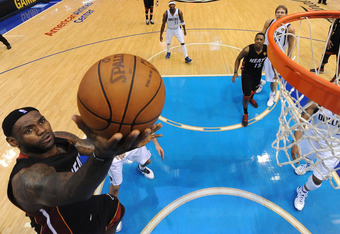 After the first quarter in game six of the 2011 NBA Finals, LeBron James leads Miami with nine points
While LeBron is doing great and off to a fast start, the Dallas Mavericks have a five point lead at the end of the quarter. The Heat had a decent lead for several minutes in the first quarter, but Jason Terry has come off the bench to match James' nine points.
Also helping Dallas; JJ Barea and Shawn Marion have chipped in 6 points each and the team is distributing the ball nicely. Dallas is also playing defense, depriving the Heat of opportunities and sometimes making them take bad shots. Dallas looks focused, to say the least
The Heat will likely comeback to take the lead, with LeBron leading the scoring. Look for James to continue to attack the Dallas defense. He might even have another triple-double, but his stats aren't what's being argued over constantly! Everyone knows that it doesn't matter until we see the fourth quarter with the King closing the books and forcing a game seven. It is something that he has been criticized for this entire series.
This article is
What is the duplicate article?
Why is this article offensive?
Where is this article plagiarized from?
Why is this article poorly edited?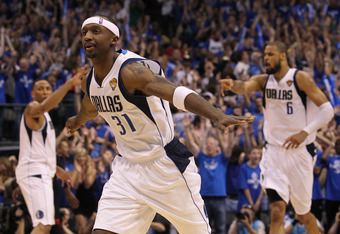 While it is unlikely, Dallas has a chance to close the 2011 NBA Finals tonight
There are skeptics out there that believe Dallas has no chance of winning game six. While I don't think they will, I can fathom it happening. Many things have to go right and fall for the Mavericks, but it is possible. However, several things must go right.
Dallas must continue their great defensive play. They must force Miami to shoot jumpers. Allowing them to drive to the basket at their desire, will lead to a blowout in the Heats favor. Tyson Chandler must continue to roam in the paint and continually battle for rebounds, while Shawn Marion tries his best to keep LeBron from a scoring spree.
Miami's defense will force Dallas to shoot jump shots. The Mavericks must hit their open looks. The Heat will pressure Dirk all night. Jason Kidd, DeShawn Stephenson, JJ Barea, and the other players must come through with clutch shooting. The high pressure defense might cause the Mavericks to hit free throws, so Dallas must keep up their composure at the line.
Lastly, the Mavericks need a little luck on their side. They'd better hope that Miami's shots roll out. Maybe the pressure of game six causes a few awkward passes or bad bounces. Either way, the Mavericks can't do it on their own.
Then again, Dirk could always go off and score 50 points, negating most of these factors.
This article is
What is the duplicate article?
Why is this article offensive?
Where is this article plagiarized from?
Why is this article poorly edited?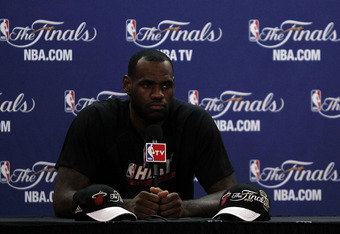 Don't worry Miami Heat fans, LeBron will not fail for the third straight time in the 2011 NBA Finals
As a Cleveland fan, I watched LeBron do some amazing things. Off the top of my head I can recall: several game winning shots against the Wizards, game five in the 2007 conference finals vs the Pistons, and the game winner against Orlando.
Let's face it folks, LeBron has it in him to close games. Sometimes he has it, but lately he has not. Tonight, LeBron will be ready to go and have a stellar fourth quarter.
There are no opposing fans to boo him. Miami is backing him 100 percent and he knows it. The confidence will flow throughout the game. The Heat will probably be up double digits at some point in the third quarter and will not let up. It will be Dwyane Wade and not LeBron leading the way. How can I actually believe this? Every Cleveland fan has seen it before. James will have a terrific showing in the fourth at some point in the series. Tonight will be the night. I hope I am wrong.
This article is
What is the duplicate article?
Why is this article offensive?
Where is this article plagiarized from?
Why is this article poorly edited?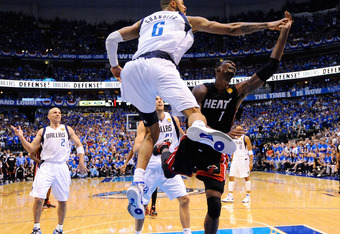 The 2011 NBA finals is proving correctly that the old saying "defense wins championships"
Flashy offenses with thunder dunks might sell tickets, but they are don't go far in terms of winning championships. If they would help, the Phoenix Suns of yesteryear might have won many titles. No, defense wins titles. I'm not taking anything away from what Dirk Nowitzki has done. He has been outstanding, and without him Dallas would have already lost this series. However, the same can be said about Tyson Chandler.
The Miami Heat live in the paint and continually drive to the basket. Every time I look, Tyson Chandler is giving maximum effort to force the shooter to adjust. He continually puts bodies on people and blocks them out while grabbing rebounds. Tyson Chandler effects the Heat offense and force that keeps them from scoring at will. Let's not take anything away from his offensive rebounding presence either. Chandler is constantly tapping loose balls to his guards, which allows the team to set up its offense again.
While those things can often be statistically measured, Chandler's heart cannot. The raw passion he plays with is phenomenal to watch. His screaming at the fans to pump them up, or his constant motivation while he is on the bench, means more than we will ever understand.
Dallas is one game away from their first NBA title. The Mavericks have never gotten this close in franchise history. They have played great team ball and it has been a total group effort. But, consider this; is it a coincidence that in Tyson Chandler's first season with the team, they've come this far? I don't think so.
This article is
What is the duplicate article?
Why is this article offensive?
Where is this article plagiarized from?
Why is this article poorly edited?

Miami Heat: Like this team?