2011 NBA Mock Draft: Does Jimmer Fredette Have Rookie of the Year Potential?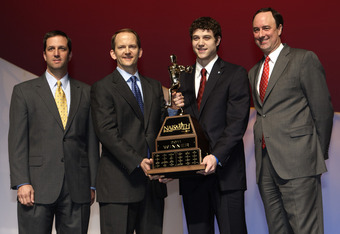 2011 NBA Mock Draft Has Jimmer Fredette Putting Up ROY Numbers
Jimmer Fredette may be one of the most polarizing figures projected to go in the top half of the 2011 NBA Draft. He is drawing comparisons from Steph Curry to Dan Dickau and seems to be a complete boom or bust prospect. Teams that are high on him include the Utah Jazz, Sacramento Kings, and Phoenix Suns amongst others.
If he lands in the right situation on a team that will use him immediately, Jimmer could be an early favorite for the 2012 Rookie of the Year Award.
The BYU guard can score in bunches and has incredible range. He also is a great passer when he is needed to fill a distributor role. A knock on his game is that he tends to hog the ball, but he needed to in college in order to get his Cougar team victories.
If Jimmer lands in Phoenix or Sacramento, he will be teamed up to form a high scoring and productive backcourt with either Steve Nash or Tyreke Evans. Both teams need an off-guard/combo player who can score or handle the rock and distribute when necessary. Jimmer fills all of these needs and has a very good chance of success in the NBA if he lands with either club.
Fredette has been invited to the Green Room of the 2011 NBA Draft and should be amongst the names called in the lottery. If he gets selected by a team that actually needs him right now, he is my favorite for the 2012 Rookie of the Year Award.
No. 1 Cleveland Cavaliers: Kyrie Irving
No. 2 Minnesota Timberwolves: Derrick Williams
No. 3 Utah Jazz: Brandon Knight
No. 4 Cleveland Cavaliers: Enes Kanter
No. 5 Toronto Raptors: Jonas Valanciunas
No. 6 Washington Wizards: Kawhi Leonard
No. 7 Sacramento Kings: Kemba Walker
No. 8 Detroit Pistons: Jan Vesely
No. 9 Charlotte Bobcats: Marcus Morris
No. 10 Milwaukee Bucks: Klay Thompson
No. 11 Golden State Warriors: Alec Burks
No. 12 Utah Jazz: Tristan Thompson
No. 13 Phoenix Suns: Jimmer Fredette
No. 14 Houston Rockets: Chris Singleton
No. 15 Indiana Pacers: Bismack Biyombo
No. 16 Philadelphia 76ers: Donatas Montiejunas
No. 17 New York Knicks: Josh Selby
No. 18 Washington Wizards: Marshon Brooks
No. 19 Charlotte Bobcats: Markieff Morris
No. 20 Minnesota Timberwolves: Davis Bertans
No. 21 Portland Trail Blazers: Jordan Hamilton
No. 22 Denver Nuggets: Tobias Harris
No. 23 Houston Rockets: Darius Morris
No. 24 Oklahoma City Thunder: Reggie Jackson
No. 25 Boston Celtics: Nikola Vucevic
No. 26 Dallas Mavericks: Trey Thompkins
No. 27 New Jersey Nets: Justin Harper
No. 28 Chicago Bulls: Kenneth Faried
No. 29 San Antonio Spurs: Jeremy Tyler
No. 30 Chicago Bulls: Tyler Honeycutt
Most recent updates:
This article is
What is the duplicate article?
Why is this article offensive?
Where is this article plagiarized from?
Why is this article poorly edited?